This China-Only NEV Looks Like A Gremlin
---
It could get an all-electric powertrain like the E100 and E200 electric cars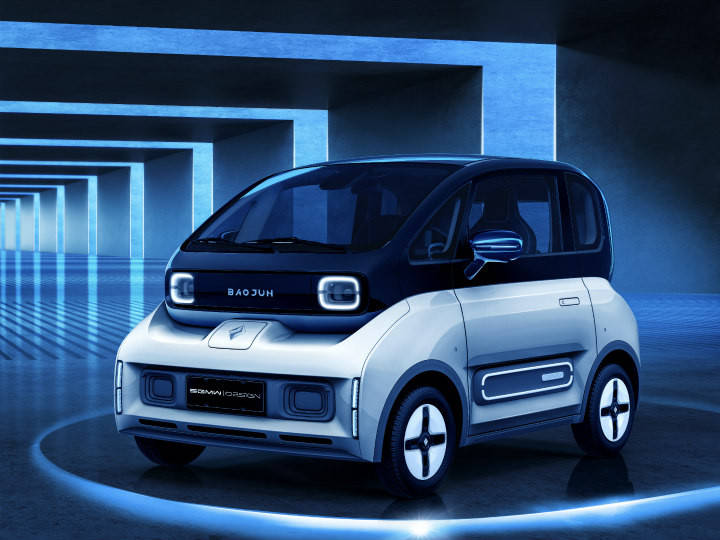 Based on 'interstellar geometry' design language.
Features scratch-proof doors as well as front and side sonar sensors.
It is a two-door, two-seater car.
Baojun unveiled its latest new energy vehicle (NEV) in images on December 8. We don't know its name yet, but we do know that its design is from SGMW -- the joint venture between SAIC Motor, General Motors, and Wuling Motors. Baojun is also known for the 530 SUV which is the MG Hector in India. Baojun has also recently launched the RS3 SUV in China, that could be a rival to the Kia Seltos if launched in India. The Chinese carmaker calls the NEV an 'interstellar geometry' design language. It is an evolution of the E100 and E200 urban electric vehicles (EVs) launched in 2017 and 2018, respectively. Prices are expected to be higher than the E200's cost of CNY 54,800 to 64,000 (Rs 5.52 lakh to Rs 6.52 lakh). There is no word yet on the official launch.
The company hasn't even revealed the car's powertrain. Take one look at the front fascia of the NEV and you see a charging port cover. Hence, it could either be a hybrid or an all-electric vehicle like the E100 and E200.

The cutesy urban runabout has a brutally proportionate design. With its two-decker MPV outline, the NEV looks like a cross between a Renault Twizy and a Smart Fortwo. Its retro headlamps have rectangular daytime running lights. Exposed tailgate hinges are another retro touch. The wheels are as tiny as they were on the E100 and E200, but now feature a modern 'cruciform' design.
Also Read:
We can't imagine the little EV attaining high speeds but it does have flush door handles for aero efficiency, slab-shaped front fascia notwithstanding. The company claims the bottom of the doors is scratch-proof. Side-facing sonar sensors tell us it could have some basic driver assistance technology as well. Blind spot detection may be a feature.

Small urban cars like these are popular in some cities in China. They are easy to park and manoeuvre and less expensive to run and maintain than normal combustion cars. Zero-emission cars like these can help reduce air pollution in urban centres, provided they are widely adopted. Do you think such vehicles could be popular in India?
Also Read:
Add Your Comments