Ather Energy Sets Up Charging Stations Across Bengaluru
by Niraj
May 21, 2018
Views : 2971
---
The company will install over 30 charging points called AtherGrid in malls and tech parks by the end of this month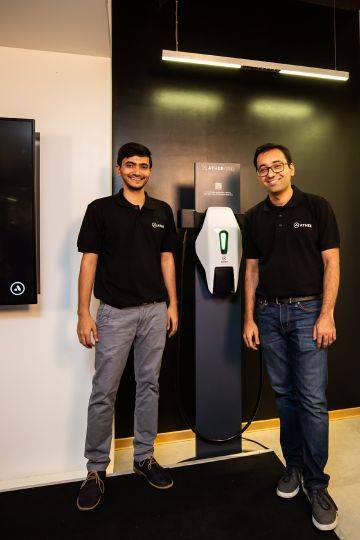 A few weeks after announcing that its first all-electric scooter, the S340, is edging closer to production, Ather Energy has now disclosed that it has begun the installation of charging points, called AtherGrid, across Bengaluru. The company hopes that it can install over 30 charging station, which will be open to all electric vehicles, in the city by the end of the month. In all, it plans to set up a total of 60 charging points in such a way that there is a charging station within 4km of each other.
The AtherGrid will be installed in malls, cafes, gyms and tech parks by partnering with host locations who have installed these points pro-bono at their premises. Ather Energy will also roll out a free app for all EV owners for the next six months through which they can find the nearest charging station, navigate towards it and remotely monitor the charge station and make payments.
The Ather S340 has been one of the most anticipated electric scooter in the country, It comes with a host of futuristic features like a touchscreen instrument cluster, smartphone connectivity and more! Bookings of the smart scooter will officially begin next month. Click here to read more

Press Release
Bengaluru, 21st May 2018 - Ather Energy today announced the launch of their charging infrastructure for electric vehicles (EVs), AtherGrid, which is open to all EVs. The company, known for their intelligent, electric scooter S340, has begun installations of the intelligent and connected charging stations across the city of Bangalore. 30 charging points will be set up by the end of May 2018. By the end of the year, 60 charging points will be available in Bangalore. With this, there will be a charging station within 4 km driving distance from any point in the city. This is the largest charging infrastructure effort in an Indian city.

Installed at malls, cafes, restaurants, tech parks, multiplexes and gyms, they have been selected to cater to both, four wheelers and two wheelers. For this, Ather has partnered with host locations, who have installed Points pro-bono at their premises to offer a convenient experience for all EV owners in the city. To improve EV ownership experience and increase adoption, AtherGrid and its accompanying app will be offered for free for the next 6 months to all electric vehicle owners. Using cloud connectivity, consumers can find the nearest Point available and navigate to the charging location using the app. Remotely monitoring charge status and integrated payment options offers EV owners a seamless charging experience.

Commenting on the launch, Mr. Tarun Mehta, Co-founder and CEO, Ather Energy said, "Electric vehicles cannot become a viable alternative without making charging infrastructure availability a greater priority. It is critical for us to make public charging convenient and accessible. This is an important step towards increased adoption and acceptance of electric vehicles and in the long run will have a positive effect on the cost of the vehicles themselves. The number of entrepreneurs and businesses that have come aboard to be a part of AtherGrid is also a testament to the future of electric vehicles. As we prepare ourselves for the launch of the Ather S340, Bangalore was a natural choice to be the home city for AtherGrid. Range anxiety and the inconvenience associated with charging will not be a deterrent to adoption, as the industry grows."

Ather's Points have been designed and manufactured in India, keeping in mind the needs of the domestic power grid. Safety features ensure that electricity is drawn only when connected to a vehicle and protects vehicles from overcharging with auto power cut off. Electric vehicles will be protected from undervoltage, overvoltage and overcurrent. And with an IP55 rated body it is safe to use in any weather.
See what our community has to say!
NEW
India's largest automotive community