Bajaj Scooters
3.7 is average rating of Bajaj scooters by 192 users
Bajaj Scooter Models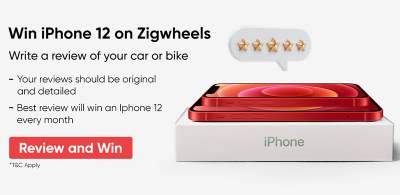 Bajaj Scooter User Reviews
In driving its nice then

In driving its nice then the petroleum bikes and it is nice to drive and in this bike we can seat 4 to 5 members and in petrol bikes we must give 5 to 7000 to petrol per month and in electronic bikes we must only charge for only 4 hours and it will come 100 km and its speed is till 75 and i am enjoying in this bike

I am not a user of EV model

I am not a user of ev model but i was having chetak scooter.I bought 3 bajaj chetak petrol scooters one after other through foreign exchange scheme during that period.I was having a crush on chetak.Now again i am inclined to buy it's ev model.This i noticed in today's hindustan times newspaper.I will prefer to go for latest improved model.If i book now can i get the latest improved model at the time of delivery.Inspite of all other makes i will go only for bajaj.Because i have faith of quality product.V.K.Tandon.

Good customer service and

Good customer service and support and driving is very smooth and safe and best thing is customer support

Driving experience

The driving experience is fantastic.I rode chetak in extreme weather conditions from heavy rain to the hottest summer of nagpur and i faced no issue at all.This is the best electric scooter made for indians as of now.Acceleration and pickup are excellent.There is no speed loss in the double seats also even on hills.I have ridden the chetak more than 12000 km in 9 months and i have saved almost 30, 000 rupees of petrol.I strongly recommend the chetak to all who are looking for buying an ev two-wheeler.

Show interest

It's really good my friend also show interest to buy chetak
Bajaj Scooter Comparisons
Bajaj Scooter Images
Bajaj Scooters News Updates

Bajaj Chetak: Highlights Of R&D Testing At New Akurdi Plant
14 Jun, 2022
16433 views
The fledgling Indian two-wheeler segment received a shot in the arm when Bajaj introduced the Chetak in the market decades ago. It helped mobilise countless Indians and...
read more
---

Bajaj Chetak EV Now Almost Completely Made In India
10 Jun, 2022
7945 views
At a recent media event, Bajaj Auto announced that the Chetak electric scooter will now be almost completely localised with only the battery cells being imported....
read more
---

Bajaj Chetak vs Vespa ZX 125: Electric Scooter vs Petrol Scooter
4 Jun, 2022
3995 views
Retro-themed motorcycles are winning hearts across the globe, and now the trend seems to be seeping in the scooter market too. While new players like the Keeway Sixties...
read more
View All Bajaj Scooters News
Bajaj Scooters Question and Answers
You can contact your dealer and customer care of chetak

Visit chetak.com battery charge time 5-6 hour for full charging

Bajaj Chetak is priced from INR 1.00 - 1.15 Lakh (Showroom Price: Delhi). Follow the link for an approximate on-road price of Bajaj Chetak. On the other hand, Bajaj has finally cracked it. The Chakan-based manufacturer has made all the necessary updates to its Chetak electric scooter, earning FAME 2 subsidies worth Rs 45,000. Here's the latest ex-showroom Pune price: Rs 1,42,390. The reason why the subsidies haven't made much of a difference is that Bajaj has hiked the base price (now Rs 1,87,390) by a considerable amount. Hence, the Rs 45,000 subsidy isn't as helpful for the customer.Read more -FAME 2 For Bajaj Chetak, But Still Quite Costly.
Bajaj Scooters Expert Reviews

Bajaj Chetak First Ride Review
31 Jan, 2020
55754 views
Electric scooters are a dime a dozen in India, with all shapes, sizes and top speeds available. Most of them, however, are poorly designed and/or built products from...
read more
Trending Scooters in India
Bajaj Scooters FAQs
Which is the cheapest Bajaj scooters in India?
The cheapest Bajaj scooter in India is Chetak, which is priced at Rs. 1.47 Lakh.
Which are the best Bajaj scooters under 80000?
What is the price range of Bajaj ?
Bajaj scooters in India comes in the price range of Rs. 1.47 Lakh to Rs. 1.47 Lakh.
Which is the best mileage bike in Bajaj?
Chetak is the most mileage efficient model in Bajaj with a mileage of 95 km/charge.
Which are the most popular scooters of Bajaj in India 2022?
Top most popular scooters of Bajaj in india are Chetak, 2022 Chetak and available in India with starting price Rs 1.47 Lakh