Okinawa Praise: Road Test Review
---
Does the Praise do enough to handle daily duties around town? Or are Okinawa's claims too good to be true? We put the electric scooter through a thorough 2-week testing regimen to find out.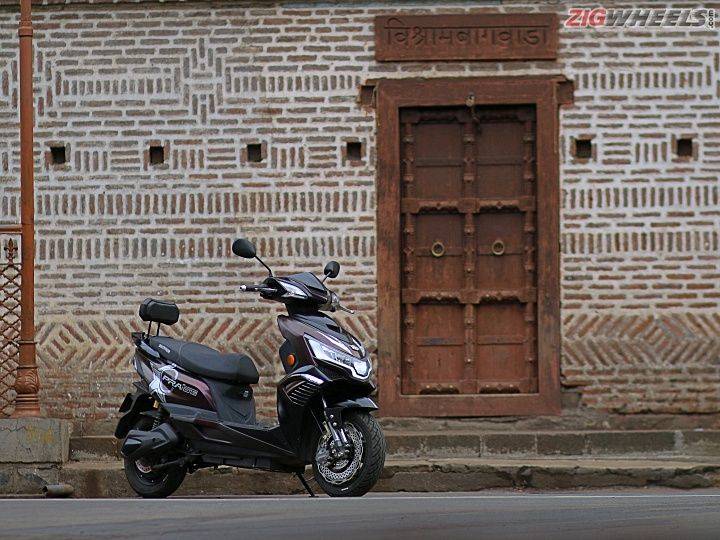 Get latest updates on
the automobile community
Electric scooters are just about coming of age. But to a large extent, most of the electric scooters that have been launched in the Indian market so far haven't really made us sit up and take notice. And most of those we have tested have been rather underwhelming too. It's understandable given that electric mobility is a burgeoning technology and still is a little ways away from replacing conventional petrol-powered scooters for the daily grind. That said, the Okinawa Praise which was launched late last year shows some promise.
Design

A lot of that promise comes from the great first impression the Praise makes, at least visually. Its aggressive lines, wide front apron and long wheelbase almost make it look like a maxi scooter. While this purple-coloured one we've got only stands out in bright sunlight, the company does offer the scooter in brighter colours such as blue and yellow. The wide LED headlights with a hexagonal DRL in the centre and pilot lights running across the front end do look quite nice. And some of its components do make it look rather high tech, such as the front brake rotors (yes, plural), adjustable machined aluminium levers and gas-charged suspension.

But there are some downers here too. The loud graphics for example look almost childish and detract from the otherwise interesting-looking two-tone paint scheme. The instrument cluster, though an all-digital affair, is quite small and basic - just displaying a speedometer, odometer, a single tripmeter that resets every time you switch off the scooter, numbers indicating what mode the scooter is in at the moment, and a battery meter, which in our case didn't seem to work at all. Overall plastic quality varies from acceptable to downright cheap as well.

Then there is the switchgear, which gets two horn buttons, one on either side. But the one on the right was clearly designed to be a starter button, pointing to the fact that everything on the Praise hasn't been designed with electric in mind. This point becomes clearer when you open the seat and check out the scooter's master kill switch - that is quite literally a circuit breaker that you can find in someone's house. Even the mode buttons feel like an afterthought. They add a space between the grips and switchgear, which means reaching the horn and indicators is quite a stretch.
Making it electric

Under that fancy skin aren't very high tech underpinnings. The Praise runs a fairly conventional underbone frame, with just an arrangement to fit batteries under the floorboard and the underseat storage box. Even the batteries themselves are rather basic 12v 45Ah automotive units. But the Praise uses a total of 6 of these for a total of 72v. Since industry standards for a 12v 45Ah are about 15kg, which means with six of these, the battery pack for the Praise itself weighs about 90kg. And that would put the kerb weight of this electric scooter somewhere in the region of 145-150kg. But Okinawa says that they'll soon have a Lithium-ion version of the Praise going on sale as well, which will bring the weight down drastically for the same battery capacity.

These batteries are hooked up to a 1kW brushless DC hub motor at the rear wheel which can manage a peak output of 2.4kW. The scooter primarily offers two riding modes: Eco and Sporty, which claim to restrict the top speeds to 35kmph and 60kmph respectively. These two modes can be toggled using an additional switch on the right handlebar. There's also a Turbo mode available by pressing the button on the left handlebar, which provides a slight acceleration boost and takes top speed to a claimed 75kmph. That said, the Turbo provides boost only for about 20 seconds, and that too if you're already in Sporty mode with the throttle open. Close the throttle and the Praise drops back to Sporty mode. And then Okinawa claims that the Praise can do about 175-200km on a single charge.
Actual Range

In our urban test cycle, riding around in just Eco mode, the Praise managed 110km till the batteries ran dry. In Sporty mode, that figure dropped down to 78km. Now it's not possible to ride around in Turbo mode all the time, so it was impossible to test the range in that mode. And it's also rather difficult to keep the scooter in Eco the whole time as it restricts your speed quite a bit. It's fine in stop-and-go traffic but we believe that in most urban conditions, most riders will keep the Praise in Sporty mode with the occasional use of Turbo to make quicker overtakes. One of the biggest challenges we faced in testing the Praise's range was keeping track of how much the scooter had run just by remembering the odometer reading thanks to the auto-resetting trip meter and unreliable battery charge indicator.
Actual performance

Actual performance numbers are quite different from what Okinawa claims. In Eco, the Praise topped out at 32kmph, while in Sporty, it managed 51kmph. But the speedometer was being quite optimistic here by showing 38kmph and 62kmph respectively. Using Turbo boost, we were able to max out this e-scooter at 61kmph, with the speedometer showing 74kmph.

Even acceleration figures are nothing to write home about. Most 110cc to 125cc petrol scooters manage to do zero to 60kmph in about 9.0 to 9.5 seconds. The Praise takes 9.43 seconds… to get to 40kmph. The run to 60kmph is a mind-numbing 24.1 seconds. So clearly, this isn't very quick, even as far as scooters go. Even throttle response, while fairly decent in the first 10-15 degrees of throttle travel, is completely flattened out beyond that. The instant torque hit we were expecting from an electric powertrain simply never came.
Charging it up

Doing a full charge of the Praise's batteries took anywhere between seven to eight hours. Okinawa does provide a charger with the scooter that plugs into a standard three-pin 5A socket. But we faced a couple of issues here as well. Firstly, the charger's cable is rather short so unless you have a plug point right where you park your scooter, you'll need to break out the extension cord. Secondly, and this was a major downer for us, the charger itself isn't weatherproof in any way. So we couldn't risk leaving it out in the rain and were forced to find a covered parking every time we wanted to charge the scooter.
Can it handle rains?
Speaking of rains, if you peek under the Praise, you can see that a couple of the batteries are exposed. While we never once encountered any problem taking the scooter through regular puddles, we would advise caution in splashing through deep puddles. Thankfully, Okinawa does say that the motor is waterproof, so that's one less thing to worry about.
Ergonomics

With a saddle height of 774mm, the Praise's seat is slightly higher than the NTorq's, and a tad lower than the Access'. So riders of pretty much any height will have no problems getting their feet firmly on the ground. The handlebar position too is set perfectly - not too high, not too low. However, thanks to the underfloor batteries, the floorboard is ridiculously high, forcing you into a very knees-up, almost 'squatty-potty' riding position. And because of that, even if you're of average height, the handlebar is going to dig into your knees when taking tight turns.

The seat itself though is fairly comfortable, for both rider and pillion. But the pillion footrests are quite high set and barely have any room for your feet. The back rest, though a boon for providing back support to the pillion, eats a bit into seat space (especially for larger riders and pillions), and takes some effort to swing your leg over when getting on or off the bike.
Practicality

Okinawa claims an underseat storage capacity of 19.5 litres. But the odd shape makes it difficult to store large items. And it's quite shallow too. Plus if you need to carry the charger with you, it's going to take up some space. The floorboard though, tall as it might be, is very spacious - more so than nearly all conventional scooters. Plus you get a lot of space in the front cubby holes, and even a USB charger.
Features
The Praise does come with some interesting features. It gets all-LED headlights, but its spread and reach is strictly below average. Surprisingly though, the front indicators and brake light run conventional bulbs.

Then, it's supposed to have a reverse assist mode, which is supposed to automatically start providing assistance when you start pushing the scooter backwards with your feet. But during our testing, this was very inconsistent and even when it did work, there simply wasn't enough assist to get the scooter to back up on any incline.

The one feature that did work rather consistently was the smart key with anti-theft. If you try to roll the scooter after you've hit 'lock' on the key fob, the motor strongly resists and almost locks down the rear wheel. And of course, the really shrill alarm goes off, and won't stop until you leave the scooter untouched for a few seconds or hit 'unlock' on the key fob.
Handling

As discussed before, the Praise is a rather heavy scooter. But since most of its weight is located in the floorboard, the centre of gravity is very low. The lateral weight distribution feels quite even too. So that makes it very stable in a straight line. But if you were to tip the scooter to one side, it takes a lot of muscle to pick it back up. Even the steering feels quite heavy at slow speeds, so maneuvering the Praise through traffic feels like a bit of a task. One of the biggest issues we encountered however was that if you were to let the handlebars go even for a couple of seconds, at any speeds on any roads, the front-end would go into a violent tank-slapper.

The Praise gets disc brakes at both front and rear. But the front brake setup looks quite cutting edge, with dual rotors, a smaller inner one and a larger outer one, with single pistons on each. But as fancy as the components seem, braking distance is less than impressive. To put things into perspective, most conventional 110-125cc petrol scooters brake to a stop from 60kmph in about 18-20 metres. The Praise took 32.5 metres for the same. No surprise considering the amount of mass it has to haul to a stop. And even though the front brake felt fairly progressive, both brakes had a tendency of locking up under hard braking - no CBS or ABS here.
Ride quality

The Praise's front suspension consists of a telescopic fork while at the rear, it gets twin shocks. But, surprisingly, all of them look like they're gas-charged units - something we haven't seen on any scooter in India. But then the ride quality can only be described as harsh. The front-end tends to crash over bumps and potholes, while the rear will send shocks up your spine. And rumble strips and expansion joints feel like they're going to knock the handlebars out of your hands. Simply put, even on mildly bad roads, the Praise's ride quality isn't a very pleasant experience.
Final thoughts

When we began testing the Okinawa Praise, we started off with fairly low expectations. And most of them were actually met. One expectation that was exceeded though was the range - which is actually quite usable even though it's not close to what Okinawa claims. Even the performance is fairly acceptable for a purely urban scooter.

So while it's far from being the best electric scooter in India, it is something that works well enough, can be bought in most cities across India and comes at a fairly reasonable price of Rs 59,889 (ex-showroom Delhi). The final question boils down to whether you can use it everyday for the daily grind. Well, there are quite a few compromises, but as long as you understand, and accept them, then yes, you can!
Okinawa Praise Video Review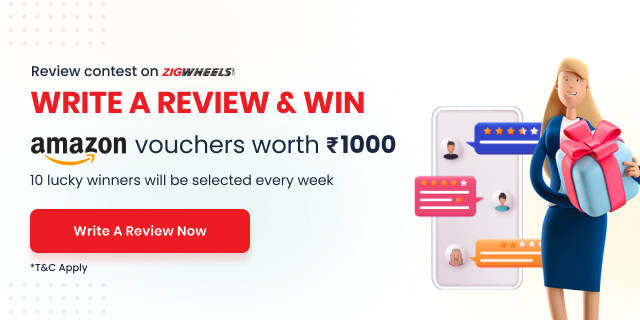 See what our community has to say!
NEW
India's largest automotive community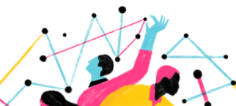 4 Other Things You Might Want To Do