MG ZS EV: First Drive Review
---
We take a long hard look at the MG ZS EV on our first drive to see if it could prove a suitable green replacement to your fossil-fueled personal transport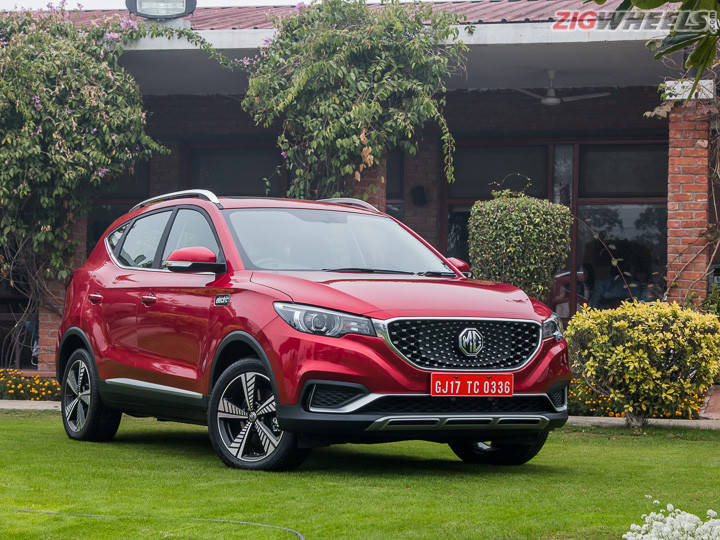 Update: MG Motor ZS EV has been launched in the country. The Excite variant is priced at Rs 20.88 lakh and the Exclusive variant costs Rs 23.58 lakh (ex-showroom). Read our launch story for more details.
Saying no to plastic, using biodegradable garbage bags, and buying organic local produce are some simple and easy ways you can help make a better tomorrow. But what makes a great green substitute? It should be readily available, do everything that the object it replaces did for you, and integrate easily into your daily life. We're asking the same questions of the MG ZS EV today. Could it be a genuine green mobility replacement for your car?
Flying under the radar

When it comes to looking conventional, the MG ZS EV certainly looks the part. Yes, there are some small signs like the electric badging on the boot lid and the rather tacky 'fridge logo' esque 'electric' badges on the front quarter panels, but otherwise, it looks a lot like any modern compact crossover SUV.

In addition to badging, the one other subtle 'green' design cue is the windmill-inspired 17-inch wheel design. The London Eye headlamp DRLs are a modern reminder of Morris Garage's British heritage and encase simple halogen projector units. Other design elements are the leopard's leap-inspired shoulder line and a panoramic sunroof just like the one in the Hector. And on this smaller SUV, it looks even larger! In terms of road presence, it looks just a little larger than the Creta or the Kona (its direct rival).

That said, other 'green' cars wear their green credentials proudly and have more flashy designs but the MG ZS EV looks like just another European compact crossover SUV.
| | | |
| --- | --- | --- |
| Dimensions | Kona EV | ZS EV |
| Length | 4180mm | 4314mm |
| Width | 1800mm | 1809mm |
| Height | 1570mm | 1644mm |
| Wheelbase | 2600mm | 2585mm |
| Ground Clearance | 170mm | 161mm |
Even the colours that MG is offering it in (red, silver and an electric blue) will fly under the radar. And on our foggy drive from Gurugram to Greater Noida, we didn't turn too many heads either. If you want to be green and not shout it out to the world, the ZS EV is one way to do it.
Better on the inside

If you've seen any of our reviews of the Hector, the only yardstick we've had for Morris Garages, we're not fans of the the fit and finish of its interiors. Thankfully, the ZS EV is setting a new mark for the brand with refreshingly upmarket materials and styling. This is, in no small thanks to influence from Volkswagen, whose inspiration is evident in the design of the AC vents and the steering wheel. There's also plenty of soft-touch plastics and a healthy dose of leather-wrapped bits, both on the dashboard and the central console.

The driver's info dash is an all-colour digital centre surrounded by two very conventional-looking dials. The left houses a speedo while the right one looks a lot like a tachometer, but displays how much power your right foot is calling up from the electric motor up front. It also houses what looks like a fuel meter but shows how much charge is left in the batteries. Speaking of which, there are three total locations where you can see the status of the batteries: the digital display and two displays on the 8-inch infotainment system.

MG has gone back to a horizontal display for the ZS EV. This one comes with a new iSMART EV 2.0 operating system, which is nice and snappy to use and gets a better design to the interface. Some of the apps like the Gaana could still do with a more car-friendly interface. A few of the button areas are still too small to locate and use in a moving car. Like the system in the Hector, the display is nice and crisp and fairly lag free.

The ZS EV doesn't disappoint when it comes to being spacious. With a 6-way electronic adjustable driver's seat, I could easily find a comfortable and commanding driving position despite the fact that the steering doesn't telescope but only adjusts for tilt. Taller drivers may find that the steering is a bit of a reach but not too uncomfortable.
I'm 5'10 and with the front seat set to my driving position, there was plenty of kneeroom at the back. I could even stretch my legs out a bit. There's reasonable headroom too but really tall passengers may complain a little.

Other complaints are that with the low-seat height you sit a little knees up and so under thigh support is lacking. Also, we would have loved a rear armrest -- a weird omission considering the price segment it's going to land in. There is a place to store a phone and a regular USB charge socket but no rear AC vents, which will also pinch a little in Indian summers. Also, why no automatic AC, MG?
Juice it up

MG has designed a 5-pronged charging system to make sure your ZS EV never runs out of juice -- probably the biggest fear with any fully electric vehicle. The first of these is the 7.4kW AC fast charger that MG will install at your home or office -- actually anywhere you choose and its included in the cost of the car. It will charge up the ZS EV to 100 per cent in 6-8 hours.
MG has also installed DC fast chargers in the parking lots of some of their showrooms and you (or any other electric car owner for that matter) can charge up to 80 per cent in under an hour. This service is a joint effort with Fortum and charging is set up and paid for through their app. MG estimates that a full charge will set you back by between Rs 230 and Rs 300.

The third option for charging and probably best saved for emergencies is the 10A charger that sits in the boot of the ZS EV. It plugs into any 15amp home socket but takes a whole 16-18 hrs to charge up the 44.5KWh batteries to 100 per cent.
MG has also set up AC fast charge stations in MG dealerships across the country along key routes from supported metros to satellite cities, with more cities being added into the mix.
The fifth prong in MGs five-pronged charge solution is the RSA service. The ETA for this service is an hour and it will provide you with roughly 30km of range to either get you back home or to the nearest charge station. You can hail the service via the iSMART SIM-based connected feature.

In terms of safety, the ZS EV offers 6 airbags, ABS and EBD, disc brakes on all four wheels, hill descent, pedestrian alert system, Isofix child seats, and even rear seat belt reminders. In fact, it scored 5 stars in a recent Euro NCAP test, though the Euro-spec test car was equipped with radar-assisted safety features that the India-spec car misses.
The existing cities where MG has set up charging infrastructure are Delhi NCR, Mumbai, Bengaluru, Hyderabad, and Ahmedabad.
Drive Easy

Another area where electrics fare naturally well is behind the wheel. With smooth power, instant torque and no gearing to bother with, they are very natural to drive and the MG ZS EV is no exception. It's predictable, easy, and has plenty of grunt. The electric motor makes 143PS of power and 352Nm of torque, and it's the torque that makes the biggest impression here. To put its performance in perspective, the acceleration is close to a powerful executive sedan like the Octavia and is quite exhilarating!
The rest of the drive experience is also very predictable. The steering is nicely weighted and direct and the throttle is light and very predictable. The brakes are a little spongy though and could have done with a little more bite.

There are also three drive modes: Eco, Normal and Sport that change the throttle response but still give you full juice when you give it full throttle. Eco dulls the throttle quite a bit and gives you the most predictive range, roughly 7 to 8 km more than Normal. The Normal mode is perfect for daily driving and gives you a more direct connection with the throttle pedal while Sport is very responsive and would require you to focus more energy than necessary when driving in traffic. Sport is also the most wasteful, giving a predictive range of as much as 20km less than Eco mode.

There's also three levels of KERS or Kinetic Energy Regeneration System that allows you to charge up the batteries through brake energy regeneration. It has three levels and feels like engine braking when you get off the throttle in a conventional car. In the lowest mode, it feels like the car is coasting when you get off the throttle. In the second level of regen, there is more noticeable deceleration and level three is a lot more obvious. It feels like someone is just feathering the brakes. That said, level three doesn't feel like it's the one pedal solution for city driving that some other electric cars like the eGolf have.
| | |
| --- | --- |
| Performance | MG ZS EV |
| Battery | 44.5kWh |
| Range (ARAI) | 340km |
| Power | 143PS |
| Torque | 353Nm |
| 0-100kmph | 8.5s |
In terms of range, the ZS EV comes with an ARAI-certified 340km. On our drive that included driving from Gurugram to Greater Noida through some fog, switching through all the drive modes and enjoying the rush of sport mode, we did lose about 100km of range in the 65km that we travelled.

That said, with the number of charging options and keeping in mind that like a regular oil-burning car, you don't always drive around with a full tank, the ZS EV will easily handle a week's worth of office trips even without topping up. And remember just one night on the AC home charger is enough to bring it back up to 100 per cent.
Ride quality is on the firm side but feels sophisticated. It is nicely damped and the car settles quickly also takes the edge of sharp bumps though they are felt and there is some roll though it's reasonably well controlled.
Pricing

Bookings for the MG ZS EV have already started at Rs 50,000. It will be launched in January and we expect it to be priced around the Rs 25-lakh mark.
Verdict

So coming back to our original question, is it a good green substitute? It looks just like a regular SUV, offers the space and features that we'd expect from a compact crossover and most importantly, drives like one too. So, yes. We certainly think it can. MG is assembling the ZS EV in India and planning to sell 1,000 units in 2020. For the segment and considering our drive experience that certainly seems achievable.
More on MG ZS EV

Rs. 20.88 Lakh Onwards
Ex-showroom, Delhi