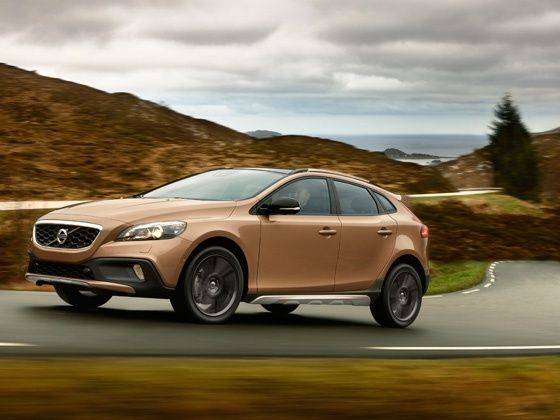 Date of Launch 14th June 2013, Expected price: Rs. 27-30 lakh [Updated 27/05/2013]
The Paris Motor Show this year is shaping up to be a much desired conjecture especially with international auto manufacturers the likes of Volvo, who have already made their presence felt in India, and are now looking to exploit new segments and unchartered territories both internationally and more so within their own creative circles.
More importantly for India, the big news straight from the glossy show floors at the ongoing Mondial de l'Automobile is that the Swedish car maker has confirmed that it will indeed be bringing its V40 Cross to India in the first or second quarter of 2013 with an unveiling early that year.
This third variant of the V40 model which was recently launched at Paris according to Volvo India officials is targeted against the Mercedes B-Class and the BMW X1 and believe it or not will in all probabilities be priced slightly lower than both these entry level luxury vehicles which hover around the 23-27 lakh price range for the their base variants.
After paving the way for a totally new segment with the V70 Cross Country when it was launched in 1997, Volvo is looking at starting a new chapter with the all-new Volvo V40 Cross Country almost 15 years later.
Although elegant in appeal and style the Cross Country mind you is a far more rugged and sportier version of the original V40 model and features unique details such as silver roof rails, 19-inch alloy wheels, a honeycomb mesh grille and upright day-running lights, a contrasting rear bumper and integrated skid plates that set it apart visually from the toned down standard version of the V40 model series.
Besides renowned safety equipment like City Safety auto-braking technology, the Cross Country will also be fitted with the V40's world-first pedestrian airbag technology and is also the only car in its class to be available with Pedestrian Detection technology.
It's confirmed that both the petrol and diesel versions of this luxury hatchback will be offered to customers in India once officially launched, but it remains to be seen whether the 152 PS 2.0-litre D3 or the more efficient 116.5 PS 1.6-litre D2 diesel version or maybe even both finally come to India. Incidentally there is also aT4 petrol model with a 1.6-litre GTDi engine producing 182.5 PS and maximum torque of 270 Nm, which if introduced alongside the diesel models wouldn't be such a bad idea either.
Both petrol and diesel engine versions have start/stop and braking energy regeneration, no matter whether they are fitted with a manual or automatic gearbox. Prices and complete specifications will be revealed later this year with production starting in November. Customer deliveries in overseas markets are expected to start during January 2013.