Renault small car Pulse unveiled
---
French carmaker's top-down strategy takes shape as Micra-based premium hatchback Pulse make an appearance
French carmaker Renault is showing great resolve in sticking to its strategy for India. After the recent launches in the form of the D-seg Fluence and the Koleos SUV, Renault has unveiled its small car for the Indian market, the Pulse. The car was revealed today evening in Delhi at the hands of Formula 1 drivers Mark Webber and Karun Chandhok, on the eve of the inaugural Indian F1 GP. Both drive F1 cars powered by Renault engines.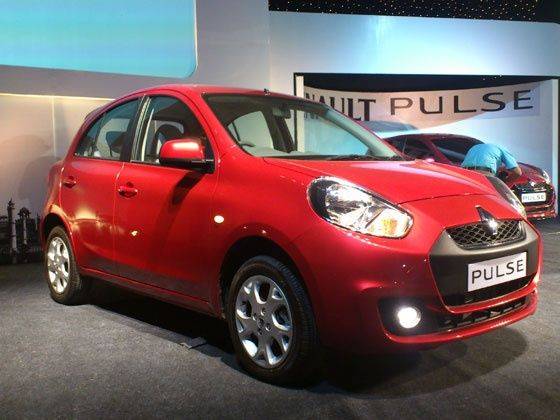 While news of a small car from Renault had been doing rounds, and had even been confirmed by the manufacturer itself, many had expected this car to be on the lines of the Modus or the Clio - both established brands in the European city-hatch space. The car for India however will be neither of the two, but will be called the Pulse and will share a majority of its parts with partner Nissan's Micra hatch.
Looking at how the hatch market has taken a sudden liking to diesels, the car will be launched at the 2012 Auto Expo in Delhi with the 1.5-litre dCi engine. The mill has been seen previously on the Micra, Fluence and Nissan's recently launched Sunny sedan. While the focus will be on this variant, the petrol option is not being ruled out, and will be the nice and torquey three-pot 1.2 litre engine, again from the Micra.
So how will the Pulse stand out from the crowd? We could say quirky French styling, but Renault would be looking at premium positioning to give the car a different spin. While the size and space of the car would still be Micra-ish, the car is expected to come loaded with features to the gills, and will be aimed at affluent small urban buyers - much like the Honda Jazz when it was introduced. We're pegging the pricing to lie higher than the Micra, in ranging between Rs 6-8 lakh across petrol and diesel variants, but we'll have to wait until the Expo to actually decode Renault's gameplan with the Pulse.
This certainly seems like a smart strategy for new solo entrant Renault, still in the process of ramping up both its production facilities to be able to handle the demands of the Indian car space, and also create enough dealerships and service outlets to allow the brand to thrive. Creating a niche in the crowded premium hatch space based on design, price and positioning while still keeping the logistics simple with the Micra piggyback may not create great numbers in sales, but should help the marque make its presence in the country more concrete. Watch this space for more details on the forthcoming car!