Narain Karthikeyan's New Toy Is A Porsche 911 GT3!
Feb 16, 2018
Views : 2371
---
The Porsche 911 GT3 is not a car, but a track weapon. It's only fair that someone with the apt skill set should be handling it.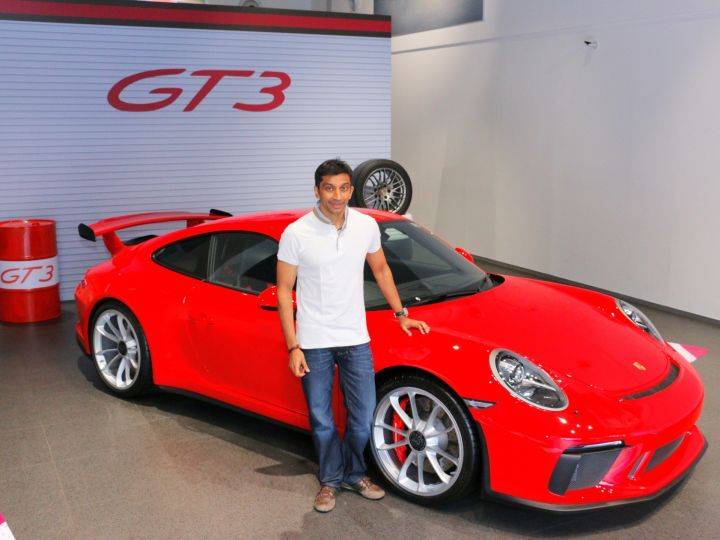 We often hear about people with capital, but not necessarily driving skills, buying exotic sports cars. But this time around, justice has prevailed. Narain Karthikeyan, one of India's faster drivers, has bought himself a Porsche 911 GT3 costing upwards of Rs 2.4 crore. This is the performance-focused variant of the 911 range and gets tweaks which make it more stable for someone like Karthikeyan, rather than someone in a, well... suit.
The 911 GT3 runs the largest flat 6-cylinder engine ever on a road-going Porsche. It's a 4.0-litre naturally aspirated motor which pushes out 500PS of maximum power at 8,250rpm and 460Nm of peak torque at 6,000rpm, and revs till 9,000 rpm. It's not as aggressive as the GT2 RS which makes 700PS/750Nm from a 3.8-litre engine, but the GT3 is still pretty quick with a 0-100kmph time of 3.4 seconds. This is mainly down to the Porsche Doppelkupplung (PDK) dual-clutch transmission which sends power to the rear wheels.
Handling has supposedly been improved with the new GT3 featuring improved front and rear suspension. Rear wheel steering, electronically actuated rear differential and active suspension management have been carried over from the previous GT3.
In a bid to reduce weight, stuff like the rear seats' sound insulation layers have been removed. Furthermore, there is extensive use of carbon fibre in the car, to an extent where even the hinges for the engine cover are made from it. But because this car still needs to be comfortable for the driver, it gets electronically adjustable bucket seats, AC and a large central touchscreen infotainment system paired to a sound system, which seems to be a little pointless given that the flat-6 will be singing all the time.
We are sure Karthikeyan will be able to do justice to this engineering marvel and vice versa.
Add Your Comments