Our Take On The Swanky New Ninja 650 BS6
---
A fresh look, a cleaner engine and a fancy new TFT display. But also a price hike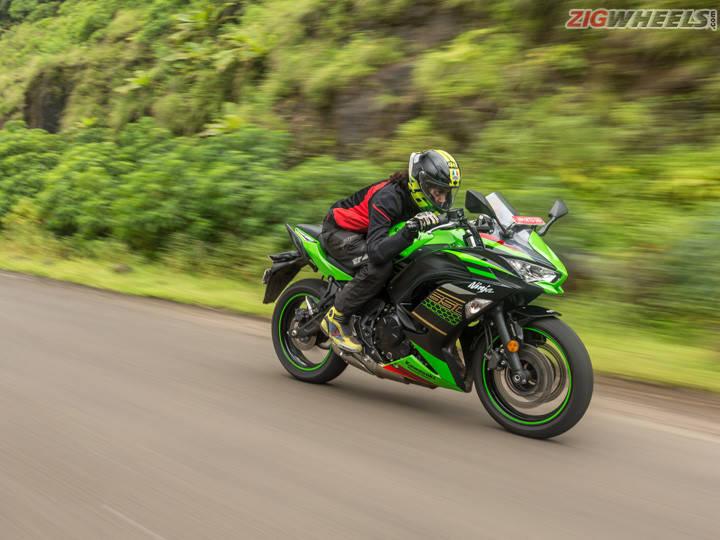 The Kawasaki Ninja 650 BS6 has received little changes over its BS4 predecessor: a cleaner burning (but slightly less potent) motor, a new look and some fancy new features. So, how much of a difference have these little changes made? Read on to find out…

Obviously, Kawasaki has given the 650 a design makeover in this generation. The redone front fairing, headlights and screen have now given it the Ninja family look, making it remarkably similar in appearance to the mighty Ninja ZX-6R.

The new TFT screen is crisp and well laid out, and greatly adds to the perceived value of the Ninja. Gear position, speed and even RPM can be read at a glance, which isn't always the case with fully digital units. The Bluetooth connectivity allows you to locate your parked bike, log your rides, and change certain settings on the bike using your mobile phone, but what you can't do is receive on-screen navigation or control music playback.

The output difference between the current and the BS4 model of the Ninja 650 isn't much. There is no change to the power figure, only a drop of 1.7Nm, to 64Nm, which is hardly a cause of concern for the new bike. And despite the changes made to the motor to make it run cleaner, the Ninja 650 as a whole has not gained a single kilo, still tipping the scales at 196kg.

The DOHC motor remains just as usable as before. Gentle roll-ons even slightly below 2000rpm see the engine dutifully pull you along without complaint, and the forward surge builds strongly and linearly all the way up to around 9000rpm, beyond which drive tapers off before hitting a soft limiter at 10,000rpm.

The new bass-ey exhaust note makes the Ninja sound almost like a single-cylinder at idle, but once you're on the move and have it singing, you travel along cocooned in a bubble of rorty symphony that's equal parts exhaust blare and induction roar.

With its rearset footpegs and slightly low, angled bars, the 650 makes you lean forward just a touch, putting you in a sporty and intentful position, but it's by no means uncomfortable. The rider's seat is quite spacious and comfortable, with the cushioning hitting a sweet spot and keeping your butt pain-free even after long hours on-board.

Kawasaki has given the Ninja a soft touch in this BS6 generation and the bike now gets a very plush and pliant suspension setup. The aggressive looks belie the splendid ride quality, and the 650 isolates you well from road imperfections.

This hasn't compromised on handling fun, though. The Ninja is a neutral-steering bike that's agile enough to reward an experienced rider yet not so nervous that it would intimidate a newbie. Yes, mid-corner bumps can upset the bike a little, but a stiffer preload setting mitigates this issue to a great extent.

When braking hard, ABS kicks in far too early at the front -- and when it does, brake pressure is released excessively and for far too long, resulting in a brake lever that's seemingly frozen solid, and some rather long braking distances. At the rear, on many occasions the wheel completely locked up before ABS decided to take any action.

The Ninja's newfound soft touch has grown it into a more agreeable and well-rounded motorcycle that will allow it to fulfil more roles and appeal to more riders than before. It definitely feels more upmarket too, thanks to the new design and lengthier features list, so there's no problem justifying itRs 35,000 premium over the BS4 bike.
Kawasaki Ninja 650 Video Review
More on Kawasaki Ninja 650

Rs. 6.24 Lakh Onwards
Ex-showroom, Delhi