This Could Become The World's Most Powerful ADV Soon!
---
Afterall, the Multistrada V4 will get the same 1,103cc V4 engine from the Panigale V4
There are some revisions in the styling of the Multistrada for the V4 model.
It gets an exposed trellis subframe and a different swingarm design.
Expect Ducati to show it off at the World Ducati Premiere 2020.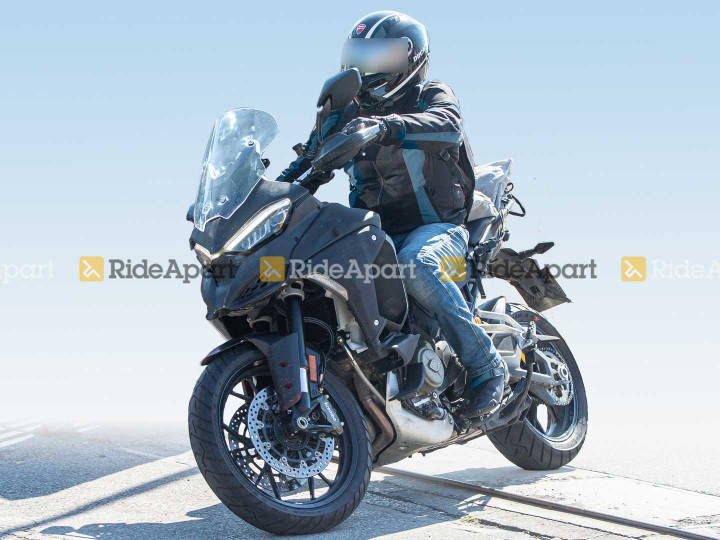 Ducati working on a V4-engined adventure motorcycle is not something new. The Multistrada V4 was spotted fleetingly before top boss Claudio Domenicalli himself confirmed that the bike was indeed coming. It was right before the lockdown that we received more details on the new bike and with the pandemic more or less under control in Europe, the grand tourer has once again been spotted.
Domenicalli had stated that we will see a lot more bikes with the V4 engine. We have already seen it in action on the Panigale V4, its superlight and bonkers version -- the Superleggera V4, and finally on the manic naked, the Streetfighter V4. On each one of these bikes, the V4 motor displaces different cubes and has a unique tune.

Expect the Multistrada that arrives with this engine layout to get the 1,103cc version of the motor with a more user-friendly engine tune. That said, don't expect Ducati to numb the sensations that we experienced with the Panigale V4 and the Multi V4 could be the most powerful adventure motorcycle in the world.

Unlike other V4-engined Ducatis, the Multistrada V4 gets a brand new trellis frame with an exposed trellis subframe. Even the swingarm design is quite unique to the Multistrada series; the one on the V4 has been strengthened with extra triangulation to handle the torque surge from the motor.
Much like the standard versions of the Multistrada 950 and the Multistrada 1260, the Multistrada V4 would serve best if one sticks to asphalt. An Enduro version of the same could be quite enticing but an overkill in our books. Expect Ducati to provide electronic suspension and a whole lot of electronic aids to make sure that the power laid down never overwhelms the rider.
The arrival of the Multistrada V4 is eagerly anticipated by many and we could see Ducati add this new V4 model to the series come November, which is usually when it holds its World Ducati Premiere. It could turn out to be a virtual event in 2020 considering the current COVID-19 crisis and also the cancellation of prominent two-wheeler expos like Intermot and EICMA.
Add Your Comments