Suzuki Hayabusa Back In Electric Form!
Jun 12, 2020
Views : 9899
---
Although it's powered by an electric motor from a forklift, it can do the quarter-mile run in under 10 seconds
The motor has been modified to run on 1400 amps and makes 200PS.
The all-electric drag bike weighs just 164kg.
It clocked a quarter-mile run in 9.3 seconds.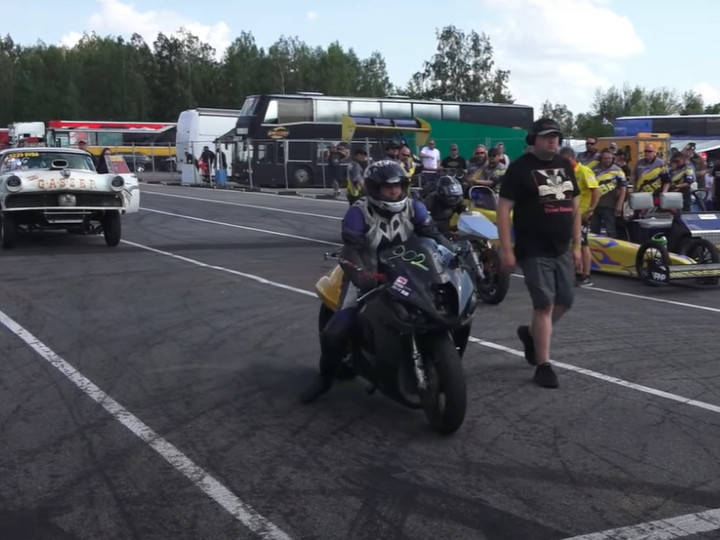 This might sound crazy but a Danish motorsport team has plonked a forklift's electric motor into a Hayabusa, resulting in a drag bike that can smoke hypercars. A drag run of the electric Hayabusa shows the rider barely keeping the front end down. He went on to set a couple of world records after completing the quarter-mile run in just 10.07 seconds at a top speed of 188.78mph (303.81kmph).

While the electric motor powering the bike has humble forklift origins, it has been modified extensively to provide massive doses of performance. The motor uses an in-house developed control that delivers upto 1300 to 1400 amps. It can put out around 200PS of peak power for 5 to 6 seconds, enough for a drag run. The power output may not be much when compared to a modern-day superbike, but then again the electric Hayabusa weighs just 164kg! In comparison, a stock Suzuki Hayabusa weighs a whopping 268kg.

This has been achieved by junking the stock 1340cc motor, twin exhausts, headlamps and other electricals. What you see is an empty Hayabusa shell with a low mounted battery pack and electric motor behind it to achieve a low centre of gravity. The frame appears to be modified to accommodate the battery pack while a stretched swingarm adds around 10 inches to the wheelbase.

Electric bikes have great potential as performance machines. Some prime examples are the Harley-Davidson LiveWire and the upcoming Emflux One.
Suzuki Hayabusa Alternatives