436kmph On A Bike? It's Only Possible If Guy Martin Rides It
by Alpesh
Sep 20, 2019
Views : 26354
---
The modified Suzuki Hayabusa is capable of producing 841.5PS of power!
Guy Martin broke the record at the Straightliners event in Elvington runway, UK.
The custom Hayabusa is powered by a turbocharged engine.
Guy Martin is planning to break the 300mph barrier (482kmph) as well.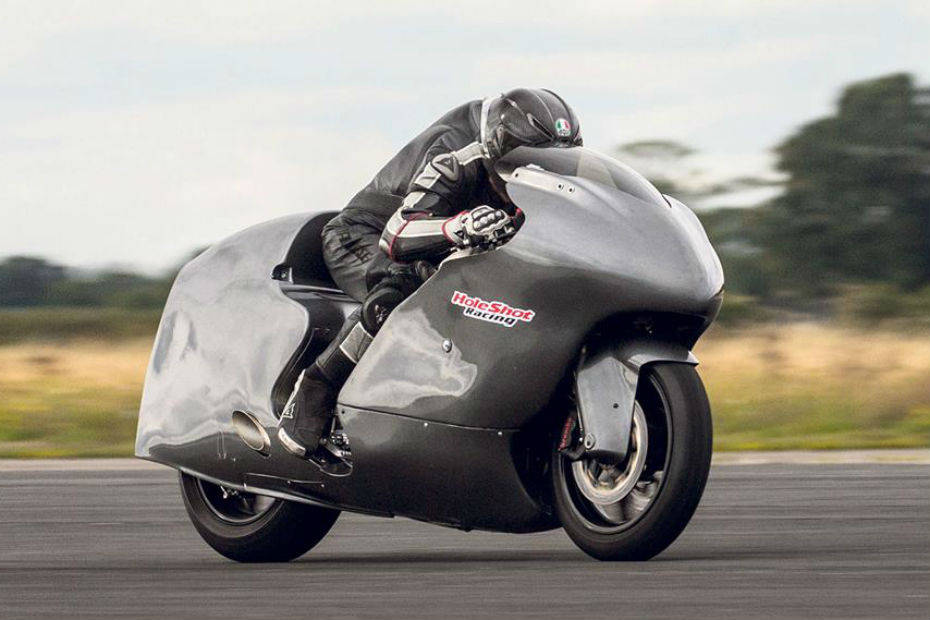 To create a speed record you need a ridiculously powerful machine, an arrow-straight piece of road and a madman willing to risk it all. We have already seen Bugatti do it at the famous Ehra-Lessien with the help of Andy Wallace. Now we have another speed record but this time it's on two wheels! British racer and part-time speed freak Guy Martin piloted a modified Suzuki Hayabusa and clocked an astonishing 270.965mph (around 436kmph) at the recent Straightliners meet in Elvington, England.
Also read: 2020 Suzuki Hayabusa: New Patent Images Emerge
To help Guy create this record, Jarrod "Jack" Frost from the UK-based custom house Holeshot Racing gave him a modified Hayabusa. This is not just any modified Hayabusa, mind you. It was purpose-built for this specific record. Apart from the slick aerodynamic bodywork to reduce drag, the custom house also plonked a turbocharged engine in it, which is capable of belting out 841.5PS of power. That's 41PS more than the Ferrari 812 Superfast, which has the most powerful V12 ever fitted to a road-legal car! Holeshot had to also rework the internals and strengthen the underpinnings because the amount of force that the motorcycle was going to feel at such speeds was astronomical!
Guy Martin isn't new to the world of breaking records. He previously set three Guinness world records for achieving the highest speed in a gravity-powered snow sled (134.3kmph), on a 'wall of death' (125.7kmph) and in a soapbox (137.78kmph). You give this guy anything with wheels and he'll try to go as fast as humanly possible.
Source: MCN
Suzuki Hayabusa Alternatives