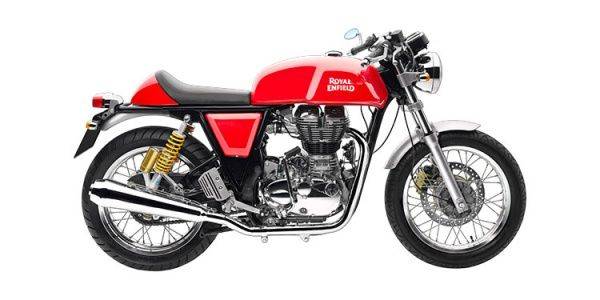 Royal Enfield Continental GT
Rs. 1.98 Lakh
Discontinued Model since 31 Dec 2017
---
About Royal Enfield Continental GT
The continental GT is the one bike from Royal Enfield that everyone has been waiting for. With a fantastic price to boot, expect the Continental GT to sell in Huge numbers.
Royal Enfield Continental GT Overview
Under the new GST tax structure prices for bikes abobe 350cc has witnessed an increase of one per cent in tax. This has resulted in the Royal Enfield Continental GT costing Rs 200 to Rs 500 more depending on the state of purchase.
The Continental GT is Royal Enfield's lightest and most powerful production motorcycle currently on sale in India. The cafe-race design make the bike look like a million bucks and the 535cc fuel-injected engine makes sure it has the go to match its show. The chassis, designed by Harris Performance, blesses the motorcycle with optimal stiffness and helps it handle like a dream. The clip-on handlebars egg you to expand your riding skills further and overall, this Royal Enfield will delight you like no other bike from the brand does.
Royal Enfield Continental GT Colours
Continental GT Alternatives
Must Read Questions & Answers Before Buying Continental GT
Q. Which is the Best between Interceptor and Continental GT?
Except for the difference in the seating posture between the two there is no other difference.Depends whether you want the daily city commute with occasional long distance riding for which the Interceptor 650 is more suitable because of its more upright seating posture or a short distance Speed riding for which the Continental GT 650 is more suitable because of its forward leaning(committed) seating posture! Hope this helps! Happy riding!
Engine is same in both the bike but sitting posture is totally different in interceptor you will get straight posture as it's suitable for city and hiway rides but in GT you will get little bit lean posture as it's cafe racer look in my opinion it's not comfortable for long rides...Hope you are quite satisfied with the answer if yes then please hit the like button
If you have using sport riding-posture bike , then Continental GT will better for you . if not Interceptor.Continental GT better handing than Interceptor . For long ride, then Interceptor will be better .\'Ride Hard Ride Safe\'
View All Answers
Q. What is the difference between interceptor and continental GT which one is best?
Interceptor 650 has a upright driving position.GT continental has slight bend driving driving position. For highway cruising & Long travel interceptor is the best . GT continental is fun driving not for long travel. Both engine & Performance are similar. Please go for a intense test drive and decide the comfort aspects suits you.
Same engine and frame. Just the seating posture is more committed on the GT. You should test ride both and decide what suits you better.
Same Engine is there only difference is riding posture and price
View More Questions
All Continental GT Questions and Answers
Continental GT User Reviews
3.8

Very comfortable bike.Just like rocket.Obviously made like a gun.It's my dream bike.It's made for laddakh trip.

3.8

It's a cafe racer, I've even modified it to do so more. its not comfortable and has a lot of issues, especially electrical. On the other hand, it rides like nothing else, and you get lost in the smooth power delivery and loud exhaust notes, and the chassis is really stiff, so throwing yourself in corners feels so natural that even if you've never leaned, it will make you lean in to the corner. it's ride height is adjustable thanks to Paiolli springs and you can adjust for perfect rides through any roads!

5.0

it's a thrilling experience to ride this bike daily

5.0

ossm bike i changed in carbrater

4.2

I like the bike style and power everything
All User Reviews
3.8

It's a cafe racer, I've even modified it to do so more. its not comfortable and has a lot of issues, especially electrical. On the other hand, it rides like nothing else, and you get lost in the smooth power delivery and loud exhaust notes, and the chassis is really stiff, so throwing yourself in corners feels so natural that even if you've never leaned, it will make you lean in to the corner. it's ride height is adjustable thanks to Paiolli springs and you can adjust for perfect rides through any roads!

3.8

Very comfortable bike.Just like rocket.Obviously made like a gun.It's my dream bike.It's made for laddakh trip.

3.0

வண்டி சரிதான் மெயிண்டன் செய்வது கஷடம்

5.0

The monster with thump old skool single cylinder feelBrings smile every time when twisted.

5.0

it's a thrilling experience to ride this bike daily
All User Reviews
Royal Enfield Continental GT Expert Reviews

We take a spin on the new Continental GT across some scenic roads in Goa to put to test Royal Enfield's new cafe racer offering
December 8, 2013
By Arun Mohan Nadar Photography: Kartik Sadekar

Straight modern blast from the past seems an anachronism but it best illustrates how well Royal Enfield has conjured up its first all-new motorcycle in over 60 years! Adil Jal Darukhanawala swings a leg aboard one of the very first of these biggest of big Indian singles to put the spanking new and absolutely smashing Continental GTs thru its paces at Brooklands, the spiritual home of British motorsport and beyond. Say hello to a delightfully modern take to classic motorcycling charmingly packed with useable performance for the now and here
September 29, 2013
By Adil Jal Darukhanawala Photography: Kunal Khadse
Royal Enfield Continental GT Images & Videos