Hits and misses: Datsun Go review
Mar 2, 2014
Views : 85863
---
The Datsun Go is a promising car. And it has some standout pluses. But, there are some downsides too. We list both the hits and misses of this new entry-level, sub 4-lakh hatchback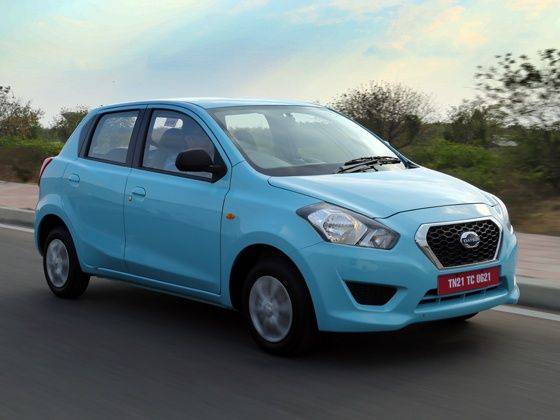 We have driven the new Datsun Go. You can read our detailed review here or check out our drive pictures here. But, there were some things that truly stood out about the new Datsun Go, some good and some not so good. And because the Go is an important car, not just for Nissan Datsun, but for the Indian consumer as well, we decided to delve deeper into these aspects.
Hits:
Gear Shift Guide
It's a simple, cost effective approach towards helping the driver achieve good fuel economy. Instead of using an expensive and more complicated gear indicator system that prompts the driver about what gear to be in and whether to up or down shift to get there, the one on the Go is just a static guide. The Go has gear numbers indicated with upshift markings on its clocks alongside the speed marking. So, when the speedo needle hits that mark one is supposed to up shift to the gear marked. This gear shift guide on the Go only works when the car is driven sedately. Otherwise, upshifting at these marks can be hugely frustrating. Is it better than the gear shift indicator systems used on more expensive hatchbacks? No, but for the price, it's acceptable.
Trip computer
A trip computer with instantaneous and average fuel consumption and distance to empty is probably one of the most useful driver information there is. It is used more than say average speed or time since start etc. The Datsun Go has this and it can be accessed simply by pushing on the trip button. The instantaneous fuel consumption can act as a handy guide towards improving fuel economy (probably more than even the gear shift guide. The average fuel consumption tells you how you have been faring as an efficient driver over the course of a tank fill. And the distance to empty - handy for those who like to use even the last drop in the tank before filling up - can save you from being stranded, especially if more than one person uses the car, and has the bad habit of not filling it up.
Storage areas
We would have liked to see cup holders in the Datsun Go, specifically in place of the extended front passenger seat, also called as Connected Seats by Datsun. But, this apart, Datsun has managed to make the Go's cabin decently practical. It has reasonably large storage for car papers, owners manual, maybe even a book or water bottles in the open glove compartment.
It has usable bottle holders in the front two door pockets and then there's a handy little cubbyhole on the right hand side of the steering that can hold both your cellphone and your wallet. Sadly though, the rear passengers have been completely ignored in this area and they get have to stow whatever there is one the seat itself.
Boot space
At 265 litres, the Datsun Go has the biggest boot among entry-level cars. In fact, its boot is larger than a few B+ hatchbacks as well. And it is a usable boot too. The loading lip height is a tad higher than we would have liked, but it has little in the form of intrusions so packing a large suitcase in the Go's boot comes easy. It is also reasonably wide and deep allowing flexibility inch one wants to position the luggage. Then the rear seats fold liberating even more luggage space.
The rear seats fold flat which allows loading larger items like a couple of cotton mattresses, plastic chairs or even a big dog (but only once you have levelled the boot floor with that of the folded rear seat) child's play.
Follow-me-home head lamps
It's a feature that's catching on. Initially, it was limited to expensive cars. Then, Mahindra made it more mainstream on its SUV offerings, and now Datsun has introduced it on an entry-level car. Follow-me-home head lamps might not be the best thing that's happened to an urban customer, but in semi rural areas where the lighting around the house might not be as bright as day light and approach to the road far less than perfect, these head lamps are a huge boon. These also work well if you arrive at your destination only to witness a power cut. Again, power cuts might be urban myths but these are quite prevalent in tier 2 towns; a market the Datsun Go must tap to succeed.
Other notable hits: Fuel efficiency, passenger space, interior fit and finish, gear shifter location, warranty.
Misses:
Rear seat belt
It is archaic to have seat belts without an inertia reel. Imagine, you get into the rear seat of the Datsun Go vacated by your better built cousin only to find the seat belt is adjusted for a person twice your size. You unbuckle, and then begin adjusting the seat belt as if it were your primary school waist belt. And it doesn't adjust right in the first go, mind. This is a tedious and absolutely unnecessary exercise. Imagine doing this every time you have to shift seats. Datsun officials failed to give us a reason for this move, specifically stating it wasn't a price issue. The only reason we can think of then is that this helps make the rear seat wider.
Seat back thickness
We think the Datsun Go has all the right ingredients for a good driving position. A position that allows better visibility and less fatigue over longer journeys. The steering and gear shifter is well located; the floor pedals are well spaced; and the seat bottom is adequately large and supportive. But the back rest is just too thin and oddly contoured. It doesn't allow the driver to sit erect. And one pushes against the seat back to adjust oneself, the seat's frame pokes back. The rear seat back isn't well designed either. It's not as oddly bolstered as the front but the headrests - or shall we say neck rests - seem completely pointless. These do nothing to help with the seating.
No cup holders
Datsun says the Connect Seats on the Go can be used to keep maps, books etc. To us that space between the driver and front passenger is useless because there's nothing to secure any item you leave on the seat. More than that, it takes away from the feeling of privacy for a driver; it's great if you are seated with your girl friend or wife, but not so nice if the person next to you is your well-built and sweaty male colleague. Anyways, Datsun says it realises that the Go must have cup holders and is therefore working on a contraption that will either sit on the existing seat extension or the seat extension will be altered to hold the new cup holder tray. This however will not come as standard on the launch car.
Other forgettable misses: Noisy engine, no boot opening on the outside, stereo only plays via AUX-in.