Ford Fiesta Diesel 10000 Kilometers Long Term Review
Mar 17, 2015
Views : 11558
---
Its been three months since the Ford Fiesta has been with us and after more than a few thousand kilometers we wonder why it doesn't get the recognition it deserves.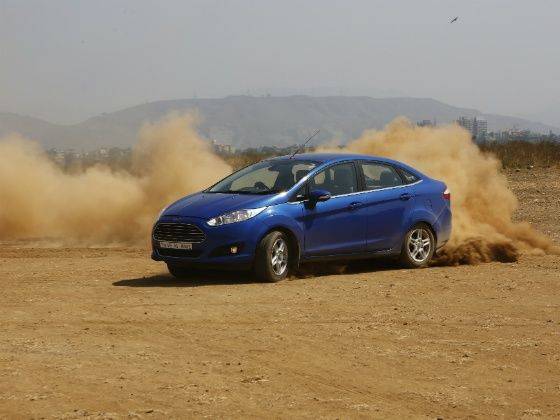 The Ford Fiesta is bang in the centre of some of the best known and best selling cars in India. The Honda City and the Maruti Suzuki Ciaz both rule the segment with the likes of the Hyundai Verna, the Volkswagen Vento and many others giving the humble Ford Fiesta company. They say wine becomes better with age and as is more often the case, the more we drive the Ford Fiesta, the more we seem to like it.
For starters, the Fiesta never fails to turn heads. In fact, due to the Fiesta's lower overall sales, the car looks premium and not many know what it is. This is also one of the reasons valets at large hotels tend to leave the Ford in the lobby in the midst of much more expensive and larger European luxury cars. In our last report, we also spoke about how the Fiesta has the best front seats for any car in the sub-10 lakh marquee and although it still holds true there are slight quality defects that have begun to creep through. For example the plastic cladding on the height adjustment lever on the drivers seat has broken off which could be quite annoying if you had multiple drivers.

We are also amazed at how fuel economical the Fiesta is especially on the highways. On the highway, the Ford frequently returns over 20kmpl with city figures averaging around the 14kmpl mark. And of course, handling has always been a forte of most Fords and the Fiesta proved superior yet again when we let it stretch its legs recently with a trip to Mahabaleshwar. As we mentioned right in the beginning and in our last report, the Fiesta is one of the most under rated cars in India and in all probability, we will continue to say so.
Recommended Variant :
Fiesta Titanium