Audi A3 Diesel: First Review
Jul 10, 2014
Views : 63052
---
We tell you how the compact and dynamic, new Audi A3 luxury sedan is to drive on Indian roads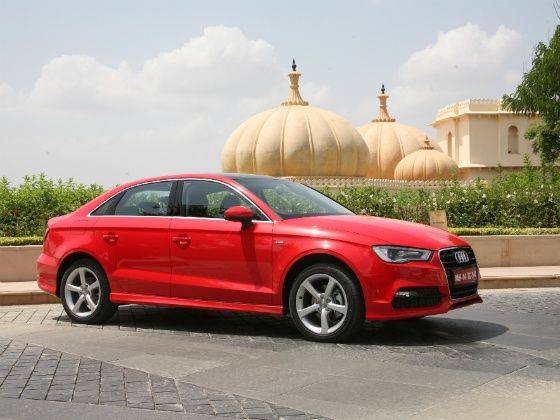 If given a choice to pick a hatchback or a sedan with the same price tag, most would prefer the sedan — for the prestige and class it carries with it. And that exactly is the mind-set Audi India is trying to cater to, with its latest A3 sedan. Audi wants to woo potential BMW 1 Series and Mercedes-Benz A-Class premium hatchback buyers with the 'more prestigious/classy' three-box design and sharp styling of the Audi A3 at a similar price tag. Add on to the fact, that the A3 will be the most affordable luxury sedan in India, when it is officially launched here later this month.
Design
The design of the Audi A3 is clean, conservative, yet stylish. From head-on it looks like a scale down version of the new Audi A6, which isn't a bad thing. The slim arrow-shaped headlights with Audi's signature LED day time running lights in combination with a single hexagon chrome grille, give it a familiar family face. Justifying the 'Sports Limousine' tag, is a sharp-edged front spoiler and a pair of black air dams which add a dash of sportiness to the front design.
In terms of proportions, the A3 is about 250mm shorter in overall length than its older sibling, the Audi A4. The side profile gets prominent wheel-arches, long arching roofline and crisp shoulder line that run from the headlight to the knife-edge tail lamps. The rear has an interesting multi-layered design, as the sharply design bootlid beautifully overlaps the extended tail lamps.
The subtle lines and smooth corners give the Audi A3 a smart exterior design without being flashy, remaining true to Audi's new design language. If restrained, understated styling is your game, then you'll certainly like the new Audi A3.
Interiors
The first impression I get when I step inside the cabin and shut the door, is the reassuring solid thud. For a premium C-segment offering, it just passed it first test. There's ample leg, head and shoulder room up front and the large and supportive front seats can be adjusted in multiple ways to customise it to get comfortable. And the steering wheel can be manually adjusted for tilt and reach, while the visibility from the driver's seat is great, except the narrow rear screen. All these add up to offer excellent driving position.
Like the exteriors, the cabin carries forward pure Audi design language. The cabin layout is clean and uncluttered and borrows some bits from its larger siblings. There are familiar bits like the leather wrapped four-spoke steering wheel, a large two pod instrument console and a slim 7-inch MMI display which slides out smoothly from the centre of the dashboard. The dashboard has four beautifully crafted round, jet turbine inspired air vents similar to ones found on the Audi TT sports coupe, with clever rotating aluminium inserts to control the air flow.
Under this is a sleek panel with a handful of switches and buttons. To keep the cabin clutter free, Audi has placed the MMI system's hardware in the glovebox, making room for a couple of cupholders on the centre console. There a clear sense of class, thanks to the well appointed cabin, solid built and top notch craftsmanship.
Audi hasn't revealed the various trims it will offer the Audi A3 in. Since we got our hands on the top-of-the-line it came packed with MMI system with navigation plus with a touchpad, automatic dual zone air-conditioning, parking system with rear view camera, Xenon headlights with LED day time running lights, LED interior lighting, Panoramic sun-roof, 17-inch alloy wheels and 20 GB jukebox. Many of these features will be optional and would hike the steep price of this luxury sedan further.
Of course, I was also keen to know what the back seats were like, considering the vast population of chauffer driven cars plying on our roads. It's a squeeze to get in due to the sloping roofline and for the same reason there isn't much headroom at the back seats either. Thankfully the large windows and standard glass sunroof ensure there is enough light in the cabin. You also have dedicated rear aircon vents to keep you cool. But then the rear seats are not as comfortable, and don't offer great under thigh support. Then there's intrusion by the transmission tunnel, making the rear seats better for just two adults. There's a very practical 425-litre trunk space and a full sized spare wheel.
Powertrain
Like I said before, the Audi A3 is a driver's car. And that becomes more evident with the two spirited engines the luxury car maker has picked for our country. The very refined and potent 1.8-litre TFSI is the petrol option. This turbo-charged, direct injection engine serves an impressive 180PS of peak power and 250Nm of maximum torque mated to a 7-speed S tronic. We didn't get to drive the gasoline powered version, but expect it to offer smooth and spirited power delivery - the option to go for if you enjoy enthusiastic driving. It claims a 0-100kmph time of just 7.3 seconds and an ARAI certified fuel efficiency of 16.6kmpl.
We got the more practical and frugal diesel variant equipped with a 2.0-litre TDI, which has become a common sighting on other Volkswagen Group offering including the new Skoda Octavia. In the Audi, the oil burner has been tuned to churn out 143PS power and an impressive 320Nm of peak torque between 1750-3000rpm. For a diesel motor, it's refined and fairly free of clatter thanks to excellent cabin sound insulation. But the highlight remains its torquey nature. Once you start rolling, the TDI supplies almost never ending flow of torque, while the 6-speed dual clutch S tronic gearbox does absolute justice to it, creating stunning a mid-range. On an open stretch of road, we tried to do a quick 0-100kmph performance test, which came impressively close to the claimed 8.7 seconds. Efficiency is rated at an impressive 20.38kmpl. So, it not just consumes fuel efficiently, but is fun to drive as well.
Ride & Handling
The icing on the cake has to be the exceptional ride quality and neutral handling of the Audi A3. Under the skin, it wears Volkswagen's new MQB platform, just like the soon-to-be-launched new Audi TT and the already launched Skoda Octavia. Unlike its other sedan siblings (Audi A4, A6 and A8) which have their engines mounted in front longitudinally, the A3's front-mounted engine is placed transversely with the mass of the powertrain ahead of the front axle.
Being a front-wheel drive car, and having close to 60 per cent of its mass over its front axle, it feels surprisingly well balanced. It comes around corner with agility almost like a sports car and there's hardly any understeer. The well weighed electrically assisted steering is light and very easy to use within the city, though a little more feel from the steering would have been ideal during enthusiastic driving.
The ride of the new Audi A3 can be termed as European firm but comfortable or in simpler words - plaint. The suspension setup and tyre combination is tuned to perfection of Indian conditions. So, on slow speeds within city, it is extremely comfortable and filters away most of the road undulations. At the same time, is sporty enough to iron out body roll and encourages you to go faster around turns.
As you up the pace, the car holds on to the road as if on rails. It's very well behaved and planted on high speeds, and takes the driver-machine ratio to another level. The Audi A3 boosts your confidence coz you know that even if you need to make a quick change in direction, it will never do anything unexpected. Bad roads, fast corners, high speed braking and quick manoeuvres – no matter what we threw at the Audi A3, it always emerged unscathed.
Conclusion
There are few cars in India which tick all the right boxes and when you are willing to pay close to Rs 26 lakh, the car better have all these ticked, and some more. The Audi A3 is a smart looking car, an absolute thrill to drive and also comes close to the luxuries which bigger Audis have to offer. What it lacks is a more emotional design, rear seat comfort and space. If you are looking for a full-time family car, then there are other options. But if you drive and enjoy doing it, then look no further.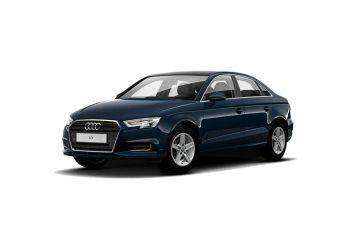 Contact Dealer
View On Road Price