2020 Mercedes-Benz EQC: First Drive Review
---
The Mercedes-Benz EQC aims to be the newest EV to hit Indian shores this festive season. We find out just what this electric luxury SUV is like in the real world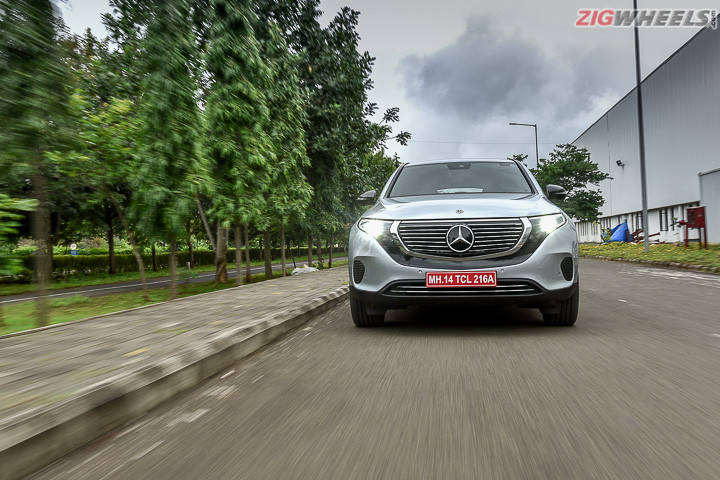 If the lockdown gave you a taste of what clean and quiet streets looked, smelled and sounded like then maybe you'd want electrics to come of age sooner than later. The Mercedes EQC is the latest all-electric available on the subcontinent with plans to launch as early as this festive season. It promises to be the first electric luxury SUV of the handful of EVs available currently. Still, electrics are new and as usual we have a lot of questions - Is it properly luxury? How much fun is it to drive? Should owners be worrying about range with our as yet unreliable charging infrastructure and just how much should you expect to shell out for one? We'll tackle all these questions and see what it's like to drive in real world conditions in a typical weekend drive away from the hustle and bustle of town.
The Basics

The EQC is built on the GLC platform and so occupies a very similar space with the same wheelbase, width and height but it's actually 92mm longer overall. It's powered by two asynchronous electric motors on both axles with a total power output of 408PS & 760Nm. The front motor starts things off -- and then the rear motor kicks in when more power or dynamic driving is needed. The 80kWh battery pack is good for a claimed 450+ km range as per the new European driving cycle but adds 652kg to the kerb weight, bringing it up to close to 2.5 tonnes. Still, Mercedes claims that it's capable of sprinting to 100kmph in 5.1s which is quite impressive for a hefty SUV.
Staying Charged

Mercedes is taking a rather pragmatic approach for the charging of the EQC. And honestly this seems fair considering that our fast charge infrastructure is rather scattered and very unreliable. After doing a lot of testing in major metros like Delhi, Mumbai and Bangalore they are certain that all customers will be able to be fairly 'atmanirbhar' with just the supplied 7.4kWh wall charger. The charge time for this is 10 hours for 10 to 100 percent charge and considering that our cars sit for at least that much time nightly you should never be sitting worried.

So if you have a typical intra city daily commute their study says that one or two top-up overnight charge sessions will be more than enough for a typical work week. The only time you would need to do some planning would be if you decide to do an inter city trip like say from Pune to Mumbai. So you would need to find somewhere to top up before heading back, keeping in mind that the supplied car charger which works on a regular 15 amp socket takes 21 hrs to achieve a 10-100 percent charge.

Mercedes also won't be investing in adding any fast charge stations to their dealer and service networks but they have said that they are in the process of tying up with vendors for an as yet undisclosed service for customers which they will announce at the time of the launch.
Battery & Charge Timings
80kWh, 384 Cells, 408V, 652kgs
Max 110kWh DC charging capacity
8 Year Battery Warranty
15amp wall socket: 21 hours @ 3.4kWh
Supplied home charger: 10 hours @ 7.4kWh
DC Fast Charger: 1.5 hours @ 50kWh
Understated poise

The EQC is rather strongly based on the GLC platform and it doesn't quite shout out that it's an electric, but there's still something distinctive about what is a familiar silhouette. One of the most distinctive bits is the LED lighting up front with the long unibrow light strip joining the two headlights together. The design is also cleaner than the rest of the family with rounded edges and softer lines to the headlamps. This serves to give this electric a very comfy friendly air. The 20-inch India specific wheels are more attention grabbing with their unusual black and blue extra spokes that help with aerodynamic efficiency. The rear again is simple with the connected tail lights distinguishing it from the rest of the Merc family and somewhat reminding us of another German SUV.
Proper Luxury?

For sure, but it's mid level Mercedes-Benz luxury we are talking about here, similar to the levels you would expect from the brand and seen in other C family cars. Still, the design and layout and even the materials and surfaces all feel excellent. Little touches like the fabric door and dash upholstery, the 'rose gold' accents on the air con vents and blue EQ accents splattered around the cabin are the only bits that set it apart from the rest of the range. And to keep with the green theme they are mostly made from renewable raw materials and as much as 95% of the EQC is recyclable.

The dual screen layout, the position of the gearstalk and even the steering wheel touch controls all shout Mercedes-Benz. This familiarity is intentional, as Mercedes expects a majority of customers to be familiar with the brand.

In terms of space there is plenty for 4 full sized adults but it's certainly not palatial. And for those who like to be driven around a point to note is that while all four seats are plenty comfortable it's only the front seats that get a massage function while rear passengers only have climate zone controls, manual sunblinds and an armrest. No other gadgets like media screens, infotainment controls or wireless charging. What it is, though, is a practical family space with plenty of cubby holes, USB charge ports, (all Type-C mind you) and a useful 500-litre boot.
Tech laden

While the EQC is mid way up the ladder in its ability to pamper you it's still pretty packed with features. Starting with a nice and detailed heads-up display which is bright even in daylight and packs in a lot of info like speed, navigation and current drive mode. The dual 12.3-inch screens feature the latest NTG6 MBUX with voice capabilities and can be controlled either via touchpads on the steering wheel, a rather large trackpad and even touch and voice functions. The interface is well designed and snappy to use. There's also a smartphone and smartphone-based connected car tech.

Other features of note are the beautiful sounding 13-speaker Burmester sound system, 3 zones of climate control, and 64 levels of ambient lighting.
The Experience

Like the other electrics we've experienced so far the experience, above all else, is quiet. The sound insulation is impressive with very little road, wind and electric motor hum seeping into the cabin. In fact with the impressive acceleration from those two electric motors at hand, you really have to keep and eye on the speedometer to make sure you're staying under the speed limit. Acceleration in sport mode is brisk but the silence masks just how quickly it builds speeds. Eco dulls the throttle response a bit and adds some resistance to the throttle pedal to encourage you to eke out some more range from the charge.

In the city, through a lot of traffic, the light steering and controls made driving this midsize SUV a breeze. The ride is also cushy and does a great job of ironing our road imperfections and bumps along the way but the EQC's nemesis is speed bumps. The high kerb weight and soft suspension setup means that the EQC drops down low after the front wheels clear a speed bump and this causes the underbody to grind on the top of the bump. You really have to crawl slowly over them to avoid this happening. Strangely, this weight doesn't seem to affect roll much and it manages to remain nicely controlled through a set of bends but you do need to get on the brakes for corners a little early. The problem isn't because of a lack of stopping power but more to do with physics and with the momentum that the EQC can build you need to start braking earlier or else you end jumping on the brakes harder. If you want to keep your passengers happier, being quicker on the brakes keeps things a lot smoother.

Another way to control deceleration and adding back charge to the battery pack is by playing with the regen modes. The range of options include D Auto, D+ D D- and D-- and you toggle them through them with the steering wheel-mounted paddles. D Auto is fairly self explanatory; D+ is for coasting along the highway; and D, D- and D - - are progressively more aggressive levels of regen. The last D-- is a proper one-pedal solution for the city, allowing you to drive in practically all situations without having to move your right foot to the brake pedal.
| | |
| --- | --- |
| D Auto | Automatically controls regeneration based on the speed, drive pattern and traffic ahead using the active cruise control radar |
| D+ Gliding mode | Functions like coasting mode and offers no resistance to your momentum. |
| D | Mild regenerative braking. Suitable for free flowing traffic and highway drives. |
| D- | Medium regenerative braking. A single pedal mode in slow moving traffic and can be used on the highway as long as there's a good distance from traffic behind you. |
| D-- | Strong regenerative braking. Single pedal mode for crawling traffic and useful for downhill corner carving. |
The strange thing is that changing the drive modes or even toggling between the regen modes doesn't make any difference to the predicted range. The only thing that does affect the range is switching off the air con, adding as much as 40 km to the range displayed on a full charge. This is quite unlike the other electrics we have driven and initially it left me feeling quite left out of the range equation. A feeling of not being involved in the quest for eking out every kilometre of range from a single charge, which, believe it or not, is actually an exciting part of driving an electric car or even some hybrids.The positive side of that was that I was quite fearless of driving in whichever mode suited the road and not using only the mode that gave me the best range. A rather liberating experience that was quite unexpected.
Verdict

The elephant in the room then is the final question. And considering that it's both an electric and a CBU, our estimate is just over the Rs 1 crore mark. At that price the EQC is never going to be price practical. The EQC is a city SUV, a family vehicle, one that takes the kids to school (When they open up) or the family to the mall on the odd weekend when we return to normalcy. And for this it's perfectly suited with its understated style, comfortable space and a decent amount of luxury thrown for good measure. And if you want all the style and status that's associated with the badge on the hood or the tree hugging bragging rights that the green number plate brings, there literally isn't anything available yet that can compete with it.
Mercedes-Benz EQC Video Review
More on Mercedes-Benz EQC

Rs. 1.04 Crore Onwards
Ex-showroom, Delhi
See what our community has to say!
NEW
India's largest automotive community