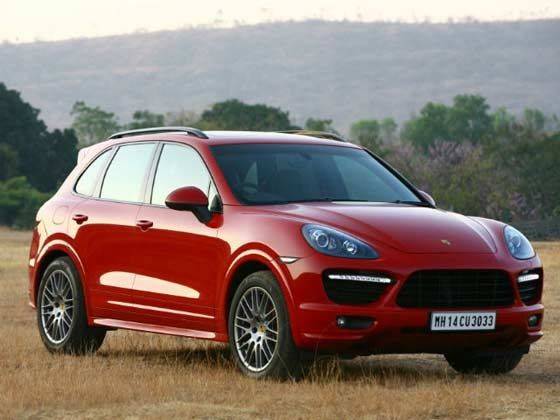 Where does one begin to talk about a vehicle of this nature? It's not your quintessential luxury SUV, it's not your average mud plunger and neither is it a sports car. Well, when I first heard about the new Cayenne GTS from the Porsche stable I frankly thought that the company was very confused and had seriously lost the plot somewhere between practicality and outright craziness. No matter what story angle I gave to my thoughts, the Cayenne GTS just seemed like a scandalous experiment that some white-coated R&D guys decided to concoct in order to get their kicks by defying numerous laws of physics. Logic didn't seem to prevail over the development of this product and practicality seemed to be on a paper airplane tossed out of the Porsche headquarters building in Stuttgart. Why would a company make such a vehicle I continued to wonder as I read about Cayenne GTS until I finally got the order from the Bossman here at ZigWheels to actually go and experience this outrageously conceived machine.
At last, my doubts were going to find a resting place. At last I would know why! Now, I've been a fan of Porsche since the moment I learnt my ABCs. The iconic 911 continues to be my favourite sports car of all time and I cannot get enough of its timeless design. I also happen to be a very big fan of SUVs. Big beasts with gizmos and gadgetry on board that allows them to traverse over just about anything in their way just make for a wonderful driving experience where you don't even need to look for a road. The thought of marrying the two never really occurred to me, and why would it? The sheer dynamics of conducting such an effort seemed futile.
Nevertheless, when Porsche first made the Cayenne back in 2002, I thought to myself that this was going to be special. Yes, there were the loyalists who thought that Porsche is diluting their brand image by entering the SUV market but I thought it was a perfect extension of the brand. After all SUVs are all about sports, fun, activity and performance. A lot of these attributes match those associated with sports cars as well. It was a perfect brand extension if you ask me and while I was still a fresher out of college back then, today I can proudly say that my gut instinct was right for the Cayenne has gone on to become one of the most popular Porsche models of all time, despite all the flak it has received for its looks and non-Porsche loyalist attributes.
In India the Cayenne is the number one selling Porsche model and it is this global acceptance that has lead to Porsche spawning a total of five variants in the current Cayenne stable including the Diesel, Hybrid, 4x4, S and Turbo. That wasn't enough for Porsche though and in keeping with their basic instinct of exploring the technological frontier, the company decided to add a 6th variant to their line up; the result being the Cayenne GTS, in an all new avatar.
According to Porsche, the Cayenne GTS has been conceived purely out of need. The company was looking at making the Cayenne appeal to those who absolutely love driving and would want an SUV that offers an on board experience that is second to none. In true Porsche spirit, the Cayenne GTS takes the game further by offering a vehicle that is even more driver oriented than any of its siblings, including the more powerful and pricier Turbo version.
Now that is saying a lot about the GTS and while it sounds too good to be true, the experience behind the wheel is enough to change your perspective about this behemoth permanently; after all, the story boils down to dynamics.
Powering the Cayenne GTS is a modified version of the 4.8 litre V8 found on the Cayenne S variant. Power has been bumped up from the standard 394hp found on the S to a solid 420hp at 6,500 rpm and the 515Nm of torque is now available from 3,500 revs onwards. The V8 is mated to an eight-speed Tiptronic S box as standard fitment which too has been tweaked to offer a sportier gear change experience while maximizing engine potential and overall drive experience thanks to the quicker-shifts and shorter final drive ratios.
While the GTS still weighs over two tones at 2,085kg to be precise, it is 160 kilograms lighter than its predecessor which translates to a 0-100kph time of 5.7seconds while being capable of attaining a top speed of 260kmph. While that is a second slower than the Cayenne Turbo on paper, the on ground reality is a whole different story which is brought about by the sheer driving dynamics that the GTS offers; an attribute that hits you like a brick in the face when you take a corner at three digit speeds! It's as sensational as it gets and the sheer fact that a two tonne SUV can corner in such a manner that was previously only sports car territory is a testament to just how much work has gone into making the Cayenne GTS the ultimate driver's SUV.
In doing so, Porsche has obviously tinkered with the suspension and enhanced chassis control. The standard steel spring suspension is now 24mm lower than before, or if you opt for the air suspension package you can go as much as 20mm lower than the earlier version. Secondly, the rear track is wider by 17mm, which not only aids in the vehicle's dynamics but also offers a more purposeful stance even at standstill.
Finally the GTS gets the Porsche Active Suspension Management (PASM) and Porsche Torque Vectoring Plus (PTV Plus) as standard and if that isn't enough you can also opt for the Porsche Dynamic Chassis Control (PDCC) to further reduce body roll and literally takes turns in a freakishly un-SUV-like manner which seems to defy the laws of physics.
In fact as I charged through the Lonavala ghats in the striking red Cayenne GTS, I was taken in by the way the SUV just sticks to the lines. On occasion I felt that I was pushing myself too hard, yet the vehicle remained composed and stuck to road as if it was on rails. Despite its size and girth, the Cayenne GTS feels 'smaller' and easier to toss about than its counterparts, namely the Audi Q7 and VW Touareg which share the same platform. Steering input is spot on and the feedback you get is remarkable. Porsche has definitely brought about a game changer here and I can already see other SUV manufacturers working vigorously to bring out a product that can match the GTS in their stables.
Straight line performance is also great and honestly speaking, it's more than enough for this country where crossing 150kmph is a challenge in itself and most highways are designated for 80-100kmph driving anyways. In this environment, the Porsche Cayenne GTS is a super car on steroids that has grown a lot of muscle to invariably look like an SUV, yet is capable of unleashing a blitzkrieg on our roads while offering immense control to the driver. To describe the experience of driving the Cayenne GTS as exhilarating would be an understatement; its something entirely different, a new feeling, a new high that offers a rush that you just strive to get over and over again.
It's an addiction. And while it is capable of such performance, Porsche has also ensured that stopping power is more than just ample. The GTS comes fitted with these huge 360mm, six piston, vented disc brakes up front and 330mm vented disc brakes at the rear which do all you need in terms of coming to a halt. Having said that, if you want even better, Porsche has the answer for that too with its ceramic brakes option, which is touted to take even less time in bringing this behemoth to a halt.
Surprisingly, Porsche has also managed to give the new GTS a ride quality that is infinitely superior to its predecessor. It's not something that you would expect, however the new GTS does deliver on that front as well! While you can choose for a softer ride option by switching to 'comfort' mode, the GTS is a revelation for even in 'sports' mode it is capable of traversing over broken surfaces rather well. Riding on 20 inch alloys shod with low profile rubber (you can opt for 21 inch rims as well, but here in India, its recommended that you have a little more rubber to deal with our roads), the Cayenne GTS does let a little bit of the road undulations trickle in to the ride quality department but it isn't something to really complain about-after all this is a vehicle designed for drivers and not for some back seat honcho who has to be chauffeured around; for that buy the Cayenne Diesel! Of course, the one thing that the Cayenne GTS loses out on in terms of SUV characteristics is the ability to traverse through the real rough stuff, but that is a small loss considering the age old argument that most owners will most probably never leave the tarmac in the first place, which settles that matter.
Porsche has made it very clear that the new GTS is all about the on-board experience and in order to maximize that, they have also included their new Sound Symposer technology which was earlier seen on the 911. Essentially, what this symposer does is that it allows you to pipe in the meaty note of the V8 through the A pillar upon engaging 'sport' mode. Ask anyone, and they will tell you that the sound of the engine on a sports vehicle is as essential as its performance. What good would a silent sportscar be if you couldn't announce it to the world or enjoy that guttural note yourself? Sound goes a long way in enhancing your experience and Porsche obviously wanted to capitalize on this aspect as well.
Honestly though, I'm not complaining cause a motorhead like me could listen to that sweet sounding V8 all day long, especially when you are snuggly fitted in those amazingly comfortable seats and surrounded by a sea of Alcantara leather and a very upmarket and stylish cabin. Speaking of which, the craftsmanship seen on the interiors is unmistakably implemented in that signature Porsche fashion.
Porsche has also ensured that the GTS has some solid bling value as well in a bid to ensure that this machine looks the part. The large air intakes up front, the body kit from the Turbo-S, twin blade spoilers at the rear, LED accented headlights (now common amongst most manufacturers), black alloys and of course those red brake calipers that shine through with their purposeful intent, all work to give the GTS a striking personality of its own and arguably make it the best looking Cayenne till date. A number of these changes have also been carried out keeping in mind the nature of this vehicle and in doing so, Porsche has clearly ensured that even by just looking at the GTS you will know you are in the presence of a machine that is capable of delivering the quintessential drive experience.
Overall, the Cayenne GTS ticks all the right boxes when you compare it to the essential virtues associated with a sports car. It's fast, capable, corners like its on rails, handles like a dream and is surprisingly confidence inspiring, despite the fact that you sit high off the ground and that you happen to be piloting a 2 tonne SUV. It's a vehicle that ushers in a level of interaction between driver and machine like no other and in doing so it offers one of the most engaging drive experiences that one could look for. No doubt, it is surprising that all this is achieved by an SUV and it goes without saying that the GTS has laid down a whole new set of rules for the for the performance SUV segment. A true game changer.