Top 5 Electric Two-wheelers At Auto Expo 2018
Feb 10, 2018
Views : 6946
---
Auto Expo 2018 might have been a tad underwhelming for traditional IC-powered two-wheelers but it was anything but when it comes to futuristic electric machines. Here're the top 5 that blew our socks off.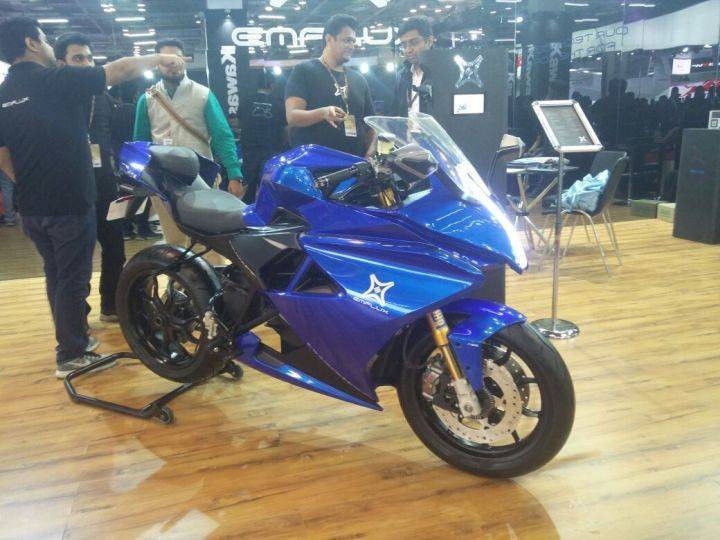 By now, major car manufacturers are fully embracing the move from internal combustion to electric propulsion as the solution to the planet's energy woes, thus bringing the technology into the mainstream. However, due to the size and bulk of present day batteries and the challenges involved in shoehorning them into two-wheelers, electricity is yet to make significant inroads in the world of two wheels.
That's not to say that two-wheeler manufacturers aren't trying, though. Small start-ups, specially, are at the forefront of this race and they, along with some established manufacturers, brought their A game to the Auto Expo 2018. Here's our top 5 pick of the electric vehicles that made the headlines at the show, some in concept form and some ready for public consumption.
Twenty Two Motors Flow

Boasting futuristic electric propulsion tech in a retro-looking body, Twenty Two Motors' Flow is an impressive scooter that can now be yours for Rs 74,740. It is powered by lithium-ion batteries running a DC motor that puts out 2.8PS of peak power, making it one of the most powerful electric scooters in India. A 10-minute charge is good for a range of 20km - enough for most city commutes - and a full charge takes just 2 hours thanks to fast charging and KERS. Fully charged, it will do 80 kilometres while top speed stands at 60kmph - not much by IC engine standards but impressive nonetheless for an electric scooter.
On top of that, the Flow comes with smartphone connectivity and 24x7 linkage to the company via its cloud-based system. This enables live tracking of the scooter in case of a theft, or if you just want to monitor how your younger brother is using the precious ride that you loaned him for one college trip.
Vespa Elettrica

Piaggio took the wraps off the Vespa Elettrica at last November's EICMA, and now it has made its India debut as well. It will go on sale later this year in Europe in two versions: a standard version that is good for 100km on a single change, and an extended range version that is good for a nice 200km. Motive power comes from a 4.2 kWh lithium-ion battery with a peak power output of 4kWh (5.5 PS) and 200Nm of max torque. The extra range in the X version comes from an additional petrol engine whose sole duty is to charge up the batteries. A full charge takes 4 hours and Piaggio claims the Elettrica will offer performance similar to a 50cc scooter, specially when it comes to initial acceleration.
While Piaggio currently has no plans to launch the Vespa Elettrica in India, they just might change their minds soon considering the onslaught of electric scooters the market is going to witness soon.
UM Renegade Thor

Among UM Motorcycle's various iterations of its Renegade cruiser at the Auto Expo, what grabbed our attention the most was the Renegade Thor. Launched at a pretty heavy price of Rs 9.9 lakh, the Thor is billed by its manufacturer as India's first cruiser with electric propulsion. Underneath lies a 30kW motor that produces 70Nm of torque from the get-go, paired with a 5-speed transmission -- an oddity for an EV -- that sends power to the rear wheel via a belt drive. Oh, and it gets liquid cooling too, for good measure.
Claimed top speed is a healthy 180kmph, while real-world range is an impressive 270km.
UM plans to bring down the price of the Thor to a bit more reasonable Rs 4.9 lakh soon, once they start assembling the bike here in the country. However, with this reduction in costs, the performance and range of the Renegade Thor is also expected to take a hit.
Okinawa Praise

You have heard us talk about the Okinawa Praise before. The Indian startup launched its second offering after the Ridge, the Praise, a couple of months back and made its presence felt at the expo too. Billed by its maker as the most powerful e-scooter in the country, the Praise has a claimed top speed of 75kmph and a real-world range of 170-200kmph. That's thanks to its 3.5PS motor powered by a 72V/45 Ah VRLA lead acid battery that weighs 9kg.
Okinawa claims that the Praise is its own all-new product but we can't help noticing that the scooter bears a strong resemblance to the Rong Wei MNR-DAS7220-Z7, a Chinese e-scooter from a company called Luyuan. Either way, the Okinawa Praise can be yours for Rs 59,899 (all prices here ex-showroom Delhi) right now.
Emflux Model One

We've saved the best for the last. A far cry from the sedate-looking e-scooters and commuters, the Emflux Model 1 is an electric two-wheeler that promises to offer superbike thrills in an advanced and environmentally conscious package. It looks the part, with a full fairing hiding its 53kW liquid-cooled AC induction motor that's capable of producing 68PS of power and 84Nm of torque. Sourced from Samsung, the lithium ion battery powering the motor endows the bike with a max range of 200km, top speed of 200kmph, and a 0-100kmph time of 3 seconds with the optional carbon-fibre panels.
Bengaluru-based Emflux Motors hopes to start deliveries by April 2019, selling around 200 units online and exporting to foreign markets. The Model 1's biggest competition comes in the form of Tork Motorcycles and Ather Energy, two other electric start-ups that are focused on providing fun and fast electric performance.
More on 22Kymco Flow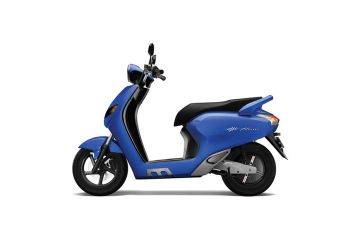 Rs. 74,740 Onwards
Ex-showroom, Delhi
See what our community has to say!
NEW
India's largest automotive community