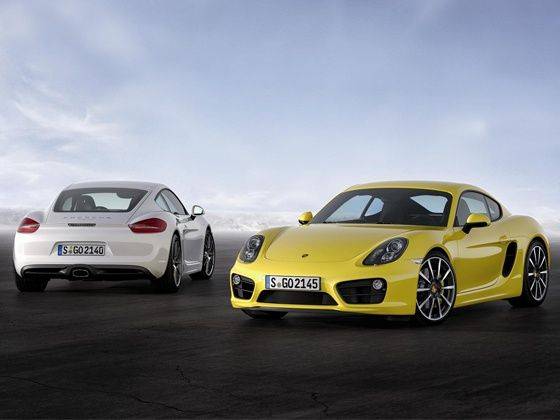 Porsche has taken the wraps off its new Cayman sports coupe at the 2012 Los Angeles Motor Show. While obviously maintaining those trademark Porsche design lines the new Cayman is more distinctive with its sharp sculpted edges, dominant cooling air inlets in the front bumper that have extended outwards, the windscreen has been moved forward and the roof line rakes further back to enhance the car's low silhouette.
The recesses in the doors are more prominent to guide more air into the distinctive air scoops in the rear side panels that direct the air to the rear mounted engine. The wheelbase of the new Cayman has been lengthened while the overhangs have become shorter to aid the car's handling traits. The thin rear spoiler is mounted on the boot lid to deploy at a steep angle at high speeds.
The new Cayman is the third model from Porsche to feature the company's innovative lightweight body design that makes it lighter than the car it replaces by up to 30kg depending on the specific model and equipment specification. This has resulted in the car consuming 15 per cent less fuel per 100km.
The new Porsche Cayman will be available in two versions, the Cayman and the Cayman S. The Cayman is powered by the company's 2.7-litre flat-six engine that generates 248PS of power and can take the car from standstill to 100km/h in 5.4 seconds and onwards to a top speed of 266km/h depending on the equipment level in the car.
The Cayman S has a 3.4-litre engine that produces 329PS of power and can power the car from 0-100km/h in 4.7 seconds and onwards to a top speed of 283km/h.
Both cars have the option of either a six-speed manual gearbox or Porsche's seven-speed double clutch automatic gearbox that makes them accelerate faster and saves more fuel.
Porsche has given the latest Cayman new goodies like adaptive cruise control, a Bermester sound system and keyless entry.
The Porsche Cayman was always a very competent car that allowed drivers to exploit its potential rather well and the new car surely looks the part to take the game forward for the German sports car maker.
Also read: Porsche 911 Carrera and Boxster range launched in India