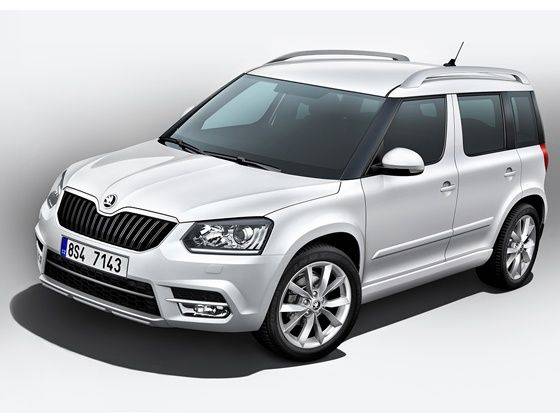 Among other highly anticipated facelifts and new models to be unveiled at the Frankfurt Motor Show this year is our beloved Skoda Yeti, which would feature a new front and rear, new alloy wheels, fresh interiors and extended engine/gear combinations.
Skoda plans to introduce the refreshed Yeti in two variations, one for the city and the other for outdoor travel. Look for significant differentiation between the two in their front and rear design treatment such as bumpers, underride guard, side mouldings and door sills, which as with the Skoda Yeti outdoor version, remain in black plastic.
Featuring a distinctive grille and redesigned Bi-Xenon headlights with integrated LED daytime running lights the Yeti now looks far more mature as compared to its predecessor. Adopting Skoda's new design language on this car means the front fog lights are now rectangular and are now located further under the front bumpers.
The Yeti's new rear includes a new form of tailgate with distinctive tail lights now in even more precise moulded C-Design, optionally available with LEDs. The wheel program has been expanded with four newly designed, attractive alloy wheel designs.
The Czech off-roader would also get an all-new fresh interior - with new 3-spoke steering wheels in seven variations, new fabrics and patterns for the seat covers as well as new decorative trims on the dashboard.
Driver Assistance systems on the refreshed Yeti will include Optical Parking Assistant, an optional rear-view camera. It will also feature the latest generation of the Automatic Parking Assistant and the automatic lock and start system 'KESSY' for the first time.
For more precise and comfortable seat configurations the VarioFlex rear seat system will be one of the highlights on the new car. The three rear seats can be individually folded or removed. The outer seats can be shifted across with the middle seat removed. So when needbe, the Yeti can be transformed from a five to a spacious four seater.
Mated to the modern six or seven-speed dual clutch transmission (DSG) engine options on the all-new Skoda SUV range from the 1.2 TSI with 105PS and the 2.0 TDI with 170PS. The fifth generation front or all-wheel drive with Haldex coupling is fitted depending on the engine specs.