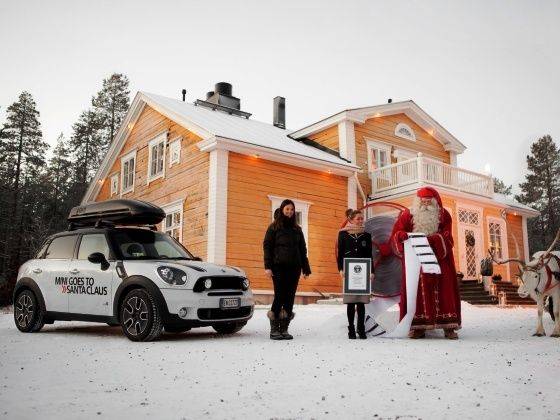 After the recent feat of squeezing 28 women in a single vehicle (Related:Women set world record for most people in a MINI), MINI has now entered the Guinness Book of World Records again by delivering 75,954 wishes, under the 'MINI Goes to Santa Claus project'. The longest 3798.5 metres wish list in the world was delivered on December 5 at the Santa Claus Post Office in Rovaniemi. The wish list was made by joining the wishes end-to-end on special environment friendly paper.

A fleet of eight MINIs travelled from one end of Europe to the Arctic Circle to deliver the Christmas wishes written by children and adults the world over. The 16 countries involved included Germany, Italy, United Kingdom, Portugal, Belgium, Bulgaria, Greece, Poland, Slovenia, Czech Republic, Hungary, Romania, Slovakia, Russia, the United States of America and Singapore.
The seventh model in the MINI family, the Paceman, welcomed the caravan at Rovaniemi. The Paceman, the first Sports Activity Coupé in the premium compact segment combines sporty and extrovert design and is available with the MINI ALL4 four-wheel drive system.

Finnish driver Rauno Aaltonen who was the special guest at Rovaniemi drove the Paceman under the auspices of the MINI Ice Driving Experience. Aaltonen won the European Rally Championship in 1965 and the historic 1967 Monte Carlo Rally behind the wheel of a classic MINI. Nicknamed the 'Flying Finn' and 'Rally Professor', he has to his name a number of prizes, awards and accolades.