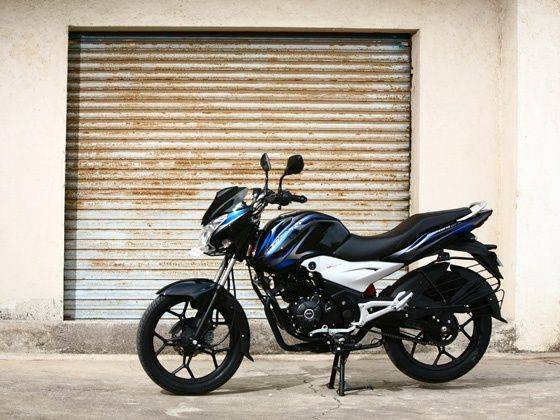 Discover 125 ST
Month of September this year can be characterized as the month of shock and surprise with regards to the Indian motorcycle industry. A feat that many would refer to as unfathomable, Bajaj Auto's Discover brand – not even a decade old player in the Indian motorcycle scenario, which first broke cover in 2004 with a 119cc motorcycle, has charged ahead and stamped its authority as the world's largest selling motorcycle brand deposing the iconic Splendor brigade from a throne that Hero MotoCorp (previously Hero Honda) had comfortably ruled over for almost two decades. However, last month Bajaj Auto sold a record 1, 22,968 Discover motorcycles to become the largest selling motorcycle brand in the world.
Discover 100 DTS-Si
Over the past eight years, (2004-2012) the Discover squad has amassed enormous volumes at a steady pace encroaching upon the Hero MotoCorp's home turf consisting of rural districts as well as the urban landscape. It is not about just how good a particular motorcycle is or how well it rides but the manner in which Bajaj Auto has gone about its product planning and carefully paved a path for its two most successful and crucial brands, the Discover and the Pulsar. Nurturing the two entities with utmost care and leaving no stone unturned in the fight for top place against market leaders like Hero which has enjoyed the top position for almost three decades.
Discover 150 DTSi
The idea and the foresight of Bajaj Auto's top boss, Rajiv Bajaj, to offer more for less - presenting the average buyers an option to look and move beyond the realm of fuel conscious bland tasting commuter motorcycles and opt for something more stylish, sporty and modern is eventually yielding positive dividends. The naysayers might call it a one off or a fluke, but the proof of the pudding lies in the very fact that a company known for the Chetak successfully shed off its scooter-image in one swift move and went on to build itself a niche motorcycle customer base which is steadily growing larger and larger as this recent results indicate. Kudos Bajaj Auto!
Discover 135 DTSi
Speaking about the success of the Discover brand, K Srinivas, President - Motorcycle Business, Bajaj Auto, said "This is a major milestone in our journey towards excellence in motorcycle business. Our strategy of specializing in motorcycles, developing differentiated products and thereby creating a sharp brand position has clearly succeeded. We firmly believe that brands work only when they have a sharp position. Discover has successfully been positioned as "CHALTA NAHI DAUDTA BIKE" thereby appealing to the commuters who would like to evolve to more sporty bikes. Discover has successfully broken the compromise that the average commuter was forced to make by offering styling and performance of a sports bike, yet with comfort and economy of a commuter bike."
He further added, "Discover has been a technology and marketing success story for Bajaj. The recently launched Discover 125 ST generated an overwhelming response and has sold 35,000 bikes in September – within 3 months of launch. We plan to expand on our lead in the coming months by focusing on the sharp brand values of Discover."