Maruti Suzuki Alto K10 : Detailed Review
Dec 20, 2014
Views : 145306
---
The Maruti Alto K10 - the peppier and more fun to drive Alto - has gotten a complete makeover. And it remains as cheery to drive as ever

It is the highest selling car in India; has been for ages. And just so it continues to be for the next decade and more, the Alto has continued to receive timely updates. The last model to get a thorough makeover, however, was the Alto 800. But, now, it's K10's turn; the more powerful, the more fun to drive and the slightly more expensive Alto.

Exterior Styling / Design
The new Alto K10 sports a completely new look. It still shares it doors and roof with the 800 version but the rest of the panels - the bonnet, the front fenders, the tail gate and even the bumpers are unique to the K10. It has larger, more contemporary looking head lamps; a more aggressive air dam design; and it sits on larger 13 inch wheels. Overall, the new K10 still looks like an Alto as we know it, but it has a younger, sportier aura to it now. And in this top of the line VXI option trim, it also gets body coloured outside review view mirrors and body side moulding to give it a plusher feel.
Exterior Styling / Design: 3

Interior & Space
The interiors of the new K10 have seen a dramatic transformation as well. The dashboard is all new. And its dual tone finish, the gloss black centre console and the matte silver highlights almost everywhere like on the steering, the audio buttons, door handles and even the armrest, give it both an airier and richer feel. The design looks appealing too. There's more stowage space and handy cup holders. And though the fit and finish could be improved, it's nowhere near a deal breaker given the K10's pricing. As for space, there isn't much. This is a four seater at best and not the best car to throw in tall individuals in the rear seat.
Interior & Space: 2.5

Equipment & Features
Now the new Alto K10 is still an entry level car so to expect a lengthy list of features would be unfair. Even so, in this top of the line VXI option variant, the Alto K10 gets a driver side airbag, front power windows, and an integrated audio system that plays USB and AUX besides regular CDs. It also gets internally adjustable ORVMs, keyless entry, a gear shift indicator, fog lamps, and of course, power steering and air conditioning.
Equipment & Features: 3

Engine & Performance
The K10's claim to fame has always been its engine. The K-series all aluminium 998cc motor was an easy revving, potent and fuel efficient one. On the new K10, this engine has been honed further. The engine is now lighter, there's less friction and it is mated to a new 5-speed gearbox. Maruti claims a significant improvement in fuel efficiency. The K10 has an ARAI specified fuel economy of a 24.07kmpl. Now it only makes 68PS but when you factor in its weight of just 755kg, you know this isn't going to be a boring car to drive. And it isn't! The engine does get noisy when revved but it doesn't hesitate no matter how hard you push it and the gear shifts are easy and precise.
Engine & Performance: 3.5

Ride & Ease of driving
If there's one thing the Alto always excelled at, it was ease of driving. That continues on the new Maruti Alto K10 as well. It has great visibility, reasonably light controls and because of its size, it's not just easy to dart around with in traffic, it's child's play to park as well. The ride quality though leaves a little to be desired. The K10 is a light car, and it feels that way over bumpy roads. So, it bounces around and the passengers do get thrown around a bit as well. Also, unlike some other small cars that return a settled, more composed, big car like ride, the Alto feels exactly what it is – a light, small car.
Ride & Ease of driving: 4

Handling & Braking
We do love the way the new Maruti Alto K10 handles though. Here the lack of weight comes in handy. It loves to be chucked into corners and one can do it with confidence, aggression and total abandon. It is a proper entertainer on tight twisties. You can also get it to correct its line mid-corner, which for a car meant to deliver 'kmpl' over everything else, is a huge plus. It's not the grippest car you can buy thanks to the narrow tyres, but having less grip in a car which isn't exactly the epitome of power, we believe, is a good thing; if nothing else, it keeps the driver completely alert and the driving experience enjoyable. Braking thanks to those puny tyres was never going to be outstanding, and it isn't. But the feel-some and progressive brakes add to the Alto K10's dynamics.
Handling & braking: 3.5

Price & Fuel Efficiency
We expect the new Alto K10 to cost Rs 2.8 lakh for the base LX version. It doesn't get power steering or other goodies and won't top the sales charts. The Alto K10 VXI and the VXI Option trims – which should cost Rs 3.4 lakh and Rs 3.6 lakh, respectively – should make for hot sellers. These are well specced cars for their class and great value buys. As for the fuel economy, 24.07kmpl by ARAI should still give you close to 20kmpl in the real world. And that's fantastic by any standard for a petrol car.
Price & Fuel Efficiency: 4.5

Verdict
Now one could argue that Maruti could have redefined the Alto formula into something more stylish, more feature laden and more spacious. But, if something works so well, is there really a need to reinvent the wheel? Maruti doesn't seem to think so, and we do agree with it at some level.
After all, the Alto isn't the best-selling car in the country without reason. It has palatable looks, simple mechanicals, bullet proof reliability and the ability to deliver consistently high fuel economy. Now in the new K10 avatar, Maruti has further refined this package. It is smarter looking, more premium on the inside and it has better ergonomics. Crucially, the fuel efficiency has gone up too. Another winner from Maruti then... we would think so!
Verdict: 3.5
Recommended Variant :
Alto K10 Vxi Optional
More on Maruti Alto K10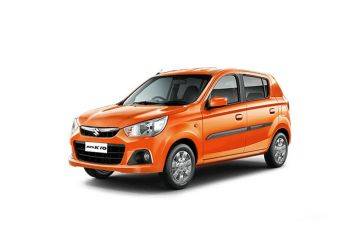 Rs. 3.61 lakh Onwards
Ex-showroom, Delhi
View March Offers
View On Road Price
Maruti Alto K10 Video Review
Maruti Alto K10 Alternatives