Maserati Ghibli diesel test drive review
---
The Maserati Ghibli is way too hot for an executive sedan, but is that enough to justify its ridiculously high Rs 1.1 crore price tag?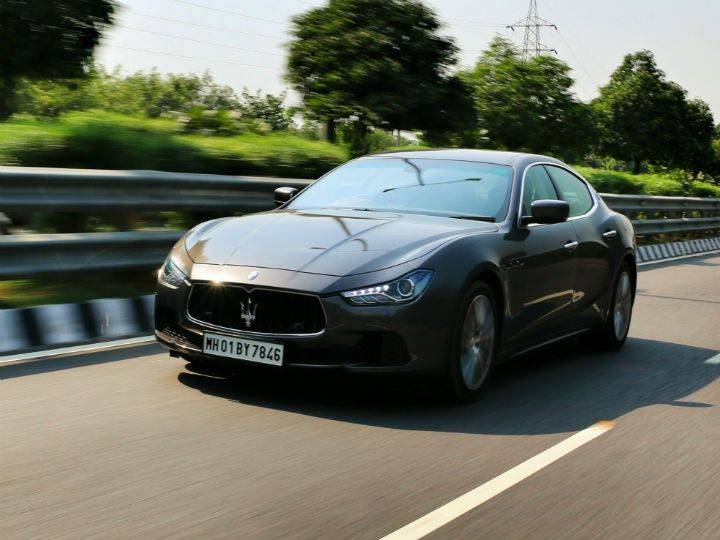 A hot dry North African wind blows across the Mediterranean into the gates of the Maserati factory and out rolls a new four door sedan named after this wind, the Ghibli. First two generations were coupes but Maserati finally decided to make a bit more money so here it is, a four door luxury sedan that doesn't look any less hotter than the most good looking coupes you can find on the planet. You can gawp at it all day, but would you buy one? We move past the lustful stares and try hard to objectively assess this Italian supermodel.

Design and Styling rating_4.5_rating
Maseratis are the most understated of Italian exotics you can buy. You won't find a loud colour or a single gaudy line on the surface of a Maserati. The Ghibli is the most affordable car from the house of the Trident one can buy so you'd expect the styling to be toned down further. It is in a way, but let me tell you one thing, if you want to appreciate natural beauty without the makeup that is protruding aero bits and popping colours from a candy commercial, you have got to look at a Maserati in the flesh, and the Ghibli is another fine example.

The sharp nose looks so wrong on a sedan in a good way, the front fenders bulge out beautifully and the rear haunches are an absolute delight in the way they swoop up and out just so you can stare at them in the wing mirrors, there are plenty of details I can wax lyrical about but let me tell you this… You will not know what I'm going on and on about till you see the car in the flesh. You could consider charging for an appearance with the Ghibli, it's that kind of superstar material.

Interior and space rating_3.5_rating
The Ghibli is like the defamed super model lacking that 'inner beauty'. Swing those frameless doors open and you are welcomed by a variety of hides that envelop the cabin. The seats are an indifferent brown and the dash gets a soft touch black. The steering is a dark grey and you assume that the interior design team went rogue at the job. It's a comfortable place to be in and feels a lot more exotic than competitors like the BMW 5 Series and Mercedes-Benz E-Class but doesn't quite come with the kind of maturity you expect from a car in this segment.

Bits like the brown plastic matched to blend into the leather seats looks cheap on a car that costs Rs 1.1 crore. The Ghibli is sold in India as a completely built unit and hence costs a scary amount of money for what it offers. Space however for four tall occupants is ample and levels of comfort are impressive. I love the analog clock on the dashboard and the Maserati branding and Logo splattered all around the cabin. It's a special car with a special name and I like the reminder every other minute. Even the key is beautifully made, with the extra weight that makes you want to hold it with a bit of importance.

Features and equipment rating_4.0_rating
The Ghibli diesel comes with optional 19 inch wheels and silver brake calipers. Yes there is a choice of five optional caliper colour combinations, for an executive sedan! Just like a choice of seven alloy wheel designs. The diesel Ghibli also comes with an Active sound system that for a diesel is just too wonderful. The exhaust emanates a light rumble that goes a bit louder in sports mode, and for a brief instant, you will forget it's a diesel car.

Paddle shifters carved out of daggers come fixed to the steering column instead of the wheel. Here again design takes precedence over functionality so you can't change a gear midway through a corner. Audio controls behind the steering wheel take some getting used to but are surprisingly intuitive for an Italian car. The Ghibli comes with a Touchscreen infotainment system with a easy to use navigation setup that not only displays maps but imagery for understanding and directions at turns between the dials in the instrument cluster. Dual-stage front airbags (driver and passenger), side airbags, head airbags and driver knee airbag, stability program including ABS, ESP, drag torque control and slip control during acceleration, the Ghibli has a long list of safety features as standard.
Front and rear parking sensors and a reverse parking camera is also part of the equipment list. The camera resolution needs to be upgraded however as the display isn't as crisp as we would have liked.

Engine and performance rating_3.5_rating
Any car with over 250 horses and a V6 nestled under the hood is bound to get your juices flowing. The Ghibli at start up doesn't disappoint too as the light rumble from the 3.0-litre V6 diesel catches you by surprise. That rumble is courtesy an active sound system Maserati, which is manufacturer speak for fake exhaust notes to make the car feel sporty. Anyway, the V6 comes with 275PS and 600Nm to play with so the Ghibli should be quick off the line I think. But gas it a bit initially and progress is fairly pedestrian. It seems like the all that torque and power is saved for later, and it is. You get max torque at a high 2000rpm so the Ghibli keeps its punches stored for the mid range and higher up. Throttle response isn't as brisk as I would have liked either and it comes nowhere close to the alert 3.0-litre diesels in the BMWs.

The Ghibli however has a happy tail even with the traction control on. That wiggly rear end when fed with all the torque the V6 mill develops can be quite entertaining. The 8-speed ZF automatic moves through the gears well to keep you in the short power band in sports mode. Keep it in ICE (increased control and efficiency mode) and the gearbox gets temporarily into a lethargic phase. What I liked was even in this calmest of modes, if you go heavy on the gas, the gearbox adjusts quickly to your changing driving style. The 0-100kmph sprint comes in a leisurely 6.3 seconds. To put that figure into context, the BMW 530d does it in 5.8 seconds despite a 17PS/40Nm deficit.

Ride and ease of driving rating_3.0_rating
Driving the Ghibli in the Captial has its perks. I don't have a sore back and all my organs are in place, because that suspension system is set up for neither comfort nor performance. You feels bumps filter in at low speeds and at high speeds, although the ride improves, confidence to push the car just isn't there. The rear goes light at high speeds and all undulations are felt in the rear seat. There's a long way to go for the Ghibli to reach E-Class levels of suppleness.
Then comes the ground clearance. It is fine for South Delhi roads but otherwise, speed breakers need to be dealt with gingerly. The approach angles are just too low. The view out of the driver's seat however is quite good. Reference points in place (the pronounced wheel arches) make it easy to drive around town. Although you sit low and despite its 2100mm wide footprint, the Ghibli isn't as difficult to maneuver even in thick traffic as I had imagined. It does cost over a crore however so that factor constantly plays on your mind.

Handling and braking rating_3.5_rating
I like the weight in the steering. It gives a lot of confidence pushing it into a corner but while the weight is there, the accuracy isn't that great. Then again, the Ghibli is a sedan and not a sportscar so the controls need to be eased a bit. Grip from the tyres is excellent and the brakes work well too. There's the Ghibli S with the 410PS V6 petrol motor coming next year however and that car should be a lot tighter than this diesel we've encountered.

Fuel Economy and price rating_3.0_rating
The Ghibli is going to be a hard sell, especially with this diesel motor. If a buyer is willing to shell out over a crore for a car comparable to a 5 Series or an E-Class, it has got to be more than just a looker and that is a stumbling block for the Ghibli. It's a CBU and so a hefty Rs 1.1 crore ex-showroom Delhi price tag makes it a difficult car to buy. You have got to be completely bowled over by its styling and have little regard for the words 'value for money' to buy the Ghibli. The V6 petrol Ghibli S coming up next year however could stir your soul more, over the aesthetics.
As far as efficiency goes, the Ghibli gets a combined EU cycle efficiency of about 17kmpl which isn't that bad. In the real world, expect to get around 8-10kmpl.

Verdict rating_3.5_rating
A painter doesn't charge by the colours in the painting. Add a bit more red and it's yours for a few dollars more, etc… It doesn't work that way. Sadly such is not the case with cars. Because the Ghibli appeals a great deal as a piece of art, and Maserati as a painter is held in high regard. It's just too beautiful for a four door diesel sedan. But the engine isn't as responsive as we would have liked, the ride quality isn't good enough and the interior could have been better put together. The biggest dampener however is the price. It's a CBU so Maserati can't do much about it either. We suggest you wait for the Ghibli S V6 petrol coming next year because you will want an engine with a lot more character to go with those drop-dead gorgeous looks when you are paying north of a crore.

Rs. 1.31 crore Onwards
Ex-showroom, Delhi
View January Offers
View On Road Price