Honda Civic petrol and diesel: Road Test Review
---
Could spending some more time with the new 2019 Honda Civic help us make sense of the perplexing diesel manual and petrol automatic drivetrain options?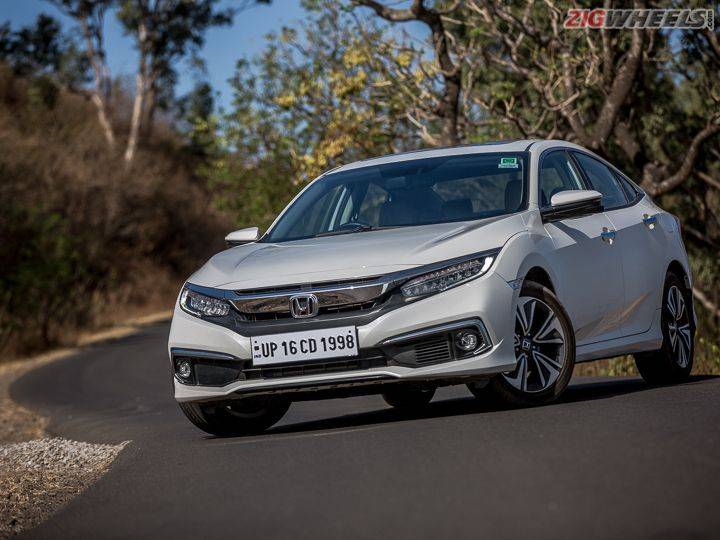 As much as we hate to start a story with a negative, this is unfortunately the lasting impression that the Honda Civic left us with. Don't get us wrong though, the Civic isn't a bad car by a long shot. It's just the fact that it could have been so much more, that is getting us down. If you do find this confusing, don't worry, read on and we'll explain.

An opportunity missed
The Honda Civic comes equipped with a 1.8-litre petrol engine that makes 141PS and a 1.6-litre diesel engine that makes 120PS. Not eyebrow raising numbers, but fairly par for the course. As expected from a Honda petrol, the iVTEC is quiet and refined. The iDTEC diesel is a little on the noisy side but cabin insulation is very good at disguising this inside the car. But it's the choice of gearboxes that Honda have chosen for these engines that gets our goat.


Let's start with the CVT petrol first. On the face of it, this seems like a sensible option and you would be right for the most part. The CVT is a great companion in the city allowing for smooth progress and it really takes the stress out of driving in traffic. There's plenty of drive from the VTEC petrol with its refined, linear power output. It's all reasonably efficient for a midsize petrol engine. City mileage was 10.21kmpl while on the highway we managed to eek out 15.92kmpl.

Unfortunately that's the only department the petrol powertrain shines in. Out on the highway, overtakes have to be planned for because the CVT does take a second to respond to a prod on the throttle. Yes, that typical CVT rubber band effect is present at higher speeds, so when you do come across a slower moving car, you do have to hit the throttle early and then wait for the revs to rise almost to redline before you start to make any forward progress. It's not a big hindrance really and you will eventually learn to drive around it. But it's definitely not as good as it could be - as demonstrated by the Civic diesel, but we'll come to that later.

Where that elastic nature of the CVT really gets annoying is if you're driving down one of your favourite roads - the long twisty variety with very little traffic. When you drive out of a nice tight bend you're met with very little acceleration even with the go pedal pushed all the way to the floor. What you do get is mild acceleration accompanied with a lot of engine noise as the four cylinder motor reaches its rev limit and this really is quite a damper on what could have been a very enjoyable Sunday ride. Yes, the Civic does have a 'Sport' mode and even paddle shifts but all they do is hold revs and this doesn't really improve acceleration. In fact, in our performance tests, the Civic was faster in Drive mode (12.07s vs 11.65s) and using Sport and the manual override from the paddle shifters only made it slower.

And that's why folks who get their kicks from driving their cars will be disappointed with Honda's decision to only give us a petrol-CVT. It severs the connection between your right foot and the engine. A manual would have been pure delight, heck even a more responsive automatic would have kept things exciting. But the CVT requires you to learn how to drive in a different way altogether. Relax, take in the scenery and stick to a more calm unhurried pace and the petrol Civic feels natural again, but where's the fun in that right?


The 1.6-litre diesel paired with a 6-speed manual is a different beast altogether. The motor has plenty of pulling power but it's delivered with a big punch that starts at around 1700rpm and by the time you reach 2000rpm it's making its max torque of 300Nm. The ratios are also fairly well spaced out to give the Civic diesel its impressive 20.07kmpl (tested) highway mileage figure. So, in town, you can find yourself falling below that 1700rpm mark in third or even second gear requiring frequent downshifts in heavy traffic. And this is where we would have loved to have a nice, smooth shifting automatic, like the 9-speed dual clutch automatic from the CR-V maybe? Out on the highway, the Civic diesel comes into its own, perfectly happy to sit at three-digit speeds all day with the engine gently ticking over at 1800rpm in sixth gear. And that's also its sweet spot, so even the gentlest of prods on the throttle will see you passing a slower moving car in the blink of an eye.

Is it then the car to be hooning around in? Of the two cars, the diesel is definitely more pleasing to drive, but the honda oil burner lacks the thrill that we know (having driven the previous gen Civic) the 1.8-litre petrol is capable of delivering.
The test numbers
| | | |
| --- | --- | --- |
| Honda Civic | Diesel | Petrol |
| 0-100 | 10.96s | 11.65s |
| Quarter Mile | 17.60s@128.24kmph | 18.37s@128.86kmph |
| Kickdown 20-80kmph | - | 6.99s |
| 3rd Gear Roll On 30-80kmph | 9.91s | - |
| 4th Gear Roll On 40-100kmph | 15.59s | - |
| Braking 100-0 kmph | 41.32m | 38.67m |
| Braking 80-0 kmph | 26.41m | 25.47m |
| City Efficiency | 16.81kmpl | 10.21kmpl |
| Highway Efficiency | 20.07kmpl | 15.92kmpl |
Boy does it like curves
Where the Civic shines is in its handling. It's been a while since we've driven something that does so many things right for the enthusiast. And it all starts from the moment you slide into the front seats. You sit low down, so low that it feels like speed breakers could tickle your tailbone. It's almost a race car like seating position, one you have to sit down into and practically do a squat to get out off. So people with knee problems beware.

The steering wheel is nice and chunky while the variable ratio rack is quick, precise and weighs up nicely too. It really does love turning into corners no matter how enthusiastic you are and for a front-wheel drive car, the handling is refreshingly neutral. Understeer is kept well in check with Honda's Agile Handling Assist which can break the inside wheels when turning into a corner - and it works seamlessly. Body roll, though present, is nicely controlled and so negligible that you will barely notice it when turning into corners or weaving through traffic.

Honda has also seemingly managed a perfect setup for the all-round multi-link suspension. So while it's nice and firm when going around corners, it handles bumps and bad roads with similar aplomb. And yes, as confirmed in our first drive, it doesn't scrape its underbelly, even on Pune's stupid table-top speed bumps.

So Honda has managed to develop a superbly dynamic package that is brilliant through corners and even gives you delightful ride quality. And yet, this big win for the Civic only emphasises the feeling that it could have been so much better with a petrol-manual to enjoy those dynamics and an automatic-petrol to enjoy that creamy ride quality in the city.

Love to watch you leave
The one thing we have no complaints about is its looks, particularly that gorgeous rear. One of the highlights of our test was when I was driving behind the Civic on the expressway and as we entered one of the tunnels, the lobster claw lights lit up. That image was so captivating that I actually found myself changing lanes behind the Civic just to get a glimpse of it from different angles. Another familiar sight in town was people on two wheelers overtaking the car, actually craning their necks to see the logo on the front, as to confirm that what they were seeing was actually a Honda and not some exotic. Yes, from certain angles that low stance, sharp angles and distinct rear can look quite sporty.


Everything you need?
On paper, the Civic is nicely specced. There's a 7-inch touchscreen with Android Auto and Apple CarPlay, 8-speaker sound system, six airbags, sunroof, lane watch camera, auto headlamps and wipers, remote start and a powered driver's seat.

There are a number of nice touches to the storage spaces in the car like the space behind the front console where you can hide your charging cables, and the way the front cup holder can swivel around to accommodate two cups or a taller soft drink bottle even.

Dimensions

Length

4656mm

Width

1799mm

Height

1433mm

Wheelbase

2700mm

Ground clearance

170mm

Boot Space (litres)

430

Kerb Weight (Kg)

1300

Wheel Size

215/50 R17

Fuel Tank

47
There's ample legroom at the front and the back as well, and the seats are cushy and supportive too. But that low seat height will be an issue for older occupants and even if you're fit, it will still give your quads and glutes a good workout every time you get in or out.
Interior Measurements

Front

Legroom (min-max)

845-1030mm

Knee room (min-max)

535-765mm

Headroom (min-max)

840-950mm

Cabin width

1450mm

Rear

Shoulder room

1370mm

Headroom

920mm

Knee room (min-max)

660-890mm

Boot Space

430 litres

But it's not quite perfect. Let's start with the touchscreen. It's nice and snappy and responsive but the way it's designed means that any changes require you to delve deep into the menu. There are also some strange features misses like no power adjustment for the passenger seat and no front parking sensors even in the top variant. With a car this low slung, the latter is more of a necessity than luxury, trust us! Also the full sized spare and sloping rear end means that the boot space is an average 430 litres; 80 short of the Honda City.

Pricing
The Civic's prices start at Rs 17.72 lakh for the V petrol and go up to Rs 21.02 lakh for the ZX petrol and Rs 22.32 lakh (all prices ex-showroom Delhi) for the ZX diesel. That means that the Civic sits just above the Toyota Corolla Altis and the Hyundai Elantra and just a little under the Skoda Octavia.

Verdict
So does this mean that the Civic isn't a good car and you shouldn't buy one? No, that's far from the truth. The Civic is a great car, it's nicely loaded, looks fantastic and rides and drives like a car should. The diesel option gives it some traction where it had none before and is a great tool if you do long drives and like to step behind the wheel every now and then. The petrol-CVT features that delightful refinement that we've come to expect from the i-VTEC family. It will take all the effort out of your daily commute and if you spend more time in the backseat, you won't even be bothered with the CVT's bad behaviour. We have no qualms recommending you buy one or even buying one ourselves. But could it be better? The answer is yes, give us a manual option please!
Add Your Comments

More on Honda Civic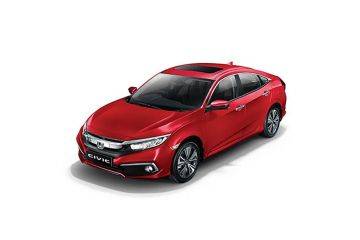 Rs. 17.94 lakh Onwards
Ex-showroom, Delhi
View May Offers
View On Road Price