BMW M340i First Drive | The perfect afternoon
---
A clear sunny day, keys to the latest 3 Series, and a long and winding road leading up to a great view. The perfect recipe to explore the capabilities of the new M340i?
The BMW M340i is an M Performance 3 Series. Its 387PS and 500Nm engine, coupled with sub-5-second sprint time, promises sports-car performance. But for all that oomph under the hood, it stands out just as much as a glass marble on a gravel driveway. It also wears an 'xDrive' badge on the boot, so it seems no fabled BMW rear-wheel-drive dynamics are on the cards.

It's like one of those items on a restaurant menu that you can't quite wrap your head around even after reading the description. We spent an afternoon driving the M340i on a twisty road, trying to figure out if this BMW is salty, spicy, or sweet.
Launch control

Like procedures? Then you might like this. Hit the 'Sport' mode button twice to go into 'SPORT +' mode, shift the gear selector down into 'D' and then left into 'S1', left-foot brake as hard as you can, and finally, floor the accelerator with your right foot. Complicated? Yes. But these are the steps needed to put the M340i into 'Launch' mode. Once that happens, a message will flash on the driver MID and the crisp HUD, confirming the same. Having the sports meters displayed on the Infotainment screen also helps to watch the boost build on the gauge for a couple of seconds. Time to get a firm grip on to the steering, brace for lift off and get off the brake pedal
The M340i shoots right out of the gate and throws you deep into the comfort of the suede-like Alcantara, while all you do is plaster an ear-to-ear grin. The new straight-six motor emits a throaty roar interrupted by a loud grunt from the twin tailpipes when the 8-speed auto box selects another cog. Yes, this is what a sports sedan should feel like! While the claimed number from BMW (4.4s) didn't quite match the 4.92s we tested, a car that goes up to 100kmph in less than five seconds is still super quick.
M Performance

Before we continue, a small explanation is due on what an M Performance car really is. We all know M Sport packs add cosmetically to regular BMW models. On the other hand, full-blown M cars are (practically) race cars with massive power outputs, sharp handling, and number plates to make them road-legal. M Performance cars are a mix of these two extremes, combining subtle styling changes with good performance gains to deliver a more accessible driving experience. That's precisely why the M340i looks a lot like the regular 3 Series but packs a bigger bang underneath. The perfect sleeper? Maybe, but for now, let's go back to that nice, twisty road.
After launching off an imaginary start line at the bottom of our chosen hilly road, the M340i approaches its first corner. The uprated brakes require a firm squeeze to slow you down at higher speeds but offer plenty of bite and stopping power. The nose turns sharply into the corner. The new variable-ratio steering rack is quicker and more direct than the standard 3 Series. It's nicely weighted too.

All-wheel drive dictates that you can't power through corners without some understeer kicking in if you're too eager with the throttle. But if you wait for the apex and punch the throttle hard, the rear-biased xDrive system sends more torque to the rear wheels, allowing the tail to kick out just a little. This mild drift combines with the locking electronic differential, helping the car rotate quicker around the corner.
This 3 Series corners flat and is neat and tidy even under hard braking. Keeping things firm and taught is a completely redone suspension setup. This includes stiffer springs and anti-roll bars, additional body bracing, and steeper cambered wheels. If you thought the 3 Series was getting soft again with the Gran Limousine launch, then this standard-wheelbase M340i should make you feel otherwise.

The new 3.0-litre engine is a significant part of the experience. It's smooth and easy-revving, letting you chase the 6500rpm rev limit with each gear. It drives cleanly out of tight corners, the twin-scroll turbos spooling quickly with no hint of lag.
The 387 horses hit a real sweet spot, enough power to just about overpower the grip from the Michelin Pilot Sport 4 (225/45 R18s up front and 255/40 R18s at the back). Not enough for big burnouts, even with traction control fully turned off. But it's more than enough to keep the car feeling nimble and light through corners. This gives you the feeling that you can use all the power the car has, even at perfectly legal speeds, without the cold fear that a full-blown BMW M car can instill.

In 'Sport' and 'Sport +', an electronically controlled valve in the exhaust allows that six-pot motor to sing. It's a base sound too, with just a few cracks and pops thrown into the mix when you get off the throttle. It's not supercar-like loud, but just enough to turn a few heads. In 'Comfort' and 'Eco Pro', the valve turns down the level to a city-friendly thrum.
Daily Driver

In 'Comfort' and 'Eco Pro' mode, things calm down quite a bit, and at city speeds, it's really just as easy to drive as the regular 3 Series. Throttle response is more muted and the steering weight lightens up. Even the brake pedal becomes lighter.

Given the sporty suspension setup, it isn't quite as comfortable as the Gran Limousine or 3GT for example, but neither is it sportscar-like harsh. There is some firmness over sharp bumps like ruts and level changes, but the cabin is surprisingly pliant over speed breakers and dips in the road. It has even got good ground clearance, and you don't have to be overly cautious over Pune's infamous tabletop speed bumps.

Comfy seats, 3-zone climate control, ambient lighting, and enough room in the rear for two full-sized adults. In short, its cabin experience is as plush as the regular 3 Series. Nice details like anthracite roof liner, sports seats, and M detailing on the door sills, steering wheel, seat belts and seat piping, subtly hint that this car is a little special.

Android Auto, Apple CarPlay, a crisp and easy-to-use touchscreen, gesture control, and a virtual assistant give you all the tech support you need. Rain sensing wipers, auto headlamps, parking assistant, reversing assistance, and cruise control also ensure it's convenient to drive in the city. Just a few misses like the ventilated seats, radar-guided safety assistance, and true keyless entry, which are optional in other markets. This should allow BMW to price the M340i not only under the M2 Competition, but super agressively positioned near the Rs 65 lakh mark.
Final word

Many corners, mini drifts, small pops and crackles from that sweet sounding exhaust, and almost a full tank of gas later, we reached the top of our favorite twisty road. My heart is racing and my face muscles are almost hurting from smiling. I couldn't think of a car better suited to this stretch of tarmac. More power would have required a lot more focus and concentration to master, and the sporty xDrive ensured that the car felt exciting but safe. A more flashy car would have also attracted a lot more, and sometimes unwanted, attention. The M340i felt just right. It hits a delightful sweet spot, if you're looking for a driver-focused car - delicious performance, everyday practicality, and the ability to fly under the radar if needed. The real question then is are you willing to spend the few extra lakhs on it for those special Sunday drives?
BMW 3 Series Video Review
More on BMW 3 Series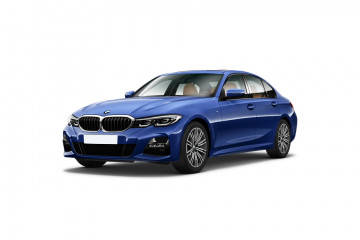 Rs. 42.60 Lakh Onwards
Ex-showroom, Delhi
See what our community has to say!
NEW
India's largest automotive community