BMW 630i GT: First Drive Review
---
BMW's Grand Tourer receives a facelift that certainly makes it more charming than before. But in a space that's defined by either SUVs or sedans, where does the 630i GT fit in and what purpose does it serve?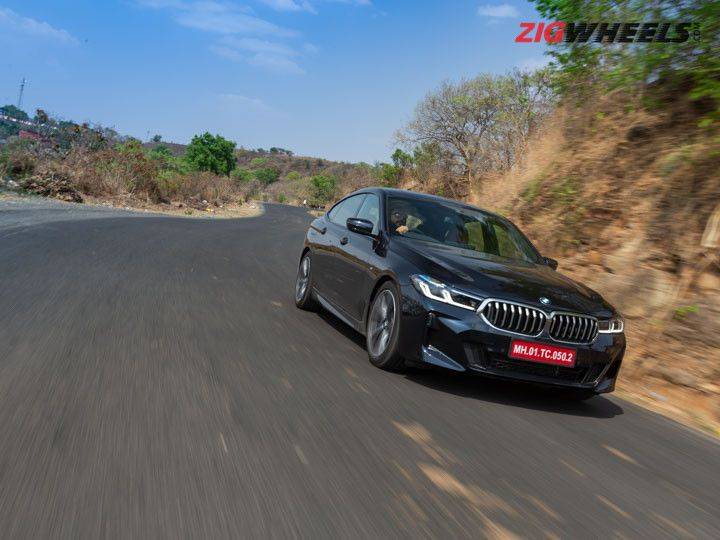 Well, first of all, if you're reading this review to decide if the 6GT is worth buying, kudos! Let's face it, most Indian luxury car buyers wouldn't give the 6GT a second look because it doesn't conform to their idea of what a luxury car looks like. The unusual body style is a major reason this car is something of an underdog, especially when compared to Mercedes' highest selling car in India, the E-Class.
With its latest facelift, though, this car has become more tasteful and less of an acquired taste, and that begins with...
The Looks

If head-turning design is what you're after, the 6GT won't disappoint. Yes, globally, this rivals the Audi A7 and Mercedes-Benz CLS (neither one sold in India anymore), but it doesn't look as achingly beautiful as them. That's simply because its German compatriots go in a more sports car-like direction with their low-slung stance, while the Bimmer does the opposite.
| | | | |
| --- | --- | --- | --- |
| Dimensions | BMW 5 Series | BMW 6 Series GT | Mercedes-Benz E-Class LWB |
| Length | 4,963mm | 5,091mm | 5,075mm |
| Width | 2,126mm | 2,158mm | 2,065mm |
| Height | 1,466mm | 1,538mm | 1,495mm |
| Wheelbase | 2,975mm | 3,070mm | 3,079mm |
The 6 series GT is particularly larger than the 5 Series in every dimension, and the size bump up is especially apparent in height. While the A7 and CLS are form-focused alternatives to their respective sedan counterparts (Audi A6 and Mercedes-Benz E-Class, respectively), the 6GT brings in improved functionality. So while it may not look particularly exotic, it is a big car that boasts of a strong road presence.
FYI: While the 6GT does have a remote key with push-button start, it doesn't get passive keyless entry!

However, that isn't to say size is all it has going for it. With the facelift, the 630i is now offered in the M Sport variant, earlier reserved only for the 630d. Highlights of this package include a sharper bumper design, 'M' badging on the front fenders, and dark blue brake calipers. It also gets a gorgeous set of 19-inch alloys that make the erstwhile Luxury Line's wheels look about as interesting as a documentary about paperclips. The frameless doors look cool as ever, and there's also the retractable spoiler that you've to fight the urge to play with.
The most obvious change across the range with the facelift is the new front end that sports a different bumper, restyled front grille, and the easiest to spot: the new headlight setup. They now look sleeker, more aggressive, and sport new L-shaped LED DRLs (because who wants to be identified by corona rings anymore?). While LED headlights with adaptive cornering beams and anti-dazzle high beam come as standard, the M Sport variants get BMW's laserlight that can offer a spread of up to 650m!
The GT Factor

The 6GT truly shines when it comes to practicality. Not only does it have 600 litres of boot space, the second row seats (40:20:40 split) fold down almost completely flat to liberate 1,800 litres of cargo volume. Probably not enough for a surfboard but enough for a person well over 6ft tall to lie down comfortably and enjoy a nap (speaking from experience). The upside? You get a leg rest should you decide to lie down. The downside? That leg rest is the space-saver spare tyre that hampers the usability of the generous boot.
FYI: There's room under the boot floor to stow away the parcel tray. A little redesign of the foam padding underneath would've helped accommodate the spare tyre underneath the boot floor.
Now, buying a 6GT probably isn't something for someone with private jet money but whoever sits here should be able to afford flying first or business at the very least. Thankfully, the cabin warms you up for that snooty experience. BMWs are really setting benchmarks for quality with their new generation cars. They feel truly rich with a generous use of leatherette padding or soft-touch plastics.

FYI: Gesture Control, soft close doors, the surround view camera, and the BMW Display Key are only offered with the 630d M Sport.
The cabin design is still typically BMW though i.e. straightforward and serious. Comparatively, new generation Audis or Mercedes-Benz cars have notably flashier cabin designs. At first glance, there isn't much to tell the pre-facelift car apart from the interior. There are mild changes to the trim, the steering-mounted buttons, and a digital cluster interface. The biggest change is the larger 12.3-inch touchscreen infotainment screen (earlier 10.25 inch) that now supports both Android Auto and Apple CarPlay, wirelessly.
BMW 630i Feature Highlights
4-zone climate control

Motorised steering adjuster

Powered front seats with driver memory

(front passenger gets memory function in the 630d only

Auto-dimming IRVM & ORVMs

Harman Kardon 16-speaker music system

Cruise control & speed limiter

Wireless phone charger

Panoramic sunroof

Drive modes

Motorised rear sunshades

Front and rear USB type charge points

Powered tailgate

Ambient lighting

Powered rear seat recline

The rear seat experience remains a strong point for the GT. It shares its 3,070mm wheelbase with the standard BMW 7 Series (not sold in India, we get the extended wheelbase only) which liberates enough room for 6.5ft tall users to sit one behind the other! The tall roofline also helps improve headroom and combined with the panoramic sunroof, makes the cabin feel far more accommodating than the 5 Series.
FYI: The E-Class long wheelbase does offer a little more legroom but ingress/egress is easier in the 6GT.

Rear seat occupants get 10.25-inch touchscreens that can be used to view the navigation system, run through car data, and even get a decent range of connectivity options (Blu-ray/DVD playback, HDMI, screen mirroring on compatible phones and two headphone jack points). Other features include electrically reclining backrests, extra-soft comfort cushions on the headrests, four rear AC vents, and six buttons to control the two motorised side sunshades (in addition to a button the driver gets)!
BMW Enough?

Looking at the '30i' in '630i' may get your eyes sparkling but unlike the 630d, this petrol is still a four-cylinder engine. It's a breeze to drive in everyday conditions and thanks to the light steering, doesn't feel its size while driving even in cramped lanes. At part throttle, the 8-speed transmission is imperceptibly smooth and there's always punch available to make overtakes at any speed a cakewalk.
What really stands out for the 6GT is its focus on comfort and peace in the cabin. For example, even at 2000-3500rpm, the engine noise is barely audible and this is the rev range where you can manage all of your city/highway/ghat duties. But what impresses the most is its ride comfort.

FYI: Claimed fuel efficiency for the 630i stands at 13.32kmpl. The pre-facelift car with the same tune managed 9.29kmpl/13.58kmpl (city/highway) in our road test.
The 6GT gets air suspension as standard on both axles (E-Class gets it only with the range-topping E350d AMG line) and boy do these bags do a good job of ironing out bad roads! Even over some inexistent roads through under construction zones, the car managed to keep things composed in the cabin. Sharper bumps can be heard as little thunks in the cabin but they're barely felt. It's commendable that it manages to do this while riding on fairly big wheels. Then again, with 275/40 rear and 245/45 front tyres, these Pirelli P Zeros do have decently sized sidewalls too.

The secret sauce to the experience is Comfort Plus mode. It's like the car pumps in 10 tablespoons of hummus into the suspension and just gives you that driving-over-a-cloud-sensation. Thankfully, it doesn't get too floaty or bouncy in this mode but drive in Comfort Plus for too long, and you can doze off pretty easily; it really is that relaxing. Thankfully, there's Sport mode.
FYI: The new 12.3-inch digital cluster changes its layout based on the drive mode chosen. Funnily enough, the Comfort mode display looks sportier than the Sport mode interface!

Over smooth and levelled roads, the difference between Sport and Comfort isn't much. It's when the road surface gets inconsistent that Sport mode picks up on granular changes that you'd be insulated from in Comfort. Otherwise, the differences are exactly what you'd expect; throttle response gets sharper, the transmission is less keen to upshift, the ride gets a little more jittery but not uncomfortably so, and the 6GT darts ahead with an eagerness that belies its size.
Pin the throttle and it throws you back in your seat. Sure, this is a car that's about comfort, practicality, and cruising for long distances but the 2-0 litre engine is no slouch, producing 258PS and 400Nm of torque. Its claimed 0-100kmph time stands at 6.5 seconds but in our test, the pre-facelift (same tune) car managed 6.53 seconds, so it's certainly quick.

However, its larger proportions and comfort-centric chassis does show when you go cornering. There is a noticeable amount of body roll that you wouldn't experience in a 5 Series and it doesn't feel as sharp through a series of bends. A little more weight to the steering, at least in Sport mode, would've been nice too. As a blend of a family-friendly and fun-to-drive car, though, the 6GT doesn't give you reason to complain.
Get One?

When it comes to serving its purpose, the 6 Series Gran Turismo gets a lot right. The cabin is spacious and practical, the ride comfort is spectacular, and it's a strong performer too. Compared to the 5 Series, it also serves as a reachable upgrade because the price jump from the 5 Series to the 7 Series is exponential.
The only issue with the 6GT isn't in what it does, but how it's perceived as many people want either a sedan or an SUV. It's in a similar headspace as a luxury estate car, but in the Indian context, it needs a little explaining. With the facelift, that explaining is a lot easier to do.

So what may at first come across to some as a package that's neither here nor there, it's actually a great all-rounder that's been around all along. Prices currently start at Rs 67.90 lakh for the 630i M Sport and go up to Rs 77.90 lakh for the 630d M Sport (ex-showroom prices) but do note, BMW's dealer discounts go high and heavy.
BMW 6 Series Video Review
More on BMW 6 Series

Rs. 66.50 Lakh Onwards
Ex-showroom, Delhi
Contact Dealer
View On Road Price
See what our community has to say!
NEW
India's largest automotive community