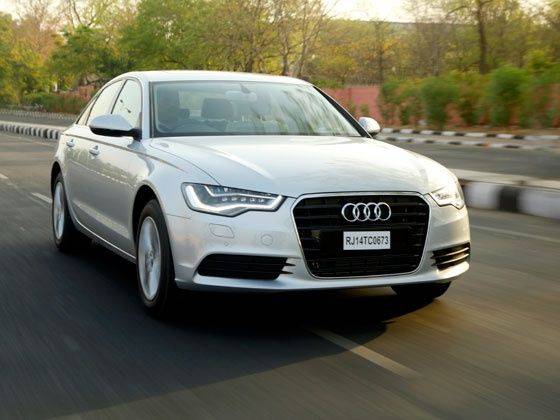 It's the middle of May and we found ourselves in the middle of one of India's most arid states – Rajasthan. Just a few kilometers outside Jaipur, the summer sun was beating down hard, the horizon was dancing in the evaporating heat as temperatures touched a very comfortable 22 degrees Celsius. Wait, what? We checked the temperature gauge again and it was indeed an extremely cool 22 degrees – thanks to the awesomely efficient four zone deluxe air conditioning that the Audi A6 special edition that we were driving had on offer! Of course, since it's a special edition the A6 was loaded with features over and above what Audi India had been selling the top spec car with till now but what makes this one even more special is why it is here in the first place.
There's a big war waging in almost every part of the world when it comes to the big three German luxury automakers – Audi, BMW and Mercedes and almost everywhere in the world one of them is beating the other on the sales pie. Audi's entry into India itself was a late one – Mercedes had a head start and BMW had turned things around with its portfolio. This was back in 2004 and over the years the Ingostadt manufacturer has strengthened its line up with not only newer models, but also with assembly operations for CKD units.
Despite their later entry, Audi wasn't backing down and aimed to become the No.1 luxury car manufacturer in India by 2015. Well, it's only 2013 now, and Audi has already achieved its target sales put it above everyone else in its category and when you're the four-ring brand you tend to celebrate in style.With the A6, Audi is bringing in never-before seen features to the car of which the very effective climate control system was just one part. With air con vents placed well to not only cool the front passengers but also the ones on the rear bench with their very own control of temperature and blower settings, Audi has ensured that chauffeur-driven owners will not only be commuting in style, but also in even more comfort.
Speaking of the back benchers, Audi's understanding of the Indian customer comes to the fore in the fact that they fully well realise that Indians love to be driven rather than drive themselves – especially in this segment of vehicles. Whether it be clogged traffic or simply the need to be at work even while on the move, buyers in the A6' segment tend to spend more time in the back seat than in the front. The A6 now also gives these owners complete remote control of the MMI system from wherever within the car – definitely beats having to ask your chauffeur tend to your music needs each and every time!
While the A6 definitely has no dearth of space at the rear, sometimes you just want that vacant front passenger seat to be that much further ahead so you can really stretch your legs a tad more. Now normally, that would require someone to reach over to that seat's adjustment controls and slide it forward, which can be quite cumbersome. To make life easier for the back benchers, the A6 now comes with seat controls for the front passenger seat that can be operated even while on the rear bench. The rear left door has two buttons on its sill that electrically slide the front passenger seat fore and aft to free up more space when needed. Added safety features also include rear side airbags.
But this A6 isn't just about the back benchers – when you do decide to take the wheel for yourself, owners will be pleasantly surprised by the MMI touch panel located right next to the driver seat on the centre console. This intuitive piece of hardware lets you search for numbers in your contact list as well access quite a few other functions by simple gesturing on the touch pad – a great feature that involves minimum effort and delivers maximum effect without you having to take your concentration off the road.
Of course there is also adaptive air suspension that you can set to give either a plusher ride or sharper handling when required. The A6 won't let you down even when you're outside the car thanks to its very classy and bright LED headlight array. And we haven't even touched upon the engines yet. The 3-litre diesel mill is what really caught our fancy thanks to its powerful demeanour and that very slick 8-speed dual clutch transmission. Three digit speeds hit you in the blink of an eye and with the suspension adjusted to a sportier setting, the A6 can really offer a truly rewarding motoring experience.
With so much going on with the A6 it has become even more technologically laden than it ever was. That itself should appeal to buyers provided they have upwards of Rs 43 lakh to shell out for a luxury car. If you ask us, we were pretty much sold the moment those LED headlights came on! And then again, this isn't just any luxury car – this one's made by Audi and that itself makes it a special edition. If you still don't believe the kind of technology that the A6 has to offer, you might want to have a word with all those customers who helped make Audi India's biggest luxury car manufacturer already. After all, if you can achieve your goals today, why wait for two more years!