2018 Datsun Go And GO+: First Drive Review
---
The changes aren't biblical, sure. But are they enough to warrant your attention?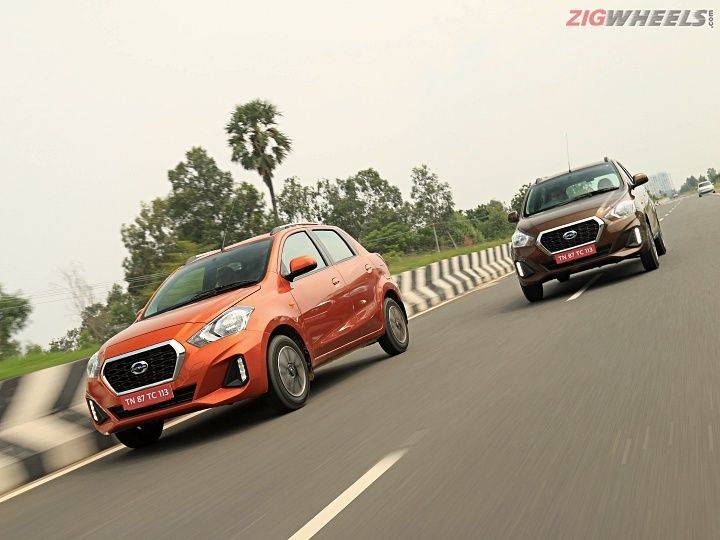 Get latest updates on
the automobile community
Datsun's Go twins have had a rough few past years. For most, they never really seemed to pop up into the consideration list. Now, we can attribute this to a number of things, a brand we hadn't really heard of much, dull looking interiors and the absolute lack of any modern-day features. All of that is set to change with the facelift. So, should you and I take Datsun's Go pair a bit more seriously now?
Little Things

On the surface, it might not look like the Go or the Go+ have got an update. Unless you happen to spot one in one of the two new paint schemes - orange and brown. We'd have to say the changes have made the cars look a tad more appealing than before. It definitely grabs attention.

The primary reason for that is the new 14-inch alloy wheels. These replace the older steel wheels and also come with wider rubber (165/70R14) that gives the cars a better stance. Earlier, the Go (and especially the GO+) would look comical with the tiny wheels. That has been taken care of. Might we add, the machine-finished design of the alloys looks great, on the move in particular. Also, thanks to the wider tyres, both cars have a slightly better stance. Thumbs up.

Smaller changes are focussed around the front end of the vehicle. These include a slightly larger grille, with a heavier dollop of chrome and a reworked bumper with creases that are more prominent. There are no fog lamps yet, but you do get a new daytime running lamp setup. Unlike the ones on the redi-GO, these are properly bright.

Compared to the front, the profile and the rear end looks a bit staid. Datsun could've livened things up a bit by offering indicators on the wing mirrors, or even a neat little spoiler for that matter. However, what you do get is a mildly reworked rear bumper that now houses a set of reverse parking sensors.
With the update, the Go twins aren't suddenly going to be winning design awards. But yes, they will definitely get more second looks than before.
Missing Pieces

When Datsun first rolled out the Go and the Go+, the feature list was quite bare bones, even in the top-spec variant. All of that, thankfully, changes with the update. We can get to the frills later, but what we're happy about is that dual airbags, driver seatbelt reminder, antilock brakes with electronic brakeforce distribution, brake assist and parking sensors have been made standard across the range. Also standard are follow-me-home headlamps, which means the headlamps will remain on for a few seconds after you've locked the car at night. That's a step in the right direction.

The basics are better thought off, too. This means that the handbrake is no longer the twist and pull variety. It's a conventional pull up to engage unit we're used to.

The rear occupants are finally treated to electrically operated windows, which wasn't even an option on the older car.

There's a new rear wash wipe too, a feature that's super important, yet sadly overlooked by many manufacturers.

You can now adjust the ORVMs electrically, which is another thoughtful addition.

Rounding things off is a new instrument cluster, that gets a bigger analogue tachometer compared to the older digital tacho. The old setup made it super hard to figure out revs at a glance; this setup works perfectly well for us.

There are still some minor misses though. The driver's seat, for instance, can't be adjusted for height. You don't get a day/night mirror either, which we think should've been bundled in at this price point.

And then there's our biggest grouse of the lot, non-adjustable headrests. While you wouldn't really complain much about the lack of headrests if you're in the front seats, the rear occupants will grumble. Taller occupants will find the integrated headrests at shoulder level, making them practically useless.

If you can look past that, there's a touchscreen that's vying for your attention. It's a 7.0-inch unit that gets the latest in connectivity tech, including Android Auto, and Apple CarPlay. This is slightly surprising, considering other (and much expensive) products from the Renault-Nissan family like the Captur or even the Terrano for that matter don't get one. This is a segment-first and is bound to get a few eyeballs for Datsun for sure.

Made by Blaupunkt, this capacitive touchscreen is amongst the best we've used in a budget car. In terms of graphics, resolution or even response, this is setting benchmarks. If we could nitpick, we'd say the scroll on the menu could have been a bit more fluid. Save for that, it's nearly flawless. Also, while a reverse camera is not offered as standard, you can get one installed at a dealership. The screen is compatible with the camera and will display the video feed.
For The Family?

A small one, sure. In terms of space, there's nothing separating the new version from the old. This means that space is still just about alright, but nothing great. A six-footer like yours truly manages to fit behind his own driving position, only just. What we do like about the cabin, is the width. Getting three people in the rear seat is easier compared to say a WagonR or a Celerio. That said, the middle occupant doesn't really have much space for his legs or feet. So, you're better off treating the Datsun Go and as a four-seater.

With the Go+, you get the additional third row of seats. Let's make it amply clear that you shouldn't even bother getting any adult of any shape or size there. This is strictly meant for kids, and it will do an appreciable job of seating them. That said, we do wish there were proper three-point seatbelts on offer here, and not just lap belts.

Boot space is rated at 265 litres, which again is what we'd expect from a car this size. If you really need a big boot on a budget, we'd recommend buying the Go+ and keeping the third row folded at all times. That will give you access to a whopping 347 litres of space. Yes, the third-row seats don't fold flat which will limit usable height, but it's still a lot bigger and accommodating compared to the regular hatchback. Alternatively, you can just get a spanner, unbolt the third row altogether, and get a completely flat floor.

What could be better, though, is the in-cabin storage space. While front-seat occupants wouldn't have an issue at all - they're treated to storage in the door pads, a shelf above the glovebox and some central floor console cubbies -, the ones at the rear might be miffed. Save for the single bottle holder placed in the centre, there's no other storage to speak of. Bottle holders in the doors, if nothing else would've done the job.
Pocket Rocket

If you look at the spec sheet, the numbers seem to be just what you'd expect. There's a 1.2-litre, three-cylinder petrol motor that makes a healthy 68PS of power, and 104Nm of torque. Nothing out of the ordinary, then? Here's where you are mistaken. The older Go was a bit of a pocket rocket. With a high power to weight ratio, the little hatch was quite peppy and fun, especially if you pushed the little engine to its redline.

That hasn't changed a lot with the update. The motor seems enthusiastic, and quick to rev. A small hiccup comes in the form of limited low-rpm pulling power. So, you really have to go heavy on the accelerator to get a move on. This is something you'd pick on when you're travelling full house, or tackling the ghats. But, get it going and you should have absolutely no problems zipping in and out of traffic with this one. However, it doesn't feel as quick as the older car. This might just be down to the added 150kg of weight. Out on the highway, it does seem to run out of breath. And there, you will need to plan your overtakes in advance. But, these cars are meant to trot about within the confines of the city. And there, it hardly gives you a reason to crib.

The steering, for example, is one finger light. The clutch pedal too won't take a toll on your left knee even if you're stuck in horrible bumper to bumper traffic. Even the gear action is light enough to not require too much effort. That said, we wish it slotted in a bit more fluidly. At times, it refused to slot into gear, and that can get annoying.
Datsun seems to have gone back to the drawing board as far as NVH is concerned. Earlier versions lacked insulation, so you'd pick on little sounds like gravel hitting the underbody and even tyre noise. With the update, that seems a tad better controlled than before.
At Ease

The ride quality should keep you comfortable inside the city. We found the ride to be a lot better with four adults on board. If you're taking it easy, the Go should be able to keep most of the bumps out of the cabin. But go over them in quick succession and you'd find it bouncing about a bit. Also, at high speeds, we wish it felt a bit more planted. It feels nervous and light, after which you'll want to return to double-digit speeds. In the Go+, we managed to bottom out the rear suspension a couple of times on the highway. A slightly stiffer setup would've possibly eliminated this.

Chuck the Go into a corner, and it'd turn in quickly. But, the steering is better-suited for quickly evading pesky motorists and pedestrians, not being super precise and setting lap records. So, in that context, it feels dull through a corner and keeps you guessing as to what the front wheels are doing. There's predictable body roll, too. And, both the Go and Go+ would like it if you didn't change lanes hard at triple-digit speeds.
Go for it?

For the asking price, Datsun's Go and Go+ are definitely more appealing than before. The refreshed design, standard safety tech and added feel-good features, especially that touchscreen makes these cars a bit more exciting. Strong points have been carried over as well, such as the punchy engine and the easy to drive nature. Yes, you'd still find some strange feature omissions and plastic quality isn't all that great either. That said, neither of these are dealbreakers.
If the Datsun twins were not on your radar, they definitely deserve a closer look now. If they were already something you were looking at, you now have stronger reasons to consider them.
Update 2019:
Datsun India has updated the GO and GO+ for 2019. The both are now available with a new Vivid Blue colour but the major update for the 2019 is the addition of a new safety feature called Vehicle Dynamic Control on the top spec T and T(O) variants. This system works like a ESC (Electronic Stability Control) which uses wheel speed, steering wheel position, and lateral acceleration data via onboard sensors to and manage power accordingly to reduce understeer and braking imbalance.
Datsun has also equipped both the GO and GO+ with the 7.0 inch infotainment system of the Renault Kwid. This gets smartphone connectivity via Apple Car Play and Android Auto, voice recognition and other standard music features.
In terms of pricing, the 'D', 'A' and 'A'(O) variant remains unchanged, whereas there is a three percent premium in pricing on the 'T' and the 'T' (O) variants due to the additional features.
Video Review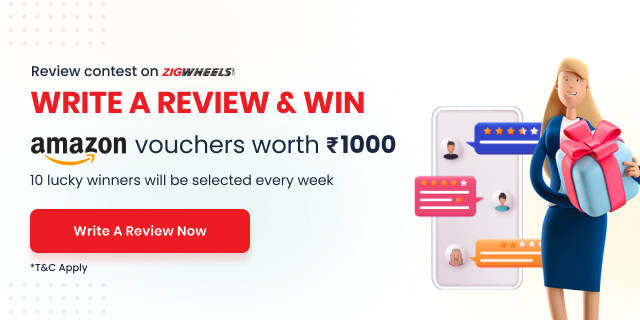 See what our community has to say!
NEW
India's largest automotive community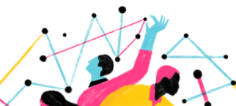 2 Other Things You Might Want To Do