High-Security Registration Plates And Colour-Coded Stickers: Everything You Need To Know
Dec 27, 2020
Views : 42524
---
HSRP is now mandatory in Delhi, UP and HP with fines imposed on violation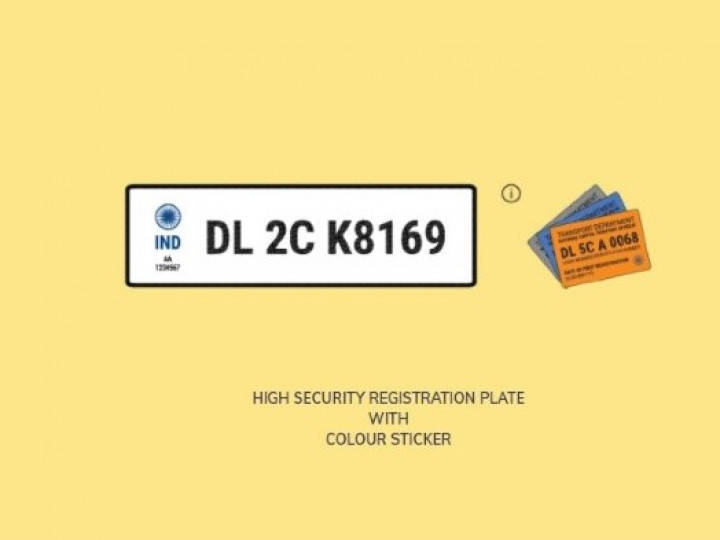 High-security registration plates (HSRP) come with encoded VIN laser and are difficult to tamper.

Colour-coded stickers indicate the type of fuel and emission norms the car is compliant with.

HSRP and colour-coded stickers will cost up to Rs 1,100 depending on the category of the car.

In Delhi, UP and HP, they can be booked online and picked up from the closest dealership.
You might be curious about terms such as HSRP and colour-coded stickers flying around, especially if you're from Delhi, Uttar Pradesh or Himachal Pradesh where these are now mandatory. If you're still confused, we'll get you sorted by the end of this.

HSRP stands for High-Security Registration Plates. As the name suggests, it's difficult to tamper with these. They are made of aluminium and get two non-reusable locks. Vehicle identification numbers (VIN) will be laser encoded in these plates, which might be easier to scan, but difficult to tinker. These plates are also easy to recognise from the 'IND' and chromium-based Ashoka Chakra on the left-hand side.
Colour-coded stickers, placed from the inside of your windscreen, help in identifying the type of fuel the car is running on. An additional green strip on the top of the sticker indicates the car adheres to BS6 norms. Now for the colours: blue stands for petrol and CNG, orange for diesel, and green for electric.

These two things are now mandatory and will help with a number of factors. First, in case of theft, it will make tampering with the VIN or number plate very difficult. Police can track cars by scanning the plates using CCTVs. Colour-coded stickers will help in identifying the age of a car in places where cars older than a certain year cannot be run. HRSP for four-wheelers will cost up to Rs 1,000, depending on the category of your car, with an additional Rs 100 for the colour-coded sticker. For two-wheelers, the same will cost up to Rs 600.
For applications, you can head to your nearest RTO. Delhi, Uttar Pradesh and Himachal Pradesh residents can also apply online. Residents of Noida, Lucknow, and Ghaziabad can even get it delivered home. Currently, a fine of Rs 5,500 is being levied on vehicles without HSRP and colour-coded stickers in these places, but only if the vehicles are registered there.
See what our community has to say!
NEW
India's largest automotive community