Cake Ösa Is The Lego In The World Of Electric Mobility
by Alpesh
Nov 21, 2019
Views : 731
---
Swedish bike maker has put function over form with its new electric bikes
Two battery options on offer: a 1.5kWh and 2.5kWh unit.
The base variant gets a 4kW motor, while the top-spec model is powered by a 7kW unit.
Cake claims it can be configured in 1,000 ways!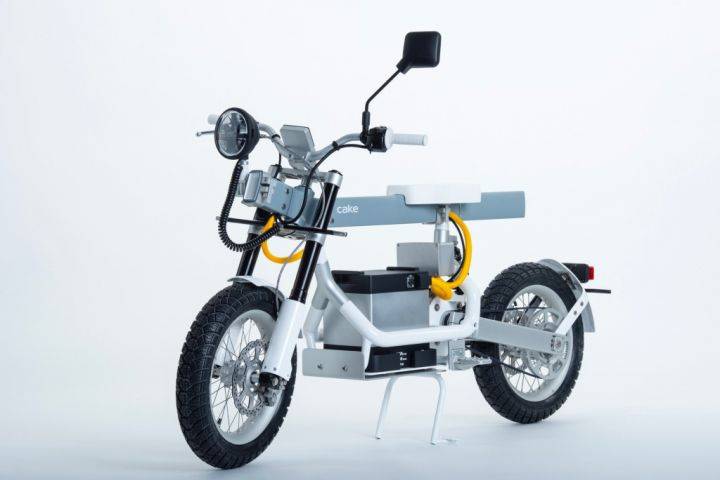 Till now, we have seen a tonne of electric two-wheelers. Some, like the Gogoro Viva, are just adorable to look at, while others like the Lightning LS-218 are just meant to burn the dragstrip with their insane amount of power. So it's pretty hard for manufacturers to come up with something unique that can attract attention. However, Swedish bike maker Cake has unveiled its new electric two-wheeler which comes in a very interesting modular package. Yep, after Ikea, Sweden now wants to fiddle with your two-wheelers as well.

The aluminium frame is pretty simple and there are literally no panels on the motorcycle. So there are endless possibilities to customise the Cake Ösa. You want it to be a cruiser? Well, slap on wide handlebars, forward set footpegs and a wide seat. And if you need some inspiration, then take a look at this adorable Honda Monkey that is trying too hard to be a cruiser. However, if we were you, we would install a big and comfortable seat.

There are two battery options to choose from: a 1.5kWh and 2.5kWh unit. While the former offers a range of 59km, the latter has a range of 100km. The base variant is powered by a 4kW motor, which the company claims can achieve a dizzying 48kmph. The Ösa+, on the other hand, comes with a bigger 7kW motor and can help you achieve 100kmph. Yes, this workbench on two-wheels can reach 100kmph!

For an electric motorcycle which looks this barebone and hardly comes with any features, what price tag do you reckon it comes with? Well, the base model retails for $6,000 (around Rs 4.3 lakh) and the top-spec variant is priced at $8,000 (around Rs 5.73 lakh). That's just too much for a DIY project, right?

Source: Electrek