Bajaj-Triumph Partnership: What To Expect?
---
Bajaj Auto and Triumph Motorcycles have joined hands to develop a new range of mid-displacement motorcycles. We take a closer look into this partnership and what it means for Indian bikers
Update: Finally, there is a date set for the alliance between Bajaj Auto and Triumph to become official. Know all about the development here.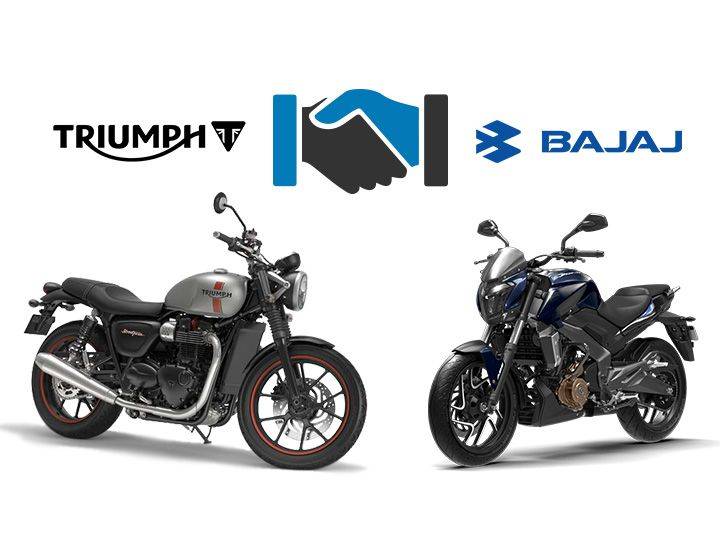 Ducati! That was a smoke screen! While we were busy looking at continental Europe, Bajaj was busy getting cosy with the Brit icon, Triumph! In hindsight it all just fits so well! Today Bajaj Auto has spilt the beans, and announced that it has signed a partnership with Triumph Motorcycles. Though both the brands haven't divulged much details about their partnership, they have stated that the main objective is to deliver a new range of mid-displacement motorcycles. The new bikes that will be jointly developed by Bajaj and Triumph Motorcycles are likely to be global products and probably something resembling scaled-down Bonnevilles, and built to take on products from the likes of Royal Enfield. You can start rubbing your hands now.

Why Bajaj?
Silly question? Not really, if you look at it from the viewpoint of a premium bike manufacturer. But, the answer is simple: Bajaj makes sense. What Bajaj Auto has delivered with the KTM range of bikes that is spectacular business sense. By employing KTM's technology and Bajaj's efficient manufacturing methods, the Austrian brand has been successful in pricing its Duke and RC range of products fiercely, and this has enabled it to expand its sale, especially in the European market. Triumph will be banking on the efficient manufacturing practices of Bajaj to tap the volume segment which is below 500cc as its current lowest displacement motorcycle is the Street Twin, which houses a 900cc motor.

The new motorcycle will be built at Chakan, where the KTM range is manufactured and will soon be joined by the Husqvarna motorcycles. By sourcing parts from Bajaj's vendors, the British brand will be able to keep the price of the upcoming bikes under check. Triumph Motorcycles might also utilise Bajaj's vast dealership network to sell its upcoming bikes, which will enable it to penetrate the Indian market better. We expect the low-capacity Triumph bikes to be sold via Bajaj's Probiking showrooms in a similar fashion to how the CKD range of Kawasaki motorcycles are sold.This isn't the first attempt by Triumph to build a low-displacement motorcycle as back in 2012 there were reports that it was developing a 250cc single-cylinder bike that would be built in India. Pictures of the prototype undergoing testing also emerged but the project was shelved rather abruptly.

The Bikes?
As we mentioned before, there are no concrete details about the upcoming motorcycles yet as the announcement of the partnership has been made just now. We expect the new motor to be a twin-cylinder unit with a displacement between 400-600cc. The new bikes will not be performance motorcycles, instead the platform should be able to support a range of motorcycles like Triumph's full-size Bonneville range does today. Imagine sophisticated yet affordable Cafe Racers, Bobbers and Bonnies! The engine could also be used to give Bajaj's Avenger family a step up.

The engine is likely to focus on low-end performance for easy commuting and cruising on the highway. The styling of the motorcycles is expected to be retro-modern so that it appeals both to the purists and the youngsters as well. The new bikes will be offered in more than one variant to widen its appeal and a cafe-racer or bobber cannot be ruled out. The main rival for the upcoming Triumph motorcycles will be the parallel-twin-powered offering from Royal Enfield which looks close to production.Talking about development time, the new low-displacement Triumph motorcycles will take at least three years to develop and are expected to be unveiled by 2020.

Rejoice Triumph Aficionados:
As for Indian bikers, especially those who have a soft spot for Triumph Motorcycles, it's time to celebrate. Since the bikes will be built in India and not assembled, they will be priced aggressively and this means more buyers will be able to afford the iconic brand. Also, the fact that Triumph might utilise Bajaj's vast dealership network means more Indian buyers can look forward to owning the iconic British brand without worrying about service and parts availability. Since the new bikes will be built by Bajaj, cost of spare parts will also be cheaper and this will in turn reduce the cost of ownership in comparison to its rivals. And last but not least is the fact that Indian buyers will get an all-new option in the 400-600cc segment, which is expected to witness a lot of action soon.