Auto Expo 2020: Will It Make Motoring Great Again?
Jan 19, 2020
Views : 1099
---
There are just as many hopes as nopes for this, the 15th edition of India's largest motor show. So what will it be like?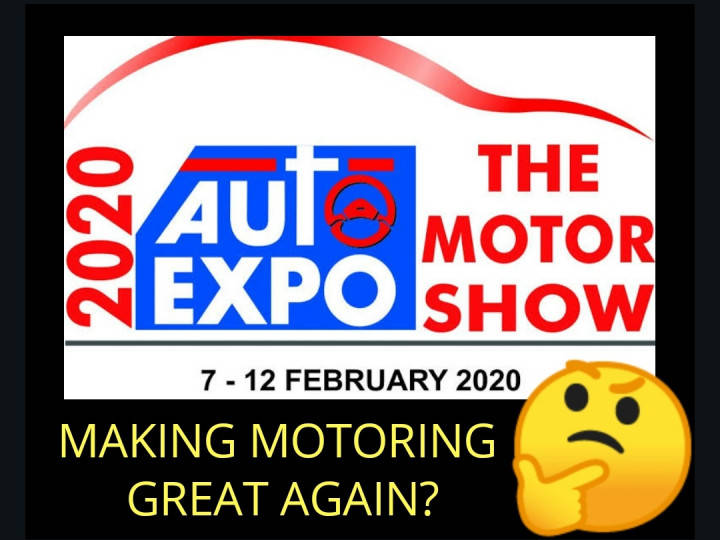 Ready or not, Auto Expo 2020 is coming. This year starts with a massive backlog of sales for most automobile manufacturers in the country. That means fewer bucks in the pocket to spend on the expo, even as their entire model lineup needs to be updated for BS6 by April 1. This is apparent from the long list of two- and four-wheeler makers giving the event a miss.

However, I also see the upcoming expo and 2020 as a flashpoint for the industry - what with the new regulations, tech adoption, and an alternative energy source driving most of the mindspace. This edition, then, will be a reckoner for things and times to come. In the face of all this, could India's largest auto event turn out to be a damp squib? Here's how we see it:
We Have a Degrowth

In light of the worst auto sales performance in 19 years, the term 'sales slump' has been thrown around enough over the past year to qualify as a volleyball. The country's slow economy and auto makers' anxiety over the BS6 deadline was on one side of the net. Buyers' wait for BS6 updates and/or pocket-friendly deals on soon-to-be-discontinued BS4 models, on the other. The ensuing back and forth kept auto sales numbers lower in 2019 than in the previous year. Globally, car sales have dropped for the first time since 2009, including in neighbour and fellow auto giant, China.

The only winners here were newcomers Kia Motors and MG Motor and we will be seeing them among the carmakers attending. While the downtrend is already on a slow mend, we expect it to get a shot in the arm from the slew of new cars landing at Auto Expo 2020.
Brute-us Maximus

Speaking of, a majority of the new cars we expect to be displayed at the expo will be of the three-letter variety that seems to play on the collective mindspace more than sex these days: SUV. Skoda and Volkswagen will show off respective skins for their India 2.0 SUV based on the MQB-A0-IN platform. Hyundai will bring in the ix25 as the new Creta, and another Chinese brand, Great Wall Motors, will enter India.

GWM is pegged to kick off its India foray with *surprise*, an SUV - the Haval H6. There are many more Utes in the offing, which you can read about here. So many, in fact, that it has me wondering - does our infrastructure really necessitate cars with bad-road prowess? Or is all of India slowly turning into Dally? Or even worse, is everyone just silently preparing for Doomsday?
Like them or not, SUVs have been a hit and continue to grow in popularity for their righteous mix of confidence, value (more car per lakh), and aspiration quotient.
Electric, Yes. Eco... Eh

The government aims for electrification of all vehicles sold in the country within this decade and manufacturers have answered with a slow turn. The pace, however, will gather momentum starting with the expo, where over a dozen new electric vehicles (EVs) are set to debut in both production-ready and concept forms. We will see everything from the advent of the democratised (read super affordable) EV in the Ora R1 as well the nigh on top-end of electric mobility in the Mercedes-Benz EQ range. Expect some surprises from startups as well. This will set the tone for the future of mobility in the country.

Lack of charging infra notwithstanding, carmakers look optimistic on the pace of EV adoption for a country that still produces nearly 70 percent of its electricity from thermal power stations. So green, no? Don't even get me started on the (not so) Faster Adoption and Manufacturing of (Hybrid &) and Electric Vehicles in India (FAME II) policy.

Since the scheme focuses more on EVs in public transport, there remain unanswered questions - what about centralised subsidies for buyers to take the edge off the markup one pays for an electric alternative? And some respite to boost local manufacture of power packs? What, then, of recycling for batteries at the end of their usage cycle?

We expect the Auto Expo with its focus on the car buyer to answer these questions. At the moment, the excitement is certainly in the favour of an electric future, and I'd rather not stand in the way, if only out of reverence for Nikola Tesla.

BS-Sticks and Stones

Undoubtedly the highlight of the show will be BS6 updates to at least 30 car models. The transition to the new regulations has pretty much been the tune most automakers have been humming since 2019. It has only gotten louder as April approaches. This is one reason we see Auto Expo 2020 turning out lacklustre compared to the usual razzle-dazzle. You see, most automakers will showcase little more than showroom-ready vehicles with BS6 compliance.

Yes, there are cars and engines that we enjoyed driving which sadly won't make it past March 31. Another thing that may have the manufacturers worried is that customers won't simply pay a handsome premium to buy the same car as before, only more environment-friendly.

This means we can expect value-adds ranging from equipment and feature upgrades to minor facelifts to justify the price hike. The transition affects the carmakers more than it does customers. So it would be unfair to see the latter pay up without getting a marginally padded brochure in return.
Fresh Alternatives?

Brand-specific events, especially by two-wheeler manufacturers, have been gaining popularity of late. While Royal Enfield has hosted its Rider Mania in Goa since 2003, other manufacturers too have begun dipping their toes, with TVS Moto Soul, KTM or Triumph or Harley-Davidson at India Bike Week, and the like. This makes sense as there is no hefty price to pay for a stall that may or may not reach the target audience.

Unlike the Auto Expo which is primarily an industry and trade fair, these events offer a focussed gathering of target users, helping the brand stand out, and also cost less for more marketing opportunities. Bike makers have been using these as launch pads for new and upcoming products as well as survey pits for future plans, all packaged into a glamorous weekend. What's not to like?
This is partly why we see so few two-wheeler brands on the expo roster this time around.
What About the Motorhead?

If you're still reading this, you are either procrastinating on your homework, my boss checking for facts, or more likely one of us proud oil-snorting petrolheads. This past year may not have been kind to our ilk, since tighter emission norms usually mean more boring cars. At least, that seems to have been the groan of motoring fans the world over. Yes? Well, if you read how Japanese car makers turned strict norms into fun Kei cars, you should know better than to lose hope.
Some will say I wrote this piece only so I could slip this in. (They may be right):

My biggest gripe with Auto Expo 2020? Stretched pennies don't put hair on my chest. More ponies do! Mind, only if they are accompanied by the cacophony of a motor with moving parts. If I wanted to hear road noise and the light hum of my approving conscience, I'd take the bus. So until the EVs evolve to grow a voice box of their own, jury's out on their fun to drive aspect for me. Not debating the surge of torque from an electric here, because, still my piece.

For all our cribbing, the enthu-cutlet comprises a miniscule portion of the buyers' market. So expect to be catered to, um, eventually. And don't give up yet, it's not like they've started plonking four-cylinder engines into AMG cars. Oh wait!
Still the Auto Industry's Sriharikota
All said and done, the Auto Expo is still the biggest platform for Indian automakers. Forget those that repose their faith in the event, and see the number of two- and four-wheeler makers that aren't attending, yet have managed to plan their major announcements and launches around the expo.

It just doesn't get any bigger, be it the footfall, duration, or impact of the products shown here. And it is also the one time our entire motley crew of auto enthusiasts in the guise of journalists gathers under a single roof, bar those idiots fighting over press kits. Those we can all do without.

Each step here compounds experience. Each stall, a source of excitement. Each conversation, the precursor to any thought on wheels (two, and four) for the coming 2 years. It is not for no reason that I look forward to the tiring routine of sleepless nights and enough brisk walking to trip Fitbit's servers.

Beginning of the end or a new hope? It may not be the be-all end-all that it once was, but we will see the future direction of the industry at Auto Expo 2020. Questions will be answered.
No one summed my thoughts on Auto Expo 2020 better than Jim Morrison when he sang:
The future's uncertain and the end is always near… Let it roll!
Add Your Comments