BS4 Vs BS6: All Your Questions Answered
Sep 23, 2019
Views : 120462
---
Still confused about the upcoming BS6 emission norms? We've compiled a list of questions and their answers to clear your doubts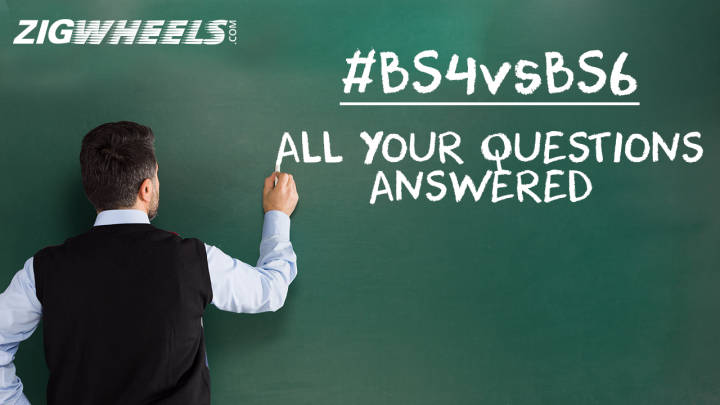 We bet you've been hearing the word 'BS6' a little too often since the last few months. Bharat Stage Emissions Standard is the governing organisation for emissions from all sorts of vehicles in our country. Applicable to both two and four wheelers, the Indian government has issued an ultimatum which states that only BS6 vehicles can be sold and registered post 31 March 2020. Various manufacturers have already introduced BS6 variants of their popular models but the vast majority of cars sold today are still only BS4-compliant. So, how is the switch from BS4 to BS6 going to pan out and most importantly, what exactly is BS6 and how does it impact your buying decision? We've got answers to all these queries and some more, but make sure you don't bring up the disappearance of BS5.
What exactly is BS6?

Let's get cracking with the basics then. Bharat Stage Emission Standards are emission regulations put forth by the government of India to regulate the output of pollutants from motor vehicles. The standards are set by the Central Pollution Control Board under the Ministry of Environment, Forest and Climate Change. It was first introduced in 2000 with the moniker 'India 2000'. BS2 and BS3 followed later in 2005 and 2010 while we are currently following BS4 norms which came to place in 2017. Looking at the timeline, you'll see that the gap between different standards are decreasing at an alarming rate. Not much of a shocker here given the increase in pollution and the surge in the number of vehicles on the road. BS6 is the sixth iteration of the norm which, in comparison, is a substantial leap from its predecessor (also because we are skipping BS5). BS6 norms are relatively stricter to help cut down emissions by a good margin. How much of a difference?

BS6 compliant petrol vehicles are required to be 25 per cent cleaner by reducing NOx (Nitrogen Oxide) numbers from 80mg/km to 60mg/km. For diesels, the BS6 norms aims at reducing three pollutants -- HC (Hydrocarbons) + NOx, PM (Particulate Matter) and NOx reduction by 43, 68 and 82 per cent respectively. The BS6-compliant engines make use of modern technology to attain the above mentioned targets. Some of these include Lean NOx traps (LNTs), selective catalytic reduction (SCR) units, and diesel particulate filters (DPFs).
Can a BS4 vehicle run on BS6 fuel?

The answer is yes. In theory, a BS4-compliant vehicle can run on BS6 fuel without any issues, especially if it's a petrol car. What about diesel then? In diesel engines, the sulphur content in the fuel acts as a lubricant for the fuel injectors. BS6 fuel has five times less sulphur content in comparison to BS4 fuel. This could cause issues to the fuel injector over the long run due to lack of lubrication, leading to a faster rate of wear.
Will a BS6 engine run on BS4 fuel?

The same story repeats here as well. Petrol engines will face no issues at all as the fuel composition is not drastically different. But the same cannot be said for diesel motors. When a BS6 engine runs on BS4 fuel, it will increase the emissions, decrease fuel economy and might also cause issues in the fuel delivery system. From what appears now, even the industry is split over the same topic. Hyundai is saying that BS6 diesel engines will face some issues running on BS4 fuel. Meanwhile, Kia, which shares engines and platforms with Hyundai, says its BS6-compliant engines, including the1.5-litre diesel, have been extensively tested to run on BS4 fuel. What we feel here is that there should be more transparency regarding the BS6 diesel engine's compatibility with BS4 fuel and vice versa.

But on a positive note, petrol bunks in Delhi/NCR and other metro cities have been selling BS6 fuels for some time now. And over the coming months and more specifically by April 2020, most of the fuel bunks in the country will start dispensing BS6 fuels putting all worries to rest.
Will the transition from BS4 to BS6 affect performance and fuel efficiency of the engine?

Yes. In layman terms, a BS6-compliant engine will be more restricted in comparison and will thereby result in a minor drop in power and efficiency. Manufacturers can make the engine produce the same amount of power as before. However, fuel economy might take a small hit.
For example, the Maruti Suzuki Dzire with the 1.2-litre BS6-compliant petrol engine is claimed to return 21.21 kmpl. The BS4-compliant version of the same engine was rated to return 22kmpl (both ARAI figures).
Will BS6 fuel be more expensive?

As of now, BS6 fuels costs the same as BS4 fuel in Delhi and other metro cities. But the refinement process and the upgradation of refineries to churn out BS6 fuel might impact the fuel prices. So, it's safe to expect a hike in fuel prices as time marches forward or once the norms come into place.
How expensive will a car get once its converted to BS6?

While we can't point at the exact premium, we can give you a realistic range. Starting with bikes, Honda and Suzuki say their bikes will become more expensive by 10 to 15 per cent. Moving on to cars, expect a rise of 2 to 3 per cent (Rs 20,000-30,000) for petrol cars and 8 to 10 per cent (Rs 80,000-1,00,000) for diesel cars. This premium comes as a result of all the R&D and improvements made to the powerplants to make them comply with the stringent BS6 norms.
Should you buy a BS4 vehicle now or wait for BS6?

If fat discounts are what you are looking for, you should go ahead and make your purchase by the end of this year. Manufacturers are currently in their transition phase and will phase out BS4 cars by January-February 2020. But don't expect the discounts to be very tempting like in 2017 when the switch from BS3 to BS4 norms took place. We feel the transition from BS4 to BS6 will be much smoother and well planned in comparison.
If discounts aren't your thing and you need a future-proof set of wheels, then we'd suggest waiting for carmakers to roll out their BS6-compliant models. The models will not only emit less hazardous gases, but will also be packed with the latest kit. What's more, they promise to retain their resale value in the long run as well.
What about BS4-BS6 for big bikes?

Low volume players like MV Agusta and Aprilia might probably wait and update their bikes in time for global norms like Euro 5 to take effect. Let's face the facts, updating the whole lineup when they only sell a handful of bikes in India is not exactly an ideal scenario from a financial point of view. Meanwhile, other manufacturers who depend on more volumes might convert their lineup to meet BS6 norms.
Can you convert a BS4 engine to BS6 on your own?

First of all, the Indian government is only banning the sale and registration of BS4 cars. You can use them for a long time to come, similar to how BS2/3/4 cars are still on the road. Doable, yes. But is it worth it? No. Reason being the engineering technicalities behind it and the cost to implement it even if you find a garage ready to help. Our suggestion would be to buy a new BS6-compliant car.
What's the whole fuss about AdBlue?

AdBlue is a liquid solution of urea and water for diesel engines to lower nitrogen oxide (NOx) emissions. It has to be replenished according to the manufacturer-specified guidelines. The AdBlue tank can also be topped up during service intervals to stay on the safer side. Pictured below is the Jeep Compass Trailhawk's 13-litre AdBlue tank. In this case, Jeep claims it will last anywhere between 7000km to 9000km before it runs out.
There's no doubt that BS6 emission regulations are the government's best bet to control rising levels of air pollution in major cities across the country. Even though it's for a better tomorrow, there still exists an air of confusion among the end users. Nevertheless, we've tried our best to clear some of it and address the different elephants in the room. If you have some queries other than these, do watch our take on the BS4vsBS6 affair that's already up on YouTube. If that doesn't help and you're still looking for answers, shoot them in the comments section below and we'll try to answer them as best as we can.
Add Your Comments
View all comments