Why Is The Mercedes-AMG C 63 Replacing Its Throaty V8 With A Tiny Hybrid?
---
Upcoming C 63 to use a 2.0-litre four-cylinder petrol-electric hybrid in place of the 4.0-litre V8 from its current iteration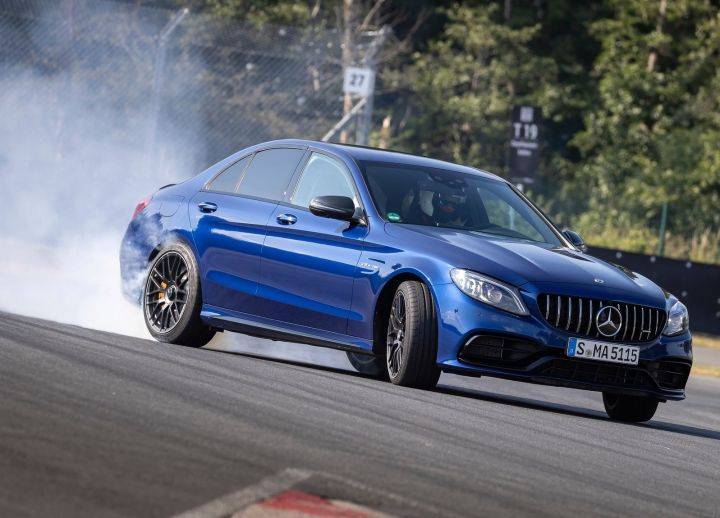 The current C 63 S uses a 4.0-litre Biturbro V8 that produces 500PS and 700Nm of torque.
The replacement will be a 2.0-litre good for 500PS of power with the help of a hybrid setup.
C 43's 3.0-Litre Biturbo V6 will also be replaced by the new hybrid powertrain.
From what appears now, various reports are stating that the new Mercedes-AMG C 63 destined for 2021 will have a hybrid four-cylinder in place of the 4.0-litre turbo V8, which is nothing short of a finely tuned musical instrument. Mercedes-AMG bossman Tobias Möers has already hinted about the sad news by announcing that the A 45's 2.0-liter four-cylinder will find its way into the AMG version of the C-Class sedan. What we all feared is happening, but we can find some respite in the knowledge that the new four-cylinder will be tuned to make more poke than the V8 with the help of a hybrid setup. And it's only a matter of time before eco-ed up updates make it to Indian shores.
The current motor, the M177 4.0-litre Bi-turbro V8 is a motorsport-derived "one man, one engine" meticulously handbuilt V8 that makes in excess of 500PS and 700Nm of torque in the C 63 S. Zero to 100 kmph from standstill is 4.0 seconds away with a top whack of 289kmph. The replacement we are looking at is the M139, 2.0-litre four-cylinder that is expected to make 500PS of power with the help of a hybrid setup using a 48V integrated starter setup. Currently, this engine, in its non-electrified iteration, puts out around 416PS in the A 45 and its sedan versions.
It is not only the C 63 that is getting the downsize but the smaller C 43's 3.0-Litre Biturbo V6 will also get the boot. The upcoming C 63 will come in three body styles -- saloon (sedan), coupe and convertible while the estate version will be exclusive to the C 43. The same electrified powertrain is also likely to eventually make its way into the AMG versions of the GLC.
AMGs are not just fast cars, they are much more than that. These tarmac-shredding muscle cars from Affalterbach pack some of the best-sounding engines on this planet. What makes them so special and close to our hearts are those large-capacity orchestral V8s and V12s with explosive power delivery and enough torque to reverse earth's rotation. The Mercedes-AMG C 43 getting downsized to a four-cylinder from a six-cylinder is understandable, but cutting down a V8 to half its size is a blasphemy in all honesty.
Yes, it will make more power and torque than before and might pump in a faux V8 engine note. But it will never be able to fill in the shoes of the W205 or the rorty W204 C 63 AMG with a 6.2-litre NA V8 (which is actually more than three times the size of the new engine making it look like a generator in comparison). Things we do for our planet, sigh.
Add Your Comments