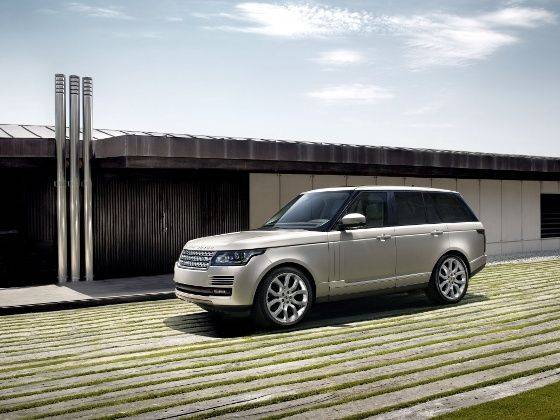 Range Rover has always been bullish about whatever it has done so far. Be it the boxy design or the ladder frame chassis. And it's not without a reason that it has been termed as the best when it comes to off road ability. However, peer pressure seems to have finally caught up with the Rangie. So for 2013, after a 10-year lifecycle, the third-generation Range Rover is finally being put to rest and its replacement will be a careful evolution of the brand's flagship SUV and an overhauled revolution at the same time.


The latest Range Rover isn't as drastic a break from traditional Range Rover design language as the smaller Evoque, but it is a smoother, sleeker evolution of the traditional Range Rover form. The same upright and slab-sided greenhouse remains, as do the blacked-out pillars and ruler-straight character line from head- to taillight, but both head- and taillights now flow into the aforementioned character line. An elongated front fascia that recalls the smaller Range Rover Evoque clearly gives it a new, yet familiar, face.


Despite this evolutionary tact for the exterior, Land Rover has completely overhauled virtually every item found beneath the 2013 Range Rover's skin. Perhaps the most notable example is the 2013 Range Rover's monocoque body itself. Along with most suspension components, it is crafted entirely from aluminum in an attempt to whittle away heft and improve fuel economy.
Land Rover claims the new unibody is roughly 39-percent lighter than the steel structure used between 2002-2012; depending on the trim level, that translates up to a 420 kg weight reduction over the outgoing Range Rover.
Like the exterior, the interior also doesn't necessarily move the Range Rover in an all-new direction, but the upgrades are evident throughout. The 2013 Range Rover promises to have an even more opulent cabin than the outgoing model, including an additional 4.7 inches of rear legroom and an optional two-seat package with a rear center console.
On the engine front, the supercharged V8 and the naturally aspirated, direct-injection, 5.0-liter V-8 are scheduled to return to the 2013 Range Rover lineup. But the big news is a standard eight-speed automatic transmission. Developed by ZF, the eight-speed is likely a close relative to the same unit that has shown up in a wide variety of other vehicles - but this will be its first arrival in a Land Rover product.
Also the brand's Terrain Response off-road system is said to make a return and in the new car it is supposed to adjust the vehicle's settings automatically in order to fit its environment. Officially, the 2013 Range Rover will make its world debut at the 2012 Paris Motor Show. Keep watching this space for more.