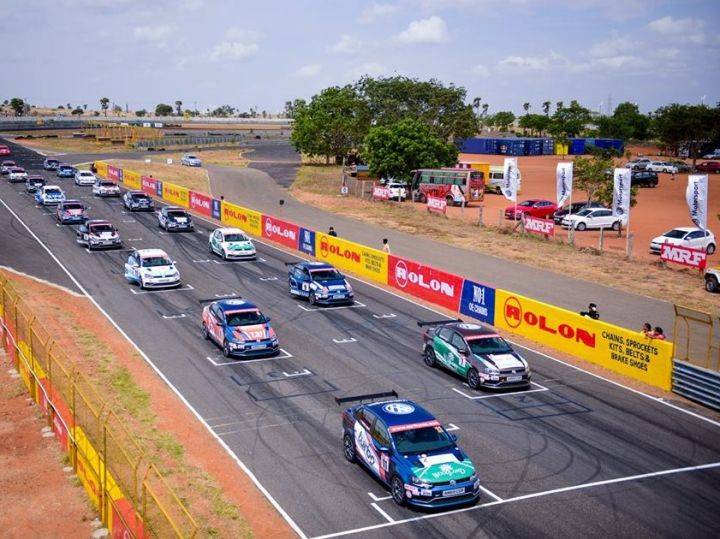 The first round of Volkswagen India's new one make race series, the Ameo Cup, concluded on Sunday, and as expected, it was an action-packed affair. The sun gods were smiling, the Ameo Cup cars were brand new and more powerful than before, and the competitors - both first-timers and last season's veterans - were eager to prove their mettle on track.
This time though, the stakes had been raised. The new Ameo cup cars were more powerful and faster than before. The new 1.8-litre turbocharged petrol engines in the Ameo Cup cars make 205PS and were capable of posting sub-1.09.00 lap times on the tight and technical Kari Motor Speedway in Coimbatore where the races were held.
The weekend consisted of two practice sessions followed by qualifying on Saturday and two races on Sunday.
Race one had Karminder Singh (Delhi) at the front of the grid thanks to his scorching lap time of 01:09.368 in qualifying. Behind him was A Sandeep Kumar (Chennai) followed by Dhruv Mohite (Kolhapur).
Karminder had a clean launch at the start which saw him pull away from the rest of the pack and managed to maintain the lead for the rest of the 15-lap race. The second spot had Sandeep and Jeet Jabhakh (Hyderabad) jostling and trading places for the first few laps.
Sandeep eventually managed to grab second place and kept it that way till race end. Jeet finished third behind Sandeep but was penalised 20 seconds for overtaking when the yellow flag was out. Donovan Vaz (Goa), who was trailing behind, did the same mistake and was penalised as well. This catapulted Aditya Pawar (Mumbai), who was in fifth place, into third position.
Race 2 saw a grid reversal for the first eight drivers. This saw Karminder start in eighth place behind Sandeep. Both managed to climb their way back to the top but this time Karminder was unable to shake off Sandeep who came in first. Dhruv Mohite started the race in fifth position and managed to jump up two places after which he settled into a comfortable pace and finished the race in third place.
The next races will be held the coming weekend at the MMRT circuit in Chennai and that promises to be even more action-packed thanks to the fast track.