London To Kolkata: Bikes We Would Use To Make The Trip
---
The London To Calcutta Bus trip was a legendary one. We would rather ride though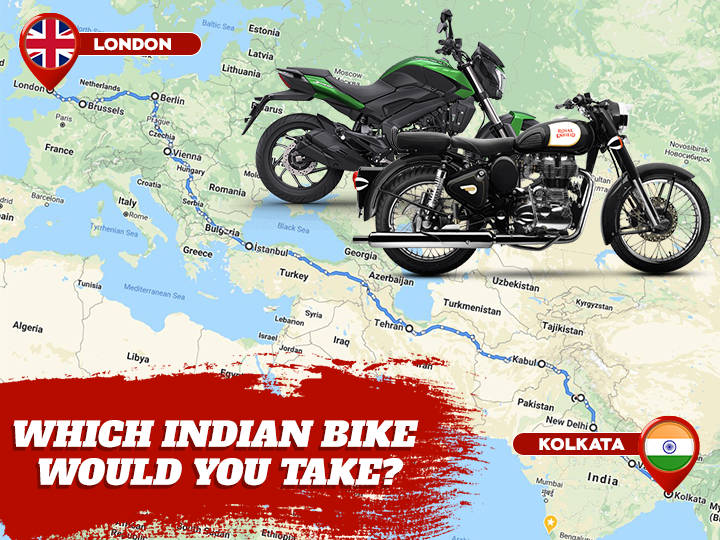 An image from the late-50s showing passengers at Victoria Coach Station in London boarding the first run of the world's longest coach route between London to Calcutta has been trending on social media recently. British entrepreneur Oswald Joseph Garrow Fisher started the bus service which had its maiden journey on April 15, 1957, from London. 40-year-old Oswald himself drove the bus with 20 passengers on board. It reached Calcutta on June 5th. The bus fare at that time cost GBP 85 (around Rs 8,000) for a one-way trip and included food and accommodation. According to reports, the bus called the Indiaman drove through London, Belgium, West Germany, Austria, Yugoslavia, Afganistan and finally India, covering 20,404 miles (32,676km).
Would we want to do the longest bus trip in the world? Probably not. We motorcycle enthusiast would rather do it on motorcycles. So we asked our fellow colleagues what motorcycle would they do the trip on? To keep it interesting, they were only allowed to choose bikes made in India. Here's what they picked:

PD: Bajaj Dominar 250
You might be tempted to say that the Dominar 400 might be a better bike for the journey as it managed a journey from the North Pole to the South Pole and even across Siberia. But hear me out. The 250 Duke's motor in the Dominar 250 should make for an easier riding experience, as that motor is known for its refinement whereas the 400's manic one might make the journey a little too intense. And since the Dominar 400's comfortable ergonomics have been replicated on the Dominar 250, we believe you'll have a relaxing ride too. And no, we don't think the journey will demand the long suspension travel of an ADV bike. If a bus could do it in the 60s, a Dominar 250 should easily be able to do it today.

Gaurav: Royal Enfield Himalayan
Long-distance touring? It's a no brainer, I'd pick the Himalayan! It's practical, decently kitted and even more versatile when you slap on a pair of Royal Enfield's GMA (Genuine Motorcycle Accessory) panniers. That's 52-litres of storage space aside from the extra bags I'd carry. Its 411cc engine has ample bottom-end torque to feed the tyres off-road (just in case I encounter rough roads) and enough performance to keep the needle steady at 100kmph. Anything beyond that though is a bit of a stretch. The bike's 15-litre fuel tank is rather small when compared to other adventure tourers, but a fuel efficiency figure of around 39.96kmpl out on the highway would see me doing about 600km on a full tank. That's good enough for me.
I can't help myself but praise the Himalayan's ergonomics. It's spot on and feels as comfortable as your barcalounger. I could spend hours on that saddle without taking a break. All in all, the perfect tool for long hauls.

Arun: TVS Radeon
If one has to set on such an adventurous journey, comfort and reliability and the two most important criteria to think about. For this very reason, I'd pick TVS Radeon, which in my opinion is the best commuter on sale as I found during my ride to Goa. The relaxed ergonomics and well-padded seats allow you to tour in an effortless manner. Since it runs on a rather basic and simple air-cooled motor, it should be rather easy to fix any mechanical trouble during my journey. Also, the long saddle means there's ample space for luggage. While the Radeon isn't the fastest way to tour, then again touring isn't a race against time. It is more about absorbing the vistas and relishing the ride. Last but not least, the Radeon is incredibly fuel-efficient which will keep my wallet happy. But more importantly, I won't have to bother about range anxiety and focus on the views and not the fuel gauge.

Zaran: KTM 390 Adventure
The KTM 390 Adventure is an inherently flawed motorcycle. The handicap of having to use the 390 Duke's chassis means that its off-road capability has been severely compromised. But for all its shortcomings off the road, it's bloody brilliant on it. The ADV's saddle is a commanding and comfortable place to be, just the kind of perch you'd want for an 8000km ride. We're no strangers to the explosive 373.2cc single-cylinder mill, and it works very well in this tourer application as well; and while the suspension might not have quite enough travel for hardcore trails through the wilderness, it works well at soaking up road imperfections.

Praveen: Bajaj Dominar 400
For touring as arduous as this, I'd definitely choose the Bajaj Dominar 400. It has got strong mile-munching credentials thanks to its comfortable ergonomics and a highway-worthy engine. Its heart is derived from the legendary KTM 390 Duke, albeit tuned to be a bit more laidback. The only grinch is that its 13-litre fuel tank might not be enough for touring of such scale. However, one can easily overcome this niggle with a pair of jerry cans.
As underrated as it might be, the Bajaj Dominar 400 has proved to be a formidable touring machine when it completed the Polar Odyssey and the Australian Odyssey, covering tens of thousands of kilometres over diverse terrain without breaking a sweat.

Ben: Royal Enfield Classic 350
While my initial pick would have been the Classic 500, the Classic 350 will have to do as the former has been discontinued. The main reason I would pick the Classic 350 is the long-stroke motor's chugging ability which should help it slowly but surely cross all obstacles between here and London. Another plus is its loading capability which means I can carry most of my worldly possessions on the bike along with cans of fuel for those desolate stretches in between. On my touring trips, I have found the Classic 350's spring seat to be quite comfortable so they should serve my back well during the journey. Given the motorcycle's legendary reliability though, I might have to carry a trailer brimmed with spare parts.

Ruman: Hero HF Deluxe BS6
The HF Deluxe BS6 is a complete no-brainer because it comes with xSens Advantage... okay, who am I kidding? I can think of nothing more dependable than the age-old 97.2cc 'sloper' engine which has remained largely unchanged for the last 34 years. The biggest technological leap it has made (forcibly, mind you) so far is fuel-injection, which I intend to discard in favour of a good old carburetor. Also to be flung into the bin will be the alloy wheels (I really just wanted the 2019 HF Dawn - look it up). You'll be very lucky to find this bin, I think. It's not just the engine - derivatives of which have a monopoly in every country en route - but the rest of the motorcycle that's really uncomplicated and dependable, too. It'll do just fine for me. Until they start making the Honda Africa Twin in India, that is.

Jehan: Royal Enfield Interceptor 650
The London-Calcutta bus story is quite an interesting find. If buses could ply on this route, then we are bound to be sticking to tarmac. And what better way to munch miles from Britain to India than on a Royal Enfield, eh? Better still, on a pukka British twin Enfield? I have been in awe of the Interceptor 650 for a long time. I have one at home and it has served me as well in daily commutes (remember those?) to weekend canyon blasts to heading to Mumbai to meet up with a few friends (sorely missing them). It hasn't failed on me once and I guess on this sort of a journey, it would be near faultless. I would make some changes to the bike though before setting out. Swap out the stock Pirelli Phantom Sportscomp (made in Brazil) for the aftermarket Pirelli Phantom Sportscomp (made in Italy). Attach handlebar risers, switch the pegs to the ones from the Continental GT 650 and use the Touring seat from the RE accessories catalogue.
Royal Enfield HimalayanVideo Review
Add Your Comments

More on Royal Enfield Himalayan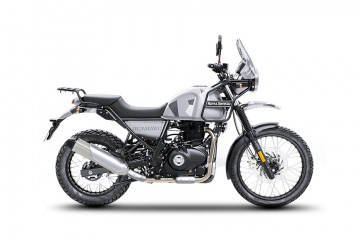 Rs. 1.89 Lakh Onwards
Ex-showroom, Delhi
View August Offers
View On Road Price
Royal Enfield Himalayan Alternatives