Suzuki Intruder 150: First Ride Review
Nov 7, 2017
Views : 69973
---
The Intruder name makes a comeback in the Indian market, this time in a 150cc guise. We get astride one of the most divisive motorcycles of recent times to find out if there's any real muscle under all that mass.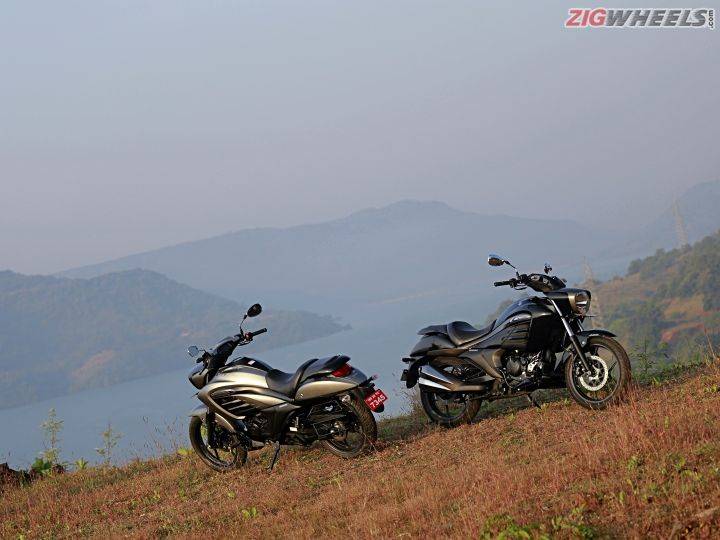 Back in late 2008, the Intruder became one of Suzuki's first big bikes to come to India. Of course, I'm talking about the company's massive 1,800cc behemoth that combined a high-capacity, quick-revving short-stroke V-twin motor, front end pinched straight off a GSX-1000R, and a traditional cruiser riding position into a devastating package. It brought together the words "power" and "cruiser" in a way that left a lasting impression on all who rode it, including yours truly - then just a couple of months into my career as an automobile journalist. The big Intruder was my first ever motorcycle road test, so almost a full nine years later, staring at a new bike carrying the same name, I was overcome by a wave of nostalgia.
Is it really an Intruder?

However, that nostalgia didn't last for too long. This latest Suzuki Intruder 150 is actually based on the popular Gixxer 150, but before we speak about the platform, we really need to address the elephant in the room - the way it looks. And we're not going to mince words here - this Intruder 150 is a bit of an oddball in the aesthetics department. The design brief at Suzuki seems to have been to add as much visual mass as possible on a 150cc motorcycle, and then add some more.

The bike's design is dominated by a huge cowl around a triangular headlight unit (which also features LED DRLs), flanked by massive fuel tank extensions. The bulbous tank swoops into a large, curvy seat, that immediately promises a plushness that's never been had before in this segment. Surprisingly, underneath all those plastics, the bike actually hides a relatively small 11-litre fuel tank. And they also do a good job of masking the bike's 150cc motor, which would've looked absolutely tiny underneath all that bulk if it was visible.

The tank's curvy lines actually flow pretty neatly into its broad, curvy haunches. However, they're a stark contrast to the large, angular twin-barrel exhausts, and make the otherwise chunky 140-section rear tyre looks ridiculously skinny. Viewed from the back, this Intruder 150 has a serious case of a bodybuilder who has always skipped leg days.

Barring all this bodywork, there are quite a few elements which have been carried over from the Gixxer 150, such as the 17" alloys, the indicators as well as the handlebar and switchgear. However, in order to extend the handlebar more towards the rider, it's been mounted on long risers, hidden behind a chintzy crown-like panel on top of the headlamp cowl. This panel also houses the same all-LCD instrument cluster from the Gixxer, and although a bit out of place on a cruiser-like motorcycle, can't be faulted its legibility or informativeness.

While the paint finish on the panels is top notch, we have a serious concern with the abundance of plastics. There are over 20 different plastic panels which have all been bolted together. Given our road conditions, we fear that it's only a matter of time before they start rattling, coming loose or even cracking. And even if none of that were to happen, we can't say we were particularly happy about the way the Intruder 150 seems to be put together, as we found some odd panel gaps here and there on our test bikes - a stark contrast to the fit-and-finish levels we've come to expect from Suzuki.
More than a scaled-down version of the bigger bike, the Intruder 150 feels more like an homage to its larger capacity namesake. And although a bit on the garish side, the design is undeniably a head-turner.
What lies beneath

The fact that the Intruder 150 shares its underpinnings with the Gixxer 150 is reassuring. In fact, it gets the same diamond-type frame as the naked bike, just with some modifications to suit its cruiser styling and ergonomics. The Gixxer's beefy 41mm front forks and preload-adjustable rear monoshock have been carried over as well. And in fact, even the steering geometry is unchanged. However, suspension tune has been altered (i.e. different spring rates as well as damping at both ends) as has the mounting position of the rear shock. The swingarm itself is now longer, resulting in a longer wheelbase to make up for the more rearward seating position. The footpeg position has been pushed forward while the handlebar is mounted away from the triple clamp, towards the rider.

This has resulted in a significantly different riding position from the Gixxer. The cushy, wide seat is set at a low 740mm height, ensuring that even the most vertically challenged riders will have no trouble flat-footing the motorcycle. And even the reach to the handlebar and footpegs is comfortable enough for short riders.
Float like a butterfly

Looks like a big and lazy cruiser. Must handle that way too, right? Wrong! The reality is that it's a very fun-to-ride motorcycle. And why wouldn't it be! The Gixxer platform is a very capable one and it has translated well into this pseudo muscle-cruiser. You'd be surprised at how quickly it drops into corners and how far it can lean in.
Even with the footpegs set so far ahead, cornering clearance on either side is surprisingly high, and it took a lot of pushing to scrape the feelers. No doubt the longer wheelbase can take the credit for the fair amount of mid-corner stability. What assists the handling setup is the terrific MRF rubber - 100/80-17 at the front and 140/60 R17 at the back - that's taken straight from the Gixxer and performs brilliant in this setup as well.

Even with the stretched out riding position, the Gixxer 150 has a turning radius that's as tight as the naked bike. So whether you're negotiating hairpin bends on ghat roads or maneuvering through chock-a-block city traffic, the Intruder 150 is shockingly easy to manage.

In terms of braking hardware, the front setup is identical to that from the Gixxer - same 266mm rotor size and a two-pot Bybre caliper. However while the Gixxer and Gixxer SF offer a 220mm rear disc as an option, the Intruder gets it as standard. What's different here is the rear single-piston caliper - the Intruder gets a Bybre setup while the Gixxer's is a Nissin unit. Actual braking performance is very similar to the naked and faired bike - there's a good amount of bite on offer, but without steel-braided brake lines the lever develops a spongy feel after a few hard squeezes on the lever. So feel is a bit vague at best. But kudos to Suzuki for packaging the Intruder with ABS as standard. Although it's only single-channel (i.e. applicable only on the front wheel), it works really well, with only minimally intrusive pulsing on the brake lever when activated.
Sting like a (baby) bee

The Gixxers air-cooled single-cylinder motor, along with its 5-speed gearbox, power the Intruder 150. However, a redesigned airbox with a larger intake feeds this motor, and even the exhaust has been retuned. The result is a mildly altered state of tune that outputs the same 14Nm of torque as the Gixxer, but a slightly reduced 14.14 PS of peak power coming in at 8,000rpm. However, you do get a flatter torque curve, ensuring better response at lower revs, and the torque doesn't trail off abruptly even when the motor revs past the 6,000rpm mark. Suzuki hasn't just stopped there either. The rear sprocket is slightly larger, making for a shortened final drive ratio. This means that even with a kerb weight of 148kg (that's 8kg more than the SF), acceleration feels like it's in the same ballpark as the Gixxer, and there's decent pulling power to be had even when riding two-up. And though there's no fuel injection on offer yet, throttle response is crisp at any point in the rev-range. (Suzuki says the Intruder FI is just about a month or so away).
Bump and grind

One aspect where the Intruder feels noticeably different as compared to the Gixxer is in the way it rides over bad roads. While the front-end manages bumps fairly well, the more horizontal angle of the monoshock means that rear suspension travel has been reduced (by as much as 10-15mm we're told). So the rear has been stiffened up to prevent it from bottoming out easily. This means that the ride feels a lot firmer on bad roads. Given that the rider is sitting so far back on the bike, along with the inability to brace or stand up on the pegs thanks to the riding position, sharp bumps make their effect felt straight to the rider's spine more often than not. With the Intruder 150, potholes and speed breakers are best approached gently.
Closing arguments

Even though the Intruder 150 offers a very comfortable perch, we wouldn't look at it as a long-distance cruiser. The sheer number of plastic panels represent things that could go wrong and might be a liability if one's riding across bad sections of tarmac in the middle of nowhere. However, where the Intruder 150 does work really well is in urban conditions and for short to medium distances.

The Intruder 150's styling will be polarising but if our experience is anything to go by, it will find a fan following. During our short first ride, the amount of attention and compliments it managed to garner from onlookers was just incredible. It leads us to believe that it should do well amongst those who value street presence and the ability to turn heads. Thankfully, underneath the divisive exterior is, undoubtedly, an extremely capable motorcycle. And at Rs 98,340 (ex-showroom Delhi), this is certainly one of the most affordable ways to grab plenty of eyeballs.
Suzuki Intruder Video Review
More on Suzuki Intruder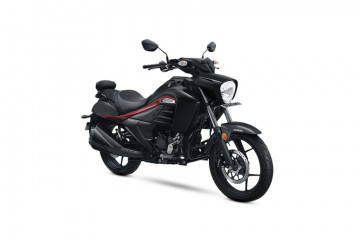 Rs. 1.24 Lakh Onwards
Ex-showroom, Delhi
See what our community has to say!
NEW
India's largest automotive community