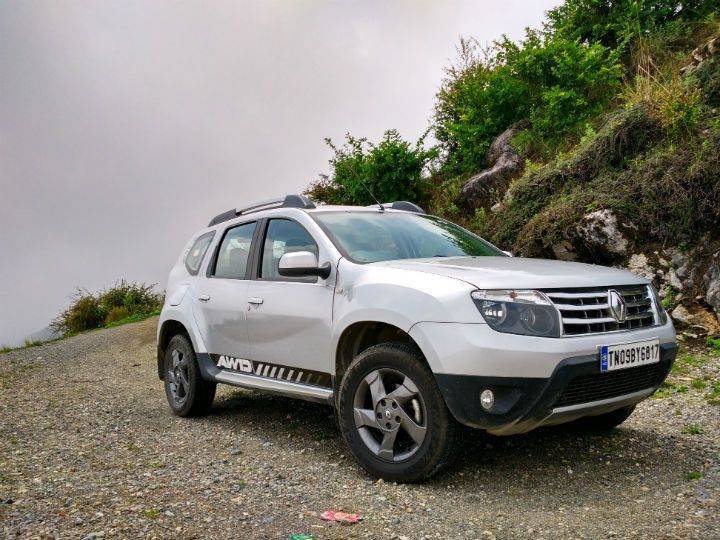 In our very desirable job of finding faults in a car, we tend more often to look at the positives over the negatives. Cars these days are built just that good that coming across a bad example is quite rare. And then comes along the Duster, an SUV that at first feels crude and a bit wanting in some areas but a long enough term with it, five in my case, completely bowls me over with its breath of abilities. Specifically the AWD Duster.
In just five months, I have clocked 14,000km in the Duster. It's a car that begs to hit the highway, the broken road, the slush or whatever path it comes across. For one final drive I took it to the mountains in Uttarakhand at the perfect season to step out of the city. Just before the rains start, hill roads are fixed to endure the monsoons. The month of June will find you the best roads you can drive on, anywhere in the North. Not that the Duster needs ribbon smooth tarmac but it's quite a nice SUV to drive in the hills.
Body roll is far more controlled than any SUV that's manufactured in India, grip is fantastic exiting out of corners and the brakes have some solid bite. The faster you go in the Duster, the lighter and more agile it feels. Set the AWD system in Auto mode in the hills and the rear wheels get the power every time you begin to understeer, and the car just grips and exits out of turns like a much lighter and smaller hatchback would. Travelling time reduces considerably once you get used to the roll and stop minding it. It is fun to keep the engine between the 2,000-3,000rpm band.
I'm also impressed with the efficiency. Renault hasn't gone over the top to make the Duster a mileage monster like most carmakers are doing with their new offerings. Economy figures as a result are a range between 12-16kmpl, the latter is something I've got less often. But driven with a light foot at about 80-90kmph and the economy rises easily over 16kmpl. Average highway runs go in the range of 14kmpl though.
There are a few things Renault can work on though – more equipment like climate control, auto up/down windows, stronger headlights and improved ergonomics. Price is another factor Renault can work on. With the Hyundai Creta and Maruti S-Cross coming soon, Renault will have to reduce the Duster's prices to stay competitive. The Duster however is robust, be it the suspension, gearbox or engine, something hard to find in cars these days.
Logbook
Date Acquired: January 14, 2014
Total km till date: 14,000km, 5000km since last report
Fuel consumed till date: 1029 litres, 370 litres since last report
Efficiency: 13.5kmpl (Avg)
Cheers: Ride quality, Stability, luggage space, robust
Sneers: Weak air-con and headlights, no climate control
Total Cost: Nil