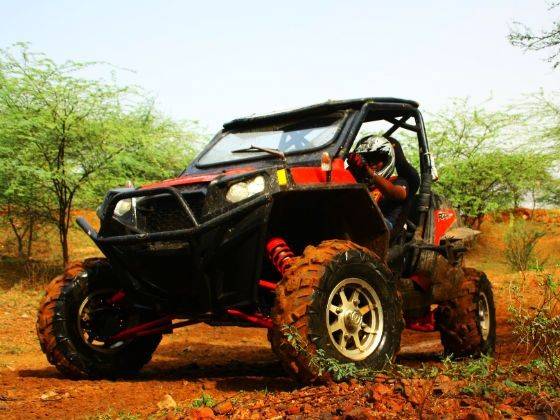 There's very little reason I can find to take myself off roads. I like traction. Slow crawling off-roading hasn't been my thing ever; its uncomfortable, tyres burst, SUVs get ruined and you just can't come out clean. But that's with SUVs because they are just as capable as they are not, weight and size rob them off the agility and maneuverability and so the potential for fun in challenging terrain is curtailed to a large extent.
But today is different. I'm raring to go and waiting outside an off-road course even before my terrain destruction tool arrives. Very nonchalantly, a guy rolls into the scene driving over seemingly large boulders of concrete and parks in front of me. And there it is, the Polaris RZR XP 900.
The XP 900 is top dog in the Polaris range here, at least for a bit till the XP 1000 takes over. It's a daunting vehicle, the XP 900, even before I step into the driver's seat. Form certainly follows function to the T, the only creature comfort I see is a windscreen and a very rudimentary wiper fitted to it. The XP 900 is purpose built to get you across any terrain or no terrain with relative ease that's otherwise unmatched this side of a battle tank. There's very little computer trickery that we see among modern SUVs giving it that capability though. Sheer brawn, ingenious design and rugged engineering are the XP 900's assets in the field. But all that's what I've heard of, and we don't believe in hear-say, do we? We don't, and so the drop-off driver is out of the vehicle and I'm strapped in turning the ignition on.
I've been warned though, well in advance, that the RZR 900 looks like a toy but is a beast within. Blah! An 875cc 4-stroke twin cylinder engine with about 90PS of power and similar torque figures shouldn't be much of a handful, I think. But I'm about to be pleasantly surprised and a wee bit terrified at first…
The tiny 900cc engine comes mated to an automatic gearbox. You can switch between two wheel drive and all wheel drive at the flick of a switch so with the gear lever set in 2-High, I'm off the block and into the dirt. Picture 27 inch off-roading tyres on 12 inch aluminium wheels tearing apart loose gravel. You don't feel a thing. The tyres had been through some beating, it could be seen from the look of it, but even my novice skills at the helm didn't seem to break it into a sweat.
This particular RZR XP 900 is the one that's won the Desert storm thrice and the Raid De Himalaya once driven by Raj Sing Rathore, an established driver in the extreme rallying circuit. He's fit in racing bucket seats with 4-point harnesses and these seats can't be adjusted so I'm just about able to squeeze into them. The steering can be adjusted for rake, thank God for that! He's also got a reserve fuel tank fitted at the back since the 900 has a range of about 200km, not enough to complete a stage at the Raid. Besides two extra mountings for spare wheels, one on each side, there is no other modification to the RZR 900.
This side-by-side, yes that's what the RZR 900 is classified as (quad bikes have the handle bar like on a motorcycle), is off the dirt road with a short slope down to the off-roading course. The slope is a 40 degree incline, give or take, and narrow, with a large stone jutting out on one side. I've been in the driver's seat for about five minutes and so I'm skeptical at first. But what better test to get a taste of the RZR's famed terrain owning prowess than this?
I've familiarized myself with the RZR 900's engine braking system by now, which is quite pronounced the minute you lift off the throttle. Polaris says that the RZR 900 has optimized mass design, which is basically low centre of gravity with the engine and gearbox placed slightly behind and under the two bucket seats. That may be true in comparison to other models in the Polaris line up but when you know that you have 330mm ground clearance and a small wheelbase, the fear of toppling over is there, especially getting down a slope. To avoid that, you need to control weight transfer and that means no heavy braking or even easing off the gas with the extent of engine braking the RZR 900 possesses while going down hill. Slight feathering of the throttle though and its easily negotiated. I'm starting to enjoy the 900 by now, with the anxiety wearing off.
It's time to have some fun. The RXR 900 sends power to the rear wheels and it delivers an almost EV-like torque as I step on the accelerator. The surge is quite instant, flicking the tail one way as I counter it with some opposite lock. In fact, there is enough torque to make the rear wiggly in knee deep slush as I wade through a trench that would take some spotting before an SUV could venture into it. There just isn't much the RZR 900 can't do, and if it can't, it's purely down to the skills or lack of it of the driver.
The RZR 900 weighs just 540kg giving it a much better power-to-weight ratio than the Audi Q7 4.2-litre TDI. Now if you've seen the Q7 4.2 launch, you'll get my point. It's not just the power or the torque of the RZR 900 that gets me though… It's the Fox shocks that make the RZR 900 invincible. They have a massive 14 inches of travel, that coupled with those gigantic tyres and 330mm of ground clearance, can get through just about anything. Scratch that. They can get through anything.
The RZR 900 costs about 21.13 lakh, off-road. Yes it isn't a road legal machine yet so you can only drive it off-road. For the thrills it packs in, there's nothing else I can think of that comes even close. Is the RZR worth buying? I can't find a single reason why not. Because if you have the money and a kick for the off-road less travelled, you are buying into something that will give you a very unique experience that even much more money and a very capable SUV can't buy you.
It's been an exciting day. Strapped in, drove, conquered, jumped off. Saw the pictures… The RZR 900 is a left hand drive vehicle. How often do we get to drive a LHD in India. And yet neither Preetam, who has shot these wonderful pictures all day, nor have I realized that and that goes to show how engulfing the RZR 900 driving experience is. A collage of the RZR 900's drive is about oversights, hindsight and retrospection.