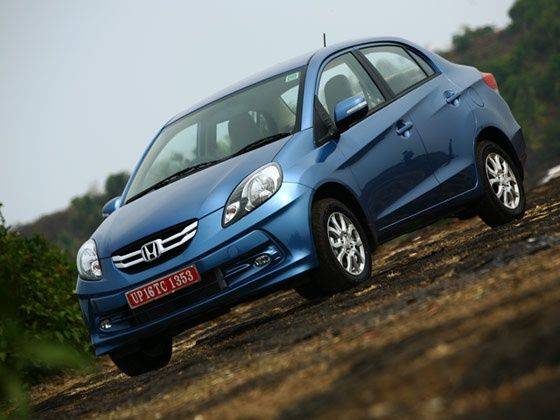 There is quite a buzz as we enter the large conference hall in one of the major 5-star hotels in Goa on a balmy March evening. Scurrying around are familiar faces from Honda Cars India Ltd. But this time round you also see a great deal of new Japanese faces as well, already organized and sitting in time honoured Land of the Rising Sun officiousness. That it was time for business was a fact clearly underlined but more importantly this was also the strongest sign of a new commitment to India. Woven into this though was the basic premise of Honda wanting to go back to doing what it knows best – delighting users and what better way to do that than to just go ahead and Amaze its legion of diehard users as well as would be buyers with a sub-four-metre saloon offered with a choice of petrol and diesel propulsion!
Ever since Honda committed itself to doing diesel some three and a half years ago, the first signs of its oil burning desire to impress key markets in Europe and Asia have just started bearing fruit. Under its Earth Dreams Technology we have already seen the exquisite 1.6-litre i-DTEC engine powering the European Honda Civic to a warm reception and it is this engine which is the bedrock of all small diesel engine development from Honda for Asia as well.
Given the fact that our babucracy has signed off on the 1.5-litre capacity limit for diesel engines to qualify for the tax-buster slab, Honda had no option but to play within the very same 1.6-litre i-DTEC architecture by tweaking the cylinder dimensions but then with the base unit already very innovative and tech-rich, the end result is nothing short of stunning. For everyday use that is, and not for those who want a Honda in the original City mode of the late 1990s – civilized fire-breather and what not! Given that this is Honda at its mass-market best, the new Brio-based saloon is probably the most serious offering from Japan Inc in quite awhile!
From our first three-lap steady-speed run on a small road course on the Motegi Twin Ring circuit in Japan late last year to a full-fledged first drive in real world Indian conditions, much has become apparent, the Amaze with diesel power is now into full series production and the specs have been frozen to a price and performance proposition which I am happy to state ticks near almost all boxes on the desirability list of a punter seeking a car in this cut-throat segment where the Suzuki Swift D'Zire is cock of the coop!
Pardon me if I haven't brought in the 1.2-litre petrol-engine in - as yet - but obviously Honda and diesel is the undoubted big story here. We had already revealed much of the technology in our detailed report featured in our December 2012 issue but to that we have new information where some of the secrets of the all-aluminium diesel and its best-in-class performance can now be marvelled at!
Honda has gone many an extra mile to not just help the Amaze allow it to impress on paper but also over its entire operating lifecycle. The DOHC 16-valve engine displaces 1,498cc and features cylinder dimensions measuring 76.0 x 82.5mm. This small bore, large stroke combination has been the best bet to eke out the gains with Indian diesel fuel quality as also the dusty operating environs but there is more to the engine than just this.
Apart from the lightweight (courtesy of the aluminium alloy block and head) and high strength (by design given its open deck engine block config and also a lightweight crankshaft), Honda engineers have incorporated all the friction busting techniques at their disposal making it earn its living by delivering strong torque across the rev range. A striking detail among this is an all-new engine oil formulation, devised in conjunction with its lubrication partner Idemitsu. This is an ultra low viscosity oil which not only helps keep the i-DTEC mill in operating cleanly (from a combustion and emissions perspective) but also helps enhance efficiency as well as engine durability without sapping power when needed.
Given the fact that the 1.6-litre i-DTEC mother unit as used in the European Civic is good for 120 PS and 300Nm of torque, albeit using more electronic tech aids and a different turbocharger, this 1.5-litre i-DTEC for India (and Asia might we add) has been rated at 100PS (at 3600rpm) and it whips up 200Nm of torque at 1750rpm (twice that produced by the 1.2-litre petrol engine we might add).
By and large there is nothing revolutionary about the entire common rail direct injection system but just thorough Japanese methodology wrought in at every nook and cranny to demystify technology in its simplest essence and the payback to the owner-user is huge. Driveability is great which is just what this category of automobile thrives on and while it won't be the one to win traffic light Grand Prix races with, it is surely the one for all (young impresarios to the level headed stoic types) to flaunt with its strong returns where it pleases – in the fuel efficiency game!
Given that the turbo spools up quick but without the frenzy associated with other units, the low down torque is just what helps propel this smallest Honda saloon in modern times to decent performance and a massive 25.8 kmpl IDC fuel efficiency figure! This is the highest fuel efficiency recorded for the Indian Driving Cycle from any series produced car in the country and when Honda states something to this effect, one can always count on that to be consistent across the board.
Of course, good driving can better this as surely as poor behaviour behind the wheel can mar these figures but crucially the drop off should be lesser and yet far more compelling than many rivals can muster! Generally speaking not many car makers tend to voice their fuel efficiency performance numbers so when a responsible manufacturer like Honda states it so emphatically, one just knows that we are on the cusp of a new milestone in small car fuel efficiency. We will however reserve judgement on absolute on-road real world performance takeaways until the time we have put this baby Honda thru its paces to find out whether it literally lives up to its name!
The diesel-engined Amaze comes with an all-new five-speed manual gearbox as standard fitment but those opting for the 1.2-litre petrol engine Amaze do have the choice of either a 5-speed manual 'box or a 5-speed auto similar to those which do duty in the Brio small hatch. The small 1.2-litre SOHC 16-valve petrol engine has been suitably re-tuned to work with a slight weight penalty compared to the Brio hatchback but overall it emerges as a very capable commuting tool despite its 88 PS (at 6000rpm) and 109Nm of torque would allow it to.
This engine is pretty smooth but somehow I do get the nagging feel that the 1.2-litre K12 unit nestling underneath the hood of the Swift D'Zire does seem to be a tad spunky. Nevertheless, it is the complete package which one buys and not just the engine or the gearbox and overall the Amaze petrol is a pretty competent piece of kit and pleasing as well. Of course it has a weight advantage (950 to 965kg kerb weight) over its diesel sibling (1060 to 1075kg kerb weight) and with the rev happy nature of the small mill, this combination delights.
Both cars have an elegant aura around them whether on the move or at standstill and credit this to the overall style and design of such a small package which has been superbly executed. The design theme adopted for the Amaze is termed as the Smart Micro Limousine and while we have no quarrel with the Japanese – English terminology lash-up, the overall exterior style treatment plus the generous occupant space in the cabin added to the perfunctory boot with a voluminous 400-litre luggage space does make a favourable impact on the mind. In fact, as I have already said so in our previous feature on the Amaze (refer ZigWheels December 2012 issue), this Honda remains the best configured and styled sub-four-metre tax-buster saloon there is in the world and now in series production guise the same is even more strongly reinforced.
Given the recent past of Honda Cars India where it frittered away the gains of the last decade plus by trying to price its smallies way above the class average, I am sure that the company has learned the lessons of its twice repeated folly. Based on this assumption one can state that the Amaze would be priced very, very competitively against the standard bearer in this class of car, very close to the Swift D'Zire than far away from it but actual figures will have to wait until April 11 for the formal launch of the Amaze nationwide.
However, the stringent pricing requirement has meant that the interior sports the same familiar treatment as in the Brio hatchback which isn't a bad thing but being Honda it could have done well to have moved away somewhat and established a distinctly new identity within the cabin. The cheery ambience in the cabin is backed up though with massive space for the occupants and in this aspect the Amaze stuns its rivals into touch (to borrow a term from American football). Driver and occupant comfort is top notch and ergonomically the Amaze is right up there in the class with good touch and feel qualities, something which could have been enhanced even more in the visual aesthete if the myriad colours and textures plus also the familiar design from the Brio could have been tweaked.
And on to the actual thing which sets up the car – its behavior out on our roads in real world conditions. Judging that we had about three and a bit hours to put diesel and petrol engined examples of the Amaze through the Goan roads the one aspect which emerged strong was that of a nippy performer with light but very positive controls. Add to that ride quality of a high order but with the essence of lightweight feel emerging to the fore. This latter aspect could be a good and a bad thing depending on how you view your motoring and also how well one understands modern day car engineering.
The electrically assisted power steering is finely weighted in its feel but supremely able in its efficacy and precision – light where it needs to be, well weighted when at ton up speeds. Given that the diesel's ancillaries and weight plus layout necessitated a slightly different steering geometry, the turning circle radius of the i-DTEC version is 4.7 metres, 0.2 metres more than what the 1.2-litre petrol version requires. However both cars exhibit a good stance on tarmac and do not get unsettled whatever the situation or terrain (within reason of course) thanks to the wide track (1,470mm front, 1,460mm rear) to wheelbase (2,405mm) relationship – critical details for good stability as also handling and ride quality.
Nothing revolutionary in the suspension department as well with McPherson struts doing duty up front with a torsion beam layout at the rear but the quality of the damping hints of a well sorted car from a class above. The Amaze rides on 14-inch wheels shod with MRF ZVTV 175/65-R14 radials specifically designed for it. I am sure that a 15-inch wheel would have been the way to go and hopefully will be added sooner rather than later, of course with care to ensure that using this doesn't let it fall foul of P C Chidambaram's ground clearance norms and be termed an SUV! Jokes aside, the rest of this baby Honda saloon is fairly straight forward with front disc brakes with drums on the rear wheels and with ABS and EBD thrown in.
The Amaze with its i-DTEC engine is truly the stuff of dreams and on the point of repeating myself from December 2012 I must state that here is an engine which hints as if its maker has been doing diesel all its life! Truly well sorted out it surely is but there is a certain raucous note to it when accelerating hard through the gears and a certain shake at start up from cold but apart from that I couldn't feel anything untoward about the power delivery or the zestful nature of the Earth Dreams Technology marvel.
The torque curve means that you are always in the meaty go-forth mode whatever cog you might be in and while there is no huge surge as the twisty forces make the 1,075kg (kerb weight for the top-of-the-line version) automobile move serenely along, the 200Nm flows in a well calibrated manner to make it dance niftily without upsetting anyone in the cabin. I think what Honda has to do is to get the sound deadening right on the Amaze purely from the point of view that the lightweight aluminium alloy mill does emit a whole new set of vibes (mainly at start-up from cold) to be damped out and these are unlike any from an aluminium alloy petrol engine. This is the learning that Honda's engine and body engineers will have to master going forward with more diesels in the product portfolio.
The diesel is the more livelier performer again thanks to the extra torque it has at its disposal but the petrol-engined Amaze is all smoothness personified and while it thrives on revs the good part is that it doesn't seem to run out of breath as long as cog swapping is logical and consistent with the loud pedal being progressively buried in the floor. The light clutch action on both petrol and diesel versions is a boon while the shift actuation is slick yet has a tinge of the mechanical edge to it.
Seats are comfy both for the short dash as well as the long haul and the driver's seat does get height adjustment thrown in for good measure. Overall the quality of the seats gains it high marks and while the seats appear decidedly sporty, the one-piece crafted look to it with the head-rest penciled in does leave a bit too much to do. Ingress and egress is brilliant, more so at the rear and overall, when viewed in the tax-buster sub-four-metre saloon class, there is only so much you can do but you need to do it well otherwise you'll only meet the measure tape while keeping all the other niceties away. With the Amaze, Honda has shown it can do both and that too very well.
So in essence how can we sum up our first assessment of this small wonder? Let's take the petrol engine car first and this is the bargain budget pleaser but it needs to be driven sensibly to get the best out of it. Treat it like a boy racer and while you'll certainly enjoy the dynamic ability, the fuel economy would be nothing to rave about.
This is where I think the diesel will do the talking and how. Forget about everything else as concerns vibes and sound deadening (this needs to be addressed as mentioned above), the stylish exterior plus its fine packaging and space is the biggest calling card of the Amaze and with diesel frugality thrown in, the package is truly red hot. Let's hope the bean counters don't go and douse this all by pricing it out of sync. That would be a cold shower not to the market and its maker's liking!
Honda Amaze vs competition: Technical Specifications
Specifications

Honda Amaze

Tata Indigo eCS
Maruti Suzuki DZire

L x W x H (in mm)
3990 x 1680 x 1505mm
3988 x 1620 x 1540mm
3995 x 1695 x 1550mm
Wheelbase
2405mm
2450mm
2430mm
Engine Displacement:

Petrol
1198cc
1193
1197cc
Diesel
1498cc
1396 cc
1248cc
Power/Torque (Diesel)

100 PS/200 Nm
70 PS/140 Nm
75 PS/190 Nm

Power/Torque (Petrol)

88 PS/109 Nm
65 PS/100 Nm
87 PS/114Nm
No of Cylinders
4
4
4
No of Gears
5-speed manual/automatic
5-speed manual
5-speed manual
Kerb Weight
950-965 kg (manual)
1105 kg
1080 kg
Tyres
175/65 R14
175/65 R14
185/65 R15
Turning Radius
4.5m (MT) / 4.7m (AT)
5 metres
4.8 metres
Boot space
400 litres
380 litres
315 litres
Fuel efficiency:
Diesel (kmpl)
25.8
25
23.4
Petrol (kmpl)
NA
15.7
19.1
Price range
To be announced
Rs 4.78 - 6.21 lakh
Rs 4.92 - Rs 7.50 lakh
Honda Amaze related stories:
Honda Amaze launch on April 11
Honda Amaze Road Test photo gallery
VIDEO: Honda Amaze First Drive Report