Ducati Diavel Test Ride Review
---
The Ducati Diavel is one of the largest selling Ducatis in India. It's far from pretty, and named after the Devil. We spend a day with the Diavel. Is it as radical as it looks? Read on…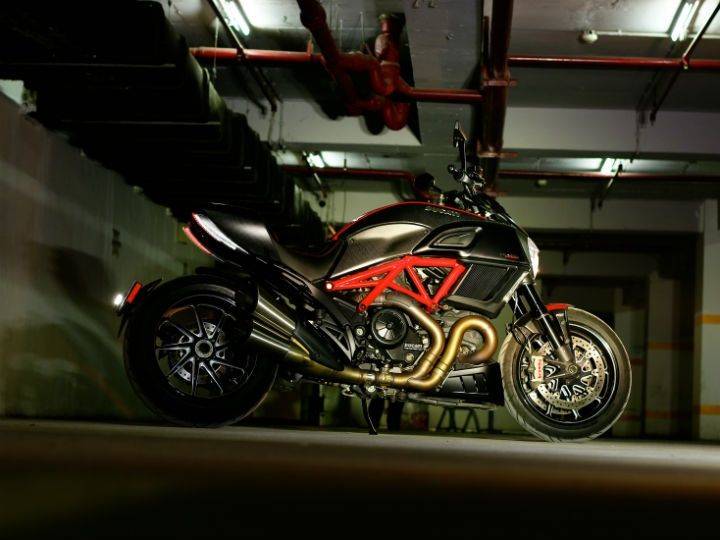 The story goes that the name for the Ducati Diavel was born early in its development process, when the prototype was assembled and wheeled out in front of a group of Ducati technicians and engineers for the first time. One person saw the bike's silhouette and exclaimed in Bolognese dialect: "Ignurant comm' al diavel!" (Meaning: "Evil, like the Devil").
The name stuck and the concept of building a muscular silhouette over a pure-bred competition motor became a production reality when the Diavel was first unveiled in 2010. Less than five years later, and in its second generation version, the muscular and aggressive looking motorcycle is one of the largest selling Ducatis in India today.

So, what should we call the Diavel? Is it a naked street, is it a cruiser or is it something else? Ducati's official tagline for the Diavel is "Don't call me a cruiser", so the marketing guys at Ducati certainly don't want to label the Diavel as a cruiser. What the Diavel seems to offer is the best of both worlds – sport and style – in the form of a bike that is visually striking and functionally high-performance.
It is available in three variants – the standard Diavel, the Diavel Carbon with carbon fibre bits and the limited edition top-of-the-line Diavel Platinum, only 500 of them available worldwide. We spend the better part of a day astride the Ducati Diavel Carbon to get a sense of this devilish monster and to figure out if it's got the performance to back its image.

Design and Features:
rating_4.0_rating
Love it, or hate it, you definitely can't ignore it. That is what the Diavel is. Look at it in profile and the low slung saddle and slightly raised, wide handlebar may murmur 'cruiser' at you. But look again, from a slightly different angle, and the aggressive, muscular haunches with the radical LED headlight gives it an altogether different personality.
Unlike a conventional cruiser, the front wheel is kept close to the Diavel's body, filled up with the lateral radiators which add more muscle to the overall silhouette of the bike. The tank panels, passenger seat cover and front mudguard are made in carbon fibre, to reduce weight as well as to highlight the Diavel's sporty DNA.

The stubby, raised short tail is more sportbike-like while the massive 240-section rear tyre again is reminiscent of heavy duty cruisers. That fat rear tyre, mounted on a forged, 10-spoke 17-inch wheel, also lends additional muscle to the rear section. And it's exposed on one side by the single sided swingarm and complemented by two fat stubby exhausts finished in brushed steel. The tail also gets twin vertical LED strips, serving as tailight, brake light and turn indicators.

Instrumentation is a two-piece number. The handlebar mounted LCD display reads out data like speed, rpm, time, coolant temperature, and the tank mounted TFT display reads out selected gear, air temperature, battery voltage, trip meters, fuel consumption and full status and management of riding modes. The TFT display even changes colour automatically for better readability, by day and night. It also allows the rider to choose from three riding modes: Sport, Touring and Urban.

Engine and Performance:
rating_4.0_rating
The liquid-cooled 1198cc L-twin of the Diavel is superbike derived, and has 11 degrees of valve overlap on the four desmodromically actuated valves per cylinder, giving it the 'Testastretta 11 degree' name. The L-twin makes 162PS at 9,250rpm and over 130Nm of torque, peaking at 8,000rpm.
What this means is – slot the Diavel into gear, open the throttle, you're immediately slammed back with a strong rush of torque and power, threatening to de-seat you. But the seat design is such that it lets you sit in the bike rather than on it, and thankfully you're well-entrenched in the bike to worry about being left behind in the dust. The power is available over a wide rev range and the L-twin is full of character, providing a massive wave of acceleration as well as smooth and controlled power delivery for cruising the city streets

Urban mode has power limited to 100PS, with easier power delivery and more active traction control. This is a good enough setting to get familiar with the bike, if one is not used to high performance machines. Touring mode gives the full 162PS power, so it becomes immediately evident that there's a lot more to the Diavel than just its looks, but the power delivery is smoother and there's more traction control intervention. With all that power, the 8-level traction control is a blessing just in case things go out of hand. Select Sport and the devil wakes up; full power comes in almost immediately with the Testastretta growling under you and there's minimal traction control intervention. Before you even realise it, the beast will try and snarl out from under you and devour everything in its path.

The powerband is wide, so there's power available just about anywhere you might want. Flick through the gears and you will be way, way over the speed limit even before you can shift into sixth. And then you realise the Diavel is not named after the devil for nothing after all. Two tons come in no time, the landscape a fast blur, and there's more power, more revs to go even further when you run out of road and decide to back off the throttle. We're told top speed is around 270kmph, and we have no doubt the Diavel will growl till there if you are so inclined. Of course that's not advisable.

Ride, Handling and Braking:
rating_4.0_rating
The Diavel employs 50mm front forks – fully adjustable for spring pre-load, compression and rebound damping. We didn't try any of the adjustments but in stock form, the set up provided a sure footed and agile front end making for a confident handling bike. The Sachs rear suspension sits low under the chassis in a horizontal position, and the unit uses a handy control for easy spring preload adjustment. Ride quality is on the stiffer side, but stability is superlative, even at very high speeds.
Despite its size, the Diavel is fairly comfortable in the city, so long as you don't have to make any sharp u-turns; 234kg of metal isn't easy to handle if you want to park or back it into a tight spot. But once you get moving, it's as easy as any other bike out there.

The large diameter trellis frame provides great torsional rigidity, and together with the single sided swingarm, provides great suspension action and feeling at the rear-end, making for a fantastic handling bike which belies its appearance. Yes, despite that massive 240mm rear tyre, the Diavel can take curves with ease and even though it appears to not like taking to corners easily, the sporty Ducati DNA is very much evident on the Diavel. Lean it, swerve it or cruise on a long, straight road, this is a high-performance Ducati that will entertain you whatever your riding style.
All that power and character needs to be reined in when it's needed, and for that the Diavel employs powerful 4-piston, Brembo monobloc callipers gripping 320mm discs, while a single 265mm disc is gripped by a two piston calliper at the rear, also by Brembo. Of course, there's ABS and braking is as effective as it should be, providing for confident grip and progressive stopping power to shave off those high triple digit speeds in case you need to come to a standstill in a tearing hurry.

Verdict:
rating_4.0_rating
At the end of the day's ride, I still couldn't come to terms with the Diavel's looks. Is it attractive; is it a thing of art, or is it just plain odd? And as for the classification, I still can't figure out what to call it. But who cares? All said and done, the Diavel is full of character; with brawny looks and all-muscle personality, it also has the hardware to give it very entertaining performance, whether you are cruising down a long open highway or taking on a twisty mountain road.
The standard Diavel is available for Rs 14.2 lakh (ex-showroom Delhi) and the Diavel Carbon Red – the one we are riding – costs Rs 17.42 lakh (ex-showroom Delhi). At that price, you could go for a traditional large displacement luxury cruiser, or a sophisticated litre-class sportbike. What the Diavel will offer you, is the best of both worlds. But first, a word of advice – be careful when you grab a handful of that throttle. The Devil is waiting to be let loose…