Chevrolet Trailblazer : Detailed Review
---
Chevrolet's big and burly SUV is here to transform the American Carmaker's image by appealing to the influential premium SUV car buyer. We take it for a quick spin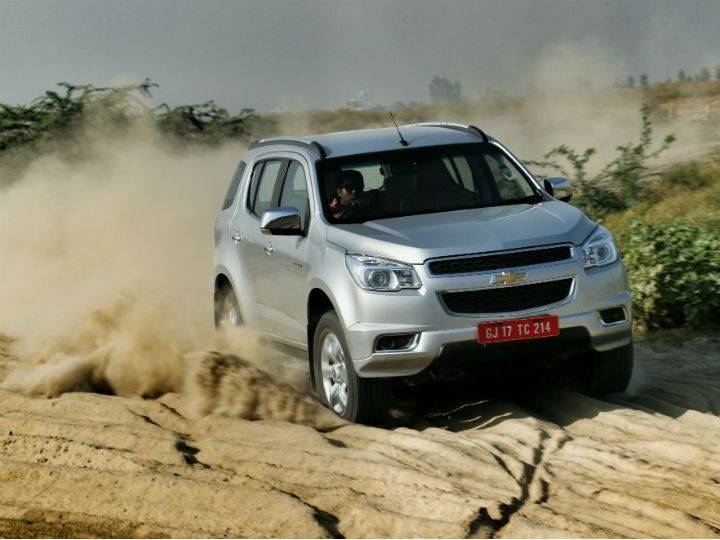 Chevrolet India desperately wants change. Parent company General Motors is now having a close look at it, has announced a 1 Billion Dollar fresh investment into its Indian operations and will also launch five new models by 2018. Three of these five are going to be mass market cars (Spin, new Beat and Beat based sedan) while the other two will build the brand's image. The Cruze is one and we are familiar with it as the torque monster that sells for its headline figures. A new generation of the Cruze will come in 2017 and all other cars mentioned above will make it around then as well. The fifth product, which is the Trailblazer comes next month. It's not tasked as much with sales figures as with building the new brand image of a properly American brand from the dismal name Chevrolet has gained in the recent past due to its China sourced products.
So can the Trailblazer make a mark and hold fort for the next year and a half then? It's a tough task but let's find out…

Exterior design and styling rating_3.5_rating
If you are dealing in this segment, there are no two ways about the fact that you need road presence and the Trailblazer has loads of it. It is not a very good-looking SUV to my eyes, but the size sure works. That massive grille in your wing mirrors, the bulging bonnet and the high set stance thanks to its 241mm ground clearance (highest in segment) shod by 265/60 R18 wheels, the Trailblazer does look the part of an SUV willing to rough it up and bully other motorists around.

The headlights are too small and the taillights are too plain, the wheel wells show massive gaps above the tyres and the mirrors are too large- few proportions Chevrolet could get right. The size is big enough for the Trailblazer to need any kind of plastic cladding to accentuate it stance. I like that because the lines are clean and free of clutter. Chunky six spoke alloys on those 18-inch wheels look the part as well.
It is a four year old SUV however and in a matter of months, will have to take on the new generation Endeavor and Fortuner so I think the styling is going to look dated very soon in light of fresh competition.

Interior and space rating_4.0_rating
Like the exterior, the interior is a simple mix of functionality and space. I like the Camaro style instrument cluster and the circular aircon controls with the central digital read out in the centre console. A massive strip of chrome on the gear lever is an eye sore and the audio controls on the steering wheel get dirty very soon. The front seats are nice though which is a saving grace for the interior. You sit quite high up and getting in for short person means a foot on the side steps, a grab of the handler on the insides of the A-pillar and a light hop into the seats. The climb is worth the effort to get that commanding view however. The steering wheel doesn't adjust for reach, however the driver's seat gets six way power adjustment so getting a good driving position isn't tough.

There's plenty of space for the middle row passengers as well and the seats are comfortable too. You can also hop into the third row of this genuine seven seater. It's not the most spacious but I reckon there's more space back there than a Fortuner.

Features and Equipment rating_3.5_rating
The Trailblazer comes as a CBU built out of Thailand and so comes with all the features that are offered internationally. The 7-inch Touchscreen infotainment system comes with a smartphone app link for internet radios like Tunein, there's the usual USB, Aux-in and Bluetooth connectivity and there's video playback too. The touch screen system works well although could do with better rear camera resolution. The Trailblazer doesn't offer navigation though which in this segment has become a must have feature. The Trailblazer also gets leather seats, auto foldable outside mirrors and cruise control. And with four 12V sockets, AC vents for the second and third row, the Trailblazer gets all the comfort and convenience features you will need. On the safety front, you get two front airbags, ABS with EBD, hill start assist, hill descent control, traction control, ESC and cornering brake control.

Engines and performance rating_4.0_rating
Powering the Trailblazer is 2.8-litre 4-cylimder duramax diesel engine that is known for its high torque output. With 200PS of power at 3,600rpm and 500Nm of torque at 2,000rpm, the Trailblazer has quite some punch to counter its 2068kg kerb weight. Power is sent to the rear wheels on this road going SUV. It's a pity GM didn't bring the 4WD variant to India considering it is a CBU.
The torque is built high up so response through the throttle pedal in normal driving conditions is of a sedate SUV that can do ambling duties very well. But step on the gas and watch the revs rise past 2000rpm and then enjoy the wave of torque as the behemoth lunges forward. It's something SUV drivers will enjoy.
The six-speed automatic is tuned will to save fuel for what it's worth. Don't expect double digit figures regularly but if you are buying this massive chunk of metal that weighs over two tonnes, mileage should be the least of your worries. Shifts come smooth and below 2000rpm when you aren't flooring it, and when you do, it goes up to 3,800rpm before selecting the next cog. You can slot into manual mode and hold a gear too, but above 4,000rpm, performance tapers off.

Ride and ease of driving rating_3.5_rating
I was expecting a very supple ride from the Trailblazer due to its high ground clearance, chunky tyres and long travel suspension but it doesn't tackle undulations with the poise of the Fortuner. It feels like there's too much unsprung mass thudding through and the damping is fairly stiff which can be felt through the cabin over large potholes and high frequency bumps. These are by large high ground clearance SUV standards though.
As far as ease of driving is concerned, parking this big brute is a bit of trouble due to the size obviously, but otherwise a commanding view of the road and traffic around the Trailblazer moving away from it for fear of a road kill works in the large Chevy's favour. The gearshifts are smooth and there is always enough torque on tap to close a gap in front. It's the SUV for the open highway and can do long distances all day long.

Handling and braking rating_3.0_rating
The Trailblazer is a highway cruiser for your long haul trips. It's not meant to carve corners so don't expect that from it. There is a fair bit of body roll and the Trailblazer doesn't like quick direction changes as well. Grip from the tyres is good though and there is a blanket of safety features keeping the Trailblazer on its intended path. The ventilated discs all round work well too but the feel through the brake pedal isn't too communicative.
Fuel economy and price rating_3.0_rating
We don't have the official ARAI mileage figures of the Trailblazer but in real world conditions, expect between 8-10kmpl from this Chevy. As far as pricing goes, the Trailblazer is a CBU so it won't come cheap. It is estimated by be priced a shade under Rs 30 lakh, ex-showroom Delhi which will make it a hard sell in a market dominated by the cheaper and more accomplished Toyota Fortuner.

Verdict rating_3.5_rating
The Trailblazer offers excellent road presence, a strong engine and a smooth gearbox. Ride quality isn't on par with segment bests and the interior could do with a bit more zing. No 4WD variant is a big drawback and being a CBU, price of the vehicle won't be very competitive as well. The Trailblazer sure improves my opinion of a Chevrolet in India as an American brand but it does little to convince me to buy it right away. So if you want a large premium SUV that's not too common, the Trailblazer might appeal to you. But a few months from now, a new generation Endeavor and Fortuner are coming and both look a lot more promising. We suggest you hold on to your cheque till then.
Recommended Variant :
Trailblazer RWD Automatic