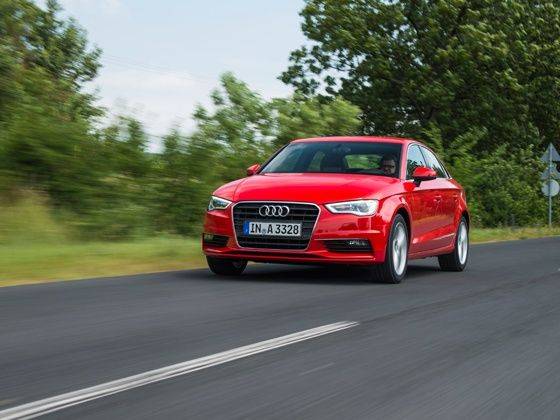 It is a sign of the times that give a car maker a sliver of a hint or a slight sniff of a trend and one can be rest assured that the product planners would hammer the designers and engineers to churn up something to slot into the thinnest of niches and then go about expanding this to attain the critical mass so very much needed for commercial success/survival, call it what you will.
The Audi A3 saloon is a product of this thought process as much as it has to do with Mercedes-Benz having been quick off the mark with its CLA saloon hewn out of the same third-generation A-class mould. So if Stuttgart could go down this avenue laughing all the way to the bank could Ingolstadt afford to be far behind? One might say how could this happen, don't Mercedes and Audi have their C-class and A4 already pegging this space? Enter the marketing spooks who now hanker for a slightly lower perch from the C-class / A4 set, a segment which now goes by the predominantly Teutonic term 'sport limousine' when for all to see and understand is just that it is another sedan!
Of course that would be missing the point because this is a car which Audi is planning to bring to India once the rupee has gone back to sensible levels vis-à-vis the dollar but how long that would take is best known to nobody!
Even then Audi India gave us a day to experience this all new A3 saloon in and around Gyor (where it is built) and Budapest in Hungary and I must say that this niftily styled automobile is not just fresh yet different while retaining the Audi DNA in its makeup but its compact dimensions do not make it any less practical for occupants in space, comfort and performance.
Audi, unlike Mercedes-Benz, already had identified the bandwidth it wished to explore between the A4 at the upper end and the A3 Sportback at the lower end so slotting in a saloon rendition of the A3 seemed to be just what the good doctor ordered! And with saloons having pride of place in snobbish high growth markets in Asia like China as well as in the US, growing just that much bigger but not as much as the A4 was the way to go.
The overall lines clearly spell out the Audi look and feel (inspired no doubt by the A3 e-tron concept from 2012) and when coupled to a lean persona bereft of the traditional Ingolstadt heft associated with its designs, the new A3 sport limousine is impressive.
The cabin comes in a variety of trim and tailoring with loads of customizable accents and equipment levels and while the dashboard is funky yet well crafted, one can make out the target age group whom Audi is puckering up to. The Audi MMI interface has been further tweaked, the infotainment system has been ratcheted up, tech on call has been bolstered appreciably, there being the option of penciling in the auto-braking / adaptive cruise control already used to telling effect on the A3 Sportback.
So what about the power driving the front wheels and I say this because quattro could be missing the price-proposition completely for a car in this class though I for one would love to drive such a machine everyday over the front pushers. Two petrol engines are specified, these being the 1.4 and 1.8-litre TFSI units mated to the standard spec six-speed manual, which is a mighty good and effective piece of kit to play with.
Of course there is always the S-tronic automatic option to fallback upon if you are the lazy sort but should you think about going overboard Audi has laid it out for you really cool – how about an S3 sedan with a 300bhp 2.0 TFSI motor with accompanying 380Nm of push force to hurtle you and startle that Porsche Cayman tootling along? This is a genuine 4.9 second performer from standstill to 100km/h, can be whipped to its electronically limited 250 km/h top speed, employs quattro gear, sporty suspension and comes with all the bells and whistles the Audi performance armoury can rustle up. Lovely but that would take it over a base A4 and such wouldn't it? Not a good recipe for India methinks.
However, what would be and is in fact delectable is the 1.6-litre TDI mill mated to the 6-speed manual transmission and boy oh boy this has got to be the pick of the lot for our conditions. Strong and eager in its delivery even though on paper it is nothing to rave home about! However, and here it comes, this is the same engine that does duty in a myriad of other cars seen in India from the VW Group and they have never felt this great before, ever. Period!
In fact, Audi doesn't even specify a 1.6-litre in Europe (I presume because there was nothing about it in the large and detailed glossy coffee table tech book on the car they gave us) but I feel that in its makeup, state of tune and delivery plus also on the operational side of things, this engine stands out for outstanding value with ample performance to delight.
Brings us back to where we began, Budapest airport and the strong dollar further causing a few more creases in the makeup of the Audi India product planners! If this is going to be a CBU project one can kiss it goodbye here in the now and present but if it is going to be a CKD with loads of locally sourced content then not just the A3 saloon but many more of its 'sport limousine' ilk just about stand a chance. Will have to wait till second-quarter 2014 to have the answers.