2018 Mercedes-AMG G63 Review
Nov 6, 2018
Views : 10356
---
The old-school and undeniably cool Gelandewagen gets more sensible in what is just its third generation since 1979. Does it still have the hairy chested and stubbornly individualistic soul of a G-Wagen?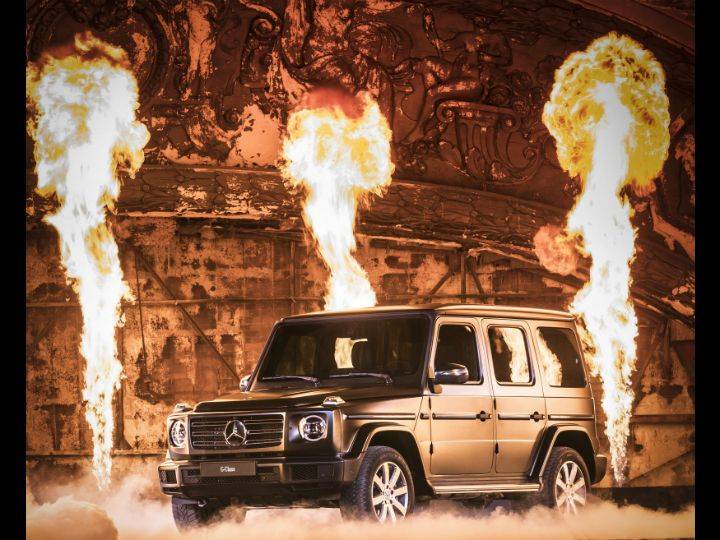 Prologue
Every time you read about the Mercedes-Benz G-Class, you can be sure you're going to see some mention about its history. We're not going to get into that but here's a little something for perspective. Think about what every Mercedes-Benz SUV today is named - GLA, GLC, GLE, GLS. It establishes a pattern but this behemoth is simply called the G. Because it is the original Mercedes-Benz SUV with the strongest legacy and it happens to have the longest production run of any Mercedes-Benz passenger vehicle.

Pictured: Interior of the 2015 Mercedes-Benz G 63 AMG Crazy Colour
But to like the G-Wagen, you had to throw logic out the window. Legendary as it was, it was never the practical pick. It was a ladder frame SUV with downright scary handling, especially because of the dead steering. It was also too boxy and had too many panel gaps to be called anything close to aerodynamic, and was too heavy to be efficient or take proper advantage of the power it had. Not to mention, big and tall as it was, the cabin space was quite average. And remember, all of this was for a price of well over Rs 2 crore.

This new generation is the one to change things. But we've got to see if it preserves the reasons why anyone wants a G-Class in the first place. And what better way to do that than test the most popular model of the range, the Mercedes-AMG G63!
Big Boxy & Badass

"Wait, this is a new generation?" That's the first question that comes to mind when you meet the 2018 model. It looks like barely more than a facelift but that's the idea. Much like it is for something like a Porsche 911, the G Class' design is its identity.
So it's still super boxy, it still has the flared metal all around the body, the door hinges are still exposed and the bonnet still refuses to sit flush with the rest of the front end. Yep, even the runway light-style indicators still sit on top of the fascia. And thankfully so, since they do aid judgement while driving in traffic. But now, there are some modernities to contrast the old-school charm. It now sports LED tail lights and headlights and its own version of the AMG panamericana grille. There's more road presence thanks to these and the increased size, since the already plus-sized G-Class is now over 100mm taller and wider and a good 40mm taller.

And the modernities run skin deep. It's still a ladder frame SUV but the use of aluminium for the doors, bonnet and wings, among other changes, have helped the G-Wagen lose a good 170kg. And the result shows, because the Mercedes-AMG G 63 is a featherweight at just, umm, 2.5 tons.
So it comes as no surprise that even after running through the press release several times, we couldn't find one mention of the drag coefficient! The Mercedes-AMG G63 doesn't try to slide through the air discreetly. It stops the air, punches it in the groin and steals its lunch money.

And two things just make it look boss! The 'RG4' matte black 22-inch wheels (optionally added to our test car) and, of course, the quad side pipes (2 on each side)! It just reminds you that the G Class takes every opportunity it can to look at the cars around it and say, "Nope, I won't do things in the same way as you."
Bedroom, Hall and Kitchen?

But familiar as the exterior seems, the interior is a whole world of new. Sure, the driving position is still super commanding, and forget SUV, it's quite truck-like. Remember the front indicators? They're effectively your only way of telling where the G63 ends as there's a massive expanse of steel and aluminium ahead of you. It's an empowering kind of drive stance.

How things have changed is that the G-Class now feels purposefully luxurious. The old car was essentially the same machine for nearly 3 decades (revealed in 1989 and labelled the "G-Class" only in 1993) and while it got more upmarket, the upgrades felt more 'adapted to' than 'built for'. The Alcantara wrap around the AMG steering feels amazing to grip, while the leather on the door pads and dashboard feel rich. Even the choice of metal on the steering or finish on the centre console makes every touch point feel like money well spent. More importantly, everything feels like it belongs. The turbine-like AC vents, for example, mimic the headlight design, making the overall packaging feel more cohesive.

The 12.3-inch dual screens bump up the cool factor and make the dashboard look futuristic and clean. It isn't a touchscreen but can be operated by the rotary dial or touchpad between the front occupants. It even gets Android Auto and Apple CarPlay. Other luxuries include power-adjustable, heated, cooled and massaged front seats, a motorised steering-adjuster, a sunroof and a great exterior surveillance system that includes all-round parking sensors, coupled with front, rear and top view cameras.

So is it a modern SUV? You bet. But it doesn't feel like any of its siblings to be in. Getting in involves a proper climb and that side step is a must have. The dashboard is still almost flat, vertically stacked and even features an integrated grab handle for the front passenger. The windows are as squared as the body and the doors shut with that typical "cha-thunk" we hear almost exclusively in off-roaders. In fact, the outer door handles are one of 5 parts carried over from the Model 463.

But when it comes to cabin space, don't expect this to be an alternative to a GLS or even a GLE. The dimensions have grown and even Mercedes-Benz says cabin space has improved; the biggest increase is 150mm of added rear legroom. But the old model was no benchmark to begin with, so while you can seat two six-footers one behind the other, it's not as spacious inside as the outer dimensions would have you believe.

It is, nonetheless, a nice place to be in. There's acres of headroom and footroom, the experience is very open and airy and you get comforts like heated rear seats, rear climate control, an armrest and really bright amber reading lights.
Drive Wild!

But, of course, all this is not why you buy a G-Wagen. It's always been about this SUV's "different" drive experience. Now, you wouldn't expect the downsizing trend to affect the G63, but it has. Like it or not, AMGs are getting leaner. It's lost about a Honda City in displacement but on the flipside, makes about 30PS and 90Nm more power and torque.
But tech specs aside, what you fall in love with first is just that sound. AMGs are effectively German muscle cars because performance credentials aside, they are a bit silly. And if you've even heard a G63 or even a G55 drive past you, you can tell it's a different kind of loud. It's the kind makes the very ground shake. The kind that makes you wonder if that was a monster truck. There's presence in its very voice and it's a very angry sound.

It's not all shouting and screaming though. The Mercedes-AMG G63 uses the same 4.0-litre biturbo V8 we've seen even in the AMG GT. Crazily enough, it makes the same amount of power as the AMG GT-R: 585PS! It also makes the same torque as the Lamborghini Urus, 850Nm, and it's from as low as 2500rpm. 850Nm is possibly enough to revive the dead, but more importantly, it gives the G63 the ability to waft ahead in a big sweep of pure torque. You can zip through traffic scaring the hatchbacks and pseudo SUVs around you before so much as sniffing 3000rpm, as everyone around you wonders how something this big can be this quick. How quick? 0-100kmph takes 4.5 seconds - less than a second off the lighter and significantly more aerodynamic AMG GT R!
Even the 9-speed AMT speedshift gearbox has been reinforced for the Mercedes-AMG G63 and offers quicker shift times in here than it would in the "regular" G500. The transmission works well for the most part. Settle into a cruise at 80kmph in top gear and the motor's burbling at about 1400rpm. Floor the throttle and it drops gears on the dime, especially in Sport+. And when it swaps down a gear or two, be assured, she squats with joy! But under normal driving conditions, the gearbox does hunt for gears at times. Especially on the highway, you can see the revs drop and climb quite often because it has so many ratios to play with.

The result of all of this coming together? You smiling all the time! Would it have been quicker with a sleeker body? Yes. Would it not be wallet-bleedingly thirsty if it was lighter? Probably. Do we care? God, no! Because the kind of drama you get when you push the G63, the kind of excitement and eventfulness of it all is simply unparalleled! It's proof of one thing that yours truly keeps saying in car discussions: cars are not their spec sheets. Cars offer different experiences that can't always be explained on paper or put forth in horsepower, newton metres or Cda.
As for off-roading, we only managed a light bit of it, so can't talk about it in detail. But all the power aside, the G-Wagen has super short overhangs, 241mm of ground clearance and independent locks for the front, rear and centre differentials. So you can trust this to be one of the best out-of-factory off-roaders. After all it is Schockl-proved.

Enough fanboying though. We've got to see if the handling's any better -- and on paper, things seem positive. Not only is the chassis some 170kg lighter than before, it's also 55 per cent more rigid. The G63 also gets new double wishbone independent front and multi-link rear suspension with adaptive dampers. Does this change things drastically? Are you no longer on edge while driving it fast? Honestly, no.
This is still quite a handful to handle because even in a straight line, there's constant side to side movement. The body roll is ever present and typical of a ladder-frame SUV. For example, there's is one turn off from the Yamuna Expressway towards the Buddh International Circuit. It's a pretty sharp turn but even if you take it at 45-50kmph, you can feel your body shifting to one edge of the seat. You can also feel the side bolsters inflate to hold you in place.

The steering is a mixed bag too. It's small-hatchback-light to use at city speeds and weighs up well on the highway. But it's still incredibly vague, has a fair amount of dead centre play, and like in most off-roaders, is a bit slow to steer in. But by far, the hardest working part of this car have to be the brakes. They work well enough to stop this behemoth but you can always feel a bit of a squirm and twitch when you brake even a little hard. We also have to credit the 295/40 Goodyear Eagle F1 tyres for offering strong grip, as they sure endure some punishment, especially through corners. As for the ride, it's acceptable and livable but you can feel and hear it thudding through potholes and getting lumpy through undulations. Good enough to use on a daily basis but not luxurious.
Is the dynamics package better than before? Sure. But standalone, the Mercedes-AMG G63 still feels like a building with a speed addiction. That may not appeal to your sensibilities but it never leaves you starving for an adrenaline rush.
Old Dog, New Trick?

Let's face some hard truths. At Rs 2.19 crore (ex-showroom India), there are other SUVs which make a lot more sense than the Mercedes-AMG G63. You could spend less money and get a more sensible car from within the Mercedes-Benz stable or spend similar money for something that puts more 'sport' into SUV. This is something we could say about the outgoing model and that does hold true even with this new one.
But that means that the reason why anyone buys a G-Wagen in the first place is still preserved, and now, improved upon! Whether it's a matter of luxury, performance, features, finesse or even dynamics, the 2018 AMG G63 is a better car than before. Make no mistake, the G-Wagen is still an exercise in excess, the very definition of a car with an attitude -- and no matter how you spin it, it's a car that makes you ache and desperately want it!
Add Your Comments

More on Mercedes-Benz G-Class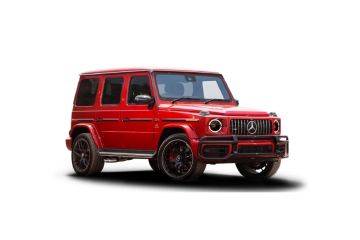 Rs. 1.50 crore Onwards
Ex-showroom, Delhi
Contact Dealer
View On Road Price
Mercedes-Benz G-Class Alternatives