2017 Land Rover Discovery Si6 Petrol: Road Test Review
---
In a day and age where SUVs are celebrated more for their luxury rather than outright ability, can the new Discovery do both to win hearts and minds?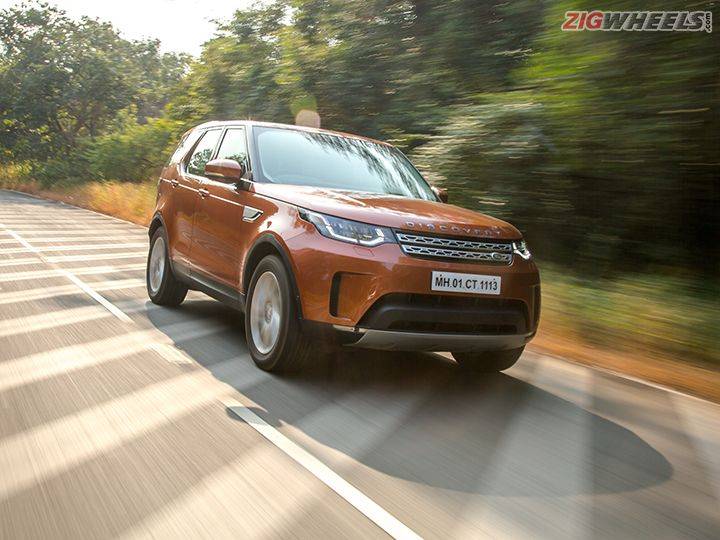 While the Range Rover and the Defender have been the attention hogs of JLR's SUV range, the former for its incredible luxury and the latter for its incredible off-road prowess, the Discovery has been the quiet, do-it-all workhorse. This mid-size SUV has been the sensible one of the bunch, marrying practicality with a genuine go-anywhere ability. And that's made it popular with everyone from families living on farms to those partaking in gruelling off-road expeditions. It's been one of Land Rover's most popular offerings, ever since its debut back in 1989, and now, its latest avatar has come to India. In its nearly three-decade-long history, the Discovery has matured a whole lot.
Contemporary, yet Discovery

In terms of design, this current generation Discovery represents a massive departure from the Discoveries that have come before it. Gone is the boxy shape and angular lines, instead replaced with swoops and curves similar to what we've seen on the updated Range Rover. This, Land Rover says, yields a significantly reduced drag coefficient, making this Disco a lot more efficient compared to its predecessors. The square headlights have given way to sleek, wrap-around units, with LED DRL strips doubling as the front indicators. Horizontal, wrap-around tail lights have replaced the older vertical style, and the third-row side glass no longer blends into the roof glass.

While the split tailgate has given way to a more traditional single-piece flap, it has still managed to retain an offset number plate design like the Discovery 3 and 4. Overall, it doesn't look as rugged as the previous models, and the design feels a bit ungainly from certain angles, especially when viewed from the rear three-quarters. But it does have great road presence thanks to its sheer size, and there's no mistaking it for anything other than a Discovery, thanks to its tall stance and stepped roof.
People mover
The Discovery is a big car, and you realise that when you want to climb into the cabin. Even though the air suspension lowers the car to its 'access height' when you unlock the doors, it still requires a bit of a step up to get inside. So much so, that the front could've really benefited by having grab handles on the A-pillars to help get into the seats.

If you've checked out any other contemporary Land Rover recently, the interior layout feels immediately familiar. You get a chunky leather-wrapped steering wheel with aluminium inserts, with multimedia and phone controls on the left, and cruise control buttons on the right. The instrument cluster gets a multifunction LCD panel in the centre flanked by large analogue tachometer and speedometer dials. There are brushed aluminium accents across the cabin, including two large strips on either side of the wide centre console. The entire cabin is shod in premium materials such as leather, natural wood and soft-touch plastics, and the build quality is really top-notch. Everything feels like it's designed to take a beating and stand the test of time. There's not much in the way of a 'wow' factor here, but it's all got a timeless elegance that should appeal to most folks.

Our test car came equipped with a wide, 10-inch touchscreen in the centre of the dash, which features Land Rover's InControl user interface. It's a very intuitive system to use and allows you to control not only media playback, but pretty much everything else in the cabin, including the seats (which we shall talk about later), air-conditioning, navigation, and can even display the car's manual. The system also allows you to create custom pages to have all the controls and displays of your choosing grouped together. This car even had the incredible Meridian audio system, which really needs to be heard to be believed. We also particularly liked the intuitive design of the climate control system that integrates the temperature display within the rotary knobs, which when pushed, switch over to the seat heating and cooling function.

The front two seats are fully electrically adjustable, and thanks to their fold-down armrests, feel like absolute thrones. And they're high enough to give a commanding driving position too. However, the middle row is a slightly different story. While thankfully, you do get grab handles on the B-pillars to climb into the cabin, the seats themselves are fairly low set. Even the bench itself feels a bit narrow.

So while there's plenty of room here in the knee, head and shoulder department, the seating position is fairly knees up. The floor is completely flat though, and that makes it easy to accommodate three adults here. With a 60-40 split in the rear bench, either side can be slid forwards or backwards manually, and the seatbacks and be adjusted electrically. The middle row also gets its own set of air-conditioning controls (with vents in the roof and B-pillars), which mirror those from the front cabin, and even the seats can be heated or cooled as required.

If desired, you can specify the Discovery with a pair of 8-inch LCD screens (located behind the front headrests). These get their own HDMI inputs at the back as well as wireless headphones, though our test car seemed to be missing the latter. Apart from the 12V power sockets in the front cubby and boot, there are a total of nine USB plugs located throughout the cabin - three in the front, four in the middle, and two in the third row.

And speaking about the third row, the Disco is a proper seven-seater and features two full-size seats. Access to the third row is fairly easy once the middle seats are folded and slid forward. And thanks to the Discovery's notched roof, even 6-footers will have no complaints regarding headroom, but again, you're sitting very knees up here, even more so than the middle-row.
Space Galore

The Disco's interiors are an absolute smorgasbord of well thought out storage spaces. Two-litre water bottles can be easily accommodated in the front door pockets, and you also get two stacked glove boxes up front. The two central cup holders can be retracted to unveil a cavernous cubby hole that's big enough to swallow a few iPads, and in our test car, the large centre storage box had a built-in cooler. Push a button on the climate control panel, and it flips down revealing a hidden storage compartment for phones and wallets. There also small glove boxes on either side of the third row.

With all seats up, there's not a whole lot of boot space available. However, the trunk does get its own control panel to electrically fold down middle and third-row seats individually, and with all these the seats stowed away, you get a whopping 2500-litres of storage. Unlike the previous Discoverys, this one doesn't have a split folding tailgate. But Land Rover has somewhat compensated for this by providing a bench which can be folded out once the electrically operated tailgate is open. And this bench is rated for 300kg, which means it can easily handle a couple of people sitting on it when you're parked up somewhere.
Heart of a big cat

While petrol power for big, heavy SUVs is nothing new, what our test car had under its hood felt like a stark contrast to the the Discovery's proportions and intended application. The new Disco does come with a 3.0-litre V6 diesel motor in India, but the one we're driving was equipped with a 3.0-litre V6 petrol - supercharged at that! It's essentially the same AJ126 motor that you get on the Jaguar F-Type. The power delivery does feel a bit sportscar-peaky, with its 340PS coming in at fairly high 6,500rpm (for a 2.2-tonne SUV). Thankfully, its peak torque figure of 450Nm is spread flat between 3,500 to 5,000rpm. So there's plenty of grunt available when the engine is revving, but it feels a bit out-of-poke at bottom-end.

This leads to a very uncanny driving experience in urban conditions - it doesn't respond quickly to very gentle throttle inputs, but when you depress the accelerator pedal a bit more, the motor revs quickly, launching the car forward. At crawling city speeds, the Disco wants to do anything but crawl. Out of the highway though, you'll really enjoy the experience and pleasures of this petrol engine. Give it a bootful of gas and the whine of the superchargers builds to a crescendo to the backdrop of the V6's rasp, and Disco rockets ahead with an almost un-SUV like gusto. It's all a very pantomimic experience. From a standstill, it gets to 100kmph in just 7.31 seconds and it can make its way to a top speed that actually has to be limited to almost 210kmph.

There is a downside though, to having a frantic petrol motor propelling this large 2.2-tonne beast. The fuel-efficiency numbers are far from impressive, with the Discovery managing just about 11.25kmpl on the highway, dropping down to a meagre 6.09kmpl in the city.
Transmission is an 8-speed auto 'box from ZF, which although sports one cog less than the unit from the Evoque and the Discovery Sport, but this big Disco is better off for it. It's a conventional torque converter unit, but the ratios are tightly packed. So shifting, whether automatically, or manually, using the paddle shifters, is very quick, taking just 200ms to swap cogs. Kickdowns are rapid as well, and making an overtake, even with this car's bulk never feels too difficult.
Disco dancer… not!
Unlike the previous Discovery, which featured an 'Integrated Body Frame' - basically a monocoque body and engine bay mated to a ladder frame chassis on which the suspension and gearbox were mounted, this new one is all-monocoque. It's based on Land Rover's aluminium architecture which first made an appearance on the current Range Rover back in 2012. Not only has this provided exceptional torsional rigidity, it's also led to massive weight savings - up to 480kg as compared to the previous Disco.

It's still not a light car by any means, and it's bulk really shows around bends. Attack corners a bit fast, and there's a disconcerting amount of body roll. You also get a fair bit of understeer, with lots of protesting from the tyres. But let's be honest, this is not a car that's been designed to be hurried into bends. Bring it down to a reasonable speed, and the Disco steers with precision and confidence, with a well-weighted steering feel to boot.

Air suspension is offered as standard on all variants of the Discovery except the base diesel. Now thanks to this, we expected the ride to be supremely plush at all times, but unfortunately that's not the case. At speeds of 60-70kmph, it handles short, sharp bumps really well, with almost nothing being felt in the cabin. But slower or faster than that, and you can feel a bit of thudding transmitting through the suspension. Over larger bumps such as speed breakers, the suspension does feel pliant enough, but it just doesn't seem to settle back quickly enough into a steady attitude. This slightly unsettled feeling is a lot more apparent over rumbly road surfaces, such as the Mumbai-Pune Expressway, where we could feel a mild, yet constant bobbing at highway speeds.
Forging a path

This is the first time that Land Rover's incredible 'Terrain-Response 2' permanent four-wheel drive system has been featured in the Discovery, although it's available as an option on all but the base trim level. Just select what sort of terrain you're driving on, and the system electronically adjusts the engine, gearbox, centre differential and chassis systems to match the demands of the terrain. It gets four modes as standard - General Driving, Grass-Gravel-Snow, Mud & Ruts, and Sand. For especially tricky terrain, you also get a two-speed transfer box, with a low-range selector, as standard on all models except the base diesel. When you have both low-range and air suspension, the Terrain Response system also offers a fifth mode - Rock Crawl, which I guess is pretty self-explanatory.

The Discovery's 4x4 system was far more competent at driving off-road than I was, and it just shrugged off whatever terrain we went over. Gravel paths are handled as though they are tarmac, and despite the car's ginormous proportions, taking it through narrow wooded paths feels as natural as driving through slightly narrow city streets. When the terrain gets uneven, a touch of the button raises the air suspension to its 'off-road' setting, giving you a massive 283mm of ground clearance. That's enough to get over big dirt mounds, and even fairly large rocks, without scraping any part of its underbody.

Activate its rock crawling mode and put the transfer box into low range, and you get the benefit its All Terrain Progress Control (ATPC) system. Basically you can set speeds between 2 and 30kmph using the cruise control buttons, and the Disco will just maintain forward progress by itself, while you're free to concentrate on steering it over the right path. Want to ford a stream? No problem. Thanks to a high mounted intake under the hood, when the car is raised to its maximum ride height, it can wade through water that's 900mm deep. When it comes to off-road ability, the Discovery is the real deal. It's ridiculously capable and we would run out of words before we could describe the full range of its abilities.
King of the hill

For every aspect where the new Discovery impressed us, there's a counterpoint to be made about how it didn't. For example, it has ample space for seven adults, but the second and third row could use better underthigh support. It's a comfortable car overall, but it does ride a bit odd on tarmac. The supercharged petrol motor proves to be exciting to drive, but then again, it's quite the guzzler. To top it off, its German competition fares a lot better in terms of on-road manners. With prices between Rs 71.38 lakh to Rs 82.77 lakh for the petrol variant, it doesn't outdo its competition in the value game either. And it gets further skewed when you consider the diesel option, which is about Rs 15 lakh more expensive than the petrol, variant for variant.

That said, when it comes to going off the beaten path, the Discovery is far ahead of the curve. It can tackle pretty much any terrain mother nature could to throw its way, while carrying seven people at the same time. For those who don't want their luxury to end when the road does, this big, charming brute is the clear choice - a true-blue SUV that really lives up to its name.
Land Rover Discovery Video Review
More on Land Rover Discovery

Rs. 75.59 Lakh Onwards
Ex-showroom, Delhi
View December Offers
View On Road Price