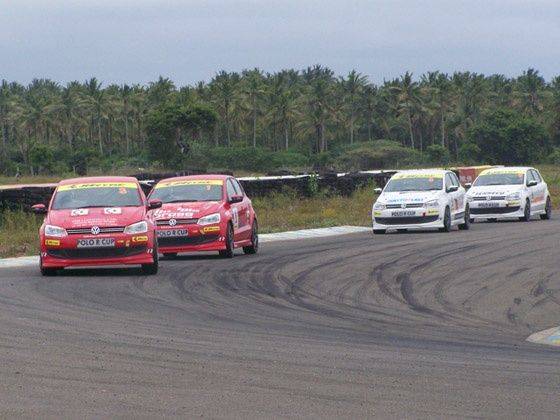 It seems like the Volkswagen R Cup, that recently completed its successful second season in India, has now attracted fans further south and beyond India, in Sri Lanka. As a prelude to the world famous Electric Peacock international music festival this year, Volkswagen will conduct it first ever Polo Race in the Sri Lankan capital city, Colombo.
Seven out of the top ten drivers from the Polo R Cup India 2011 season (Read: 2011 VW Polo R Cup Report) will compete in this special race, who along with four other Sri Lankan guest drivers will make up the complete grid of eleven drivers.
Expressing his views on this great opportunity, Mr. Prithviraj Siddappa, Head of Volkswagen Motorsport India said, "We are thrilled to have this opportunity to race on the streets of Colombo in our first ever night race. This will be very encouraging and a learning experience for our young drivers as this is not a conventional race circuit. They will have to adapt quickly and tweak their racing styles. This exhibition race also means a lot for Volkswagen Motorsport as this proves the popularity of Polo R Cup in India and beyond. Races like these will definitely help us attract more talent for participation in the upcoming season of Polo R Cup."
The Volkswagen Polo Race will be one of six different races in the inaugural Colombo Night Races. A specially laid-out 2 km circuit has been drawn out from the Colombo streets for hosting these races.The race weekend will have two practice sessions and a qualifying session on Friday. The final Volkswagen Polo Race will take place on Saturday, which will cover 10 laps of the circuit under the flood lights.