Kill Coronavirus Quarantine Time With These 5 Motorcycle Racing Games
---
Most of these games are available on both PC and consoles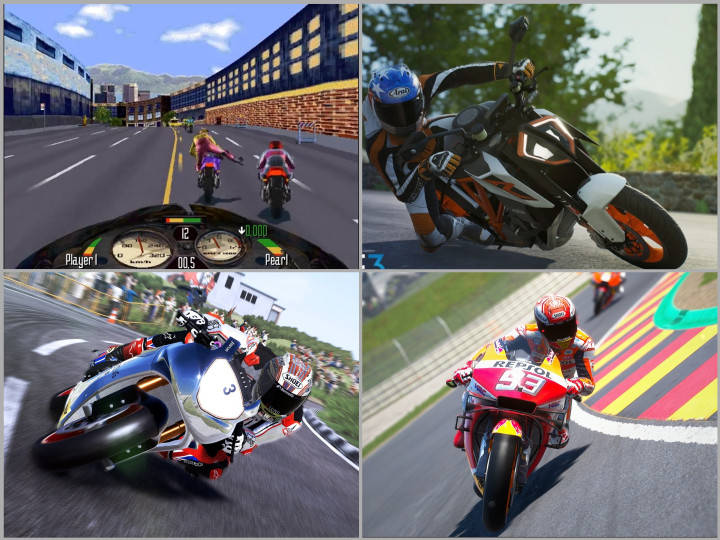 The coronavirus pandemic has forced all of us into isolation. Not riding a motorcycle and feeling the winds of absolute freedom for this long a stretch can be a bit frustrating. In these trying periods, one of the best ways to kill time is to play games on your PC or console. Here are our top 5 choices for two-wheeler enthusiasts for both computers and consoles:
Road Rash:

Road Rash is without a doubt the ONE motorcycle racing game most of us spent our childhood with. The best bit is that you can relive the nostalgia even now, as the game has now become freeware. Launched back in 1991, it featured impressive graphics for its time. This street racing game features diverse tracks and different tiers of motorcycles.
It also offers great replayability value thanks to the Thrash Mode which is essentially an arcade mode. You pick whichever level you want and just dive right in. But to experience the game in its full glory, the Big Game Mode is what you should choose. It is essentially a career mode. The mantra is pretty simple: Win more races, earn cash, upgrade your bike and then win even more races. The melee weapon system (plus, you can kick other riders too!) and fierce cop chases make it an absolute hoot to play. And now with the improvement of technology, this game can run hasslefree practically on any PC.
MotoGP 19:
If you want to feel like Valentino Rossi or Marc Marquez or any other MotoGP rider for that matter, the MotoGP '19 is what you need to make a beeline for. The 2019 season lets you play on 19 different tracks with all the official riders of MotoGP, Moto2, Moto3, Red Bull MotoGP, Rookies Cup and even the MotoE classes. If you want a bit more variety, particularly of the old-school kind, then there's a Historical Pack downloadable content available for an extra 199 bucks. With this, you can relive the 1992 season. There are about 35 motorcycles, three additional race tracks and 50 different riders to race with, including Eddie Lawson, Mick Doohan, and the likes.

Another great aspect of this game is the Neural AI in the bots, which is claims to study your actions and react accordingly. The MotoGP 2019 has an overall user-generated rating of 87 per cent on Steam, a pretty good review score for a racing game. The only grinch is that it's a little graphic-intensive game, requiring at least an Nvidia GeForce GTX 1050 or an AMD Radeon HD 7950 graphics card. The publisher also says the laptop versions of the graphics card may work but are not officially supported. It costs Rs 1,099 on Steam for PC, and it is also available on Xbox One, PS4 and Nintendo Switch.
If you're willing to wait to enjoy the 2020 season before it actually starts, then you should go for the MotoGP 2020, which is set to be launched on April 23, 2020.
Ride 3:
Ride 3 is basically the Gran Turismo of two-wheeler racing. With more than 230 motorcycles in the base game, and a whole load of extra bikes available as downloadable content, this is a motorcycle enthusiast's wet dream. It's the perfect answer for enthusiasts to get a (virtual) taste of their dream motorcycle if they can't afford 'em in real life.
There are 30 different tracks, and some of them are real-life ones reproduced via photogrammetry and drone scanning for maximum accuracy. The unique Career Mode lets you collect, read magazines and participate in races via the periodicals. According to a number of Steam users, the only issue that plagues the game is inconsistent AI, which sometimes makes a few levels very challenging.

Like MotoGP, it also costs Rs 1,099 for the base game on Steam and there are 26 extra downloadable content (DLC) available. Good news is, 26 DLCs are free. Like MotoGP 2019, this one too is graphics intensive. It is available on PC, PS4 and Xbox One.
Trials Rising:
Trials Rising is unabashedly ostentatious, allowing you to defy the laws of physics in pretty much every way. You can customise your motorcycle and the rider and compete on tracks based on real-life landmarks like the Great Wall Of China, Eiffel Tower and New York city.
But unlike the rest of the games in this list which offer a 1st/3rd person point of view, this is more of a 2.5D side-scrolling type, so the gameplay is pretty linear. According to Steam reviews, a lot of content is hidden behind a paywall which you may have to unlock using in-game currency if you want to progress at a good pace. It costs Rs 1,249 for the base game and a bunch of extra DLCs are also available. However, the command quite a bit of a premium. One good aspect of this game is that it doesn't demand too much graphical power. If you have an Nvidia GeForce GTX 650 Ti or AMD Radeon HD 7770, you'll be able to run the game on minimum specifications. It is also available on PS4, Nintendo Switch, Microsoft Xbox One / Xbox One X.
TT Isle of Man - Ride on the Edge 2:
The Isle Of Man TT is one of the most dangerous motorcycle races in the world and this game, launched just last month, is the perfect way to feel the visceral thrill of speed, belting your bike around the 60km-long track. The variable weather conditions add to the realism and there's a free-roam mode for those who want to explore a bit.

If you want to race as the legendary Mike Hailwood aboard the equally incredible 1978 Ducati 900 SS TT IOM, you can do that too, provided you fork out an additional Rs 259 for the DLC. To boost your career stats, there's a Pro Newcomer Pack too, for an extra 125 bucks. The overall user rating for the game on Steam is 77 per cent, which isn't all that bad. The game is also available on PS4 and Microsoft Xbox One.
Add Your Comments